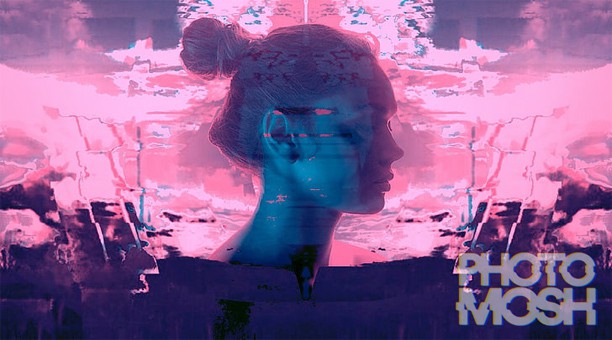 Best Reviews, Features and Photomosh Alternatives: Glitch art is becoming more popular and may be seen in a variety of places, including social media postings and music videos. It is an excellent approach to enhancing the visual impact of your images and videos, but doing it from scratch may take a lot of work.
Fortunately, there are several popular alternatives for creating glitch art, Photomosh being one of them. In addition, various additional online glitch effect generator sites like Photomosh may help you edit your photos and videos similarly to Photomosh.
What is Photomosh?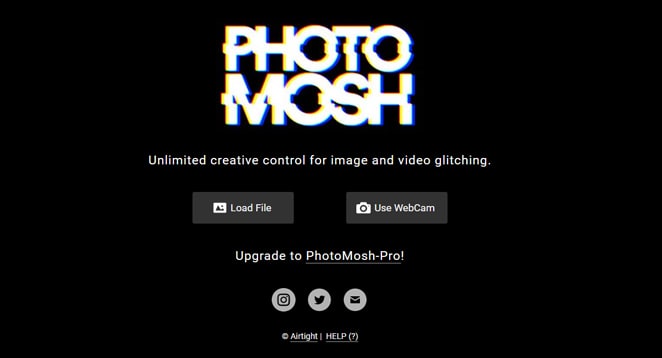 Photomosh is a well-known application that allows you to add a glitch background to your photographs and create class-apart glitch photography. Aside from that, you may add a picture, make vaporwave art, and include a short video. It contains a vast database of 27 glitch effects that you can use to enhance your photographs and videos. PhotoMosh uses WebGL effects to glitch pictures, videos, and webcams. Save output images in formats like GIF, JPG of WEBM.
Photomosh com is a site where people may make their images glitch. Users may post photographs to the website and cause them to glitch. The platform has a drag-and-drop capability that enables users to insert any new picture file into the browser. Users may randomize FX by clicking the Mosh button, or they can change FX using the control panel.
Using Photomosh, users may save the files by choosing the output format in which the file should be stored, then clicking the save button to download the picture file. One of the requirements is a device with WebGL capability. Finally, users may upload the picture using their images to make it glitch in different shades. Finally, it is a free platform with no images saved online.
Website: https://photomosh.com
Pros and Cons of using PhotoMosh
PhotoMosh is created to generate perfect visual effects on images, video clips, and gifs.
Pros
It has a wide range of glitch effects.
Creators may store their outputs on a computer or hard disc.
It provides a simple method for editing images and video clips.
The Mosh button makes it easy for users to create special glitch effects.
File formats supported include WebM.
Cons
It does not ensure high-resolution output.
It is not possible to share files online.
What is PhotoMosh used for?
A video using a glitch effect to visualise a TV broadcast.
A video that seems to be a video game.
With only one click, you can create an animated logo or an outstanding intro!
A classic video suitable for sharing on an account page or a community on Instagram, Facebook, and other social media platforms.
Interesting stuff for social media stories.
A unique clip for the YouTube channel.
What is Photomosh Glitch Effect?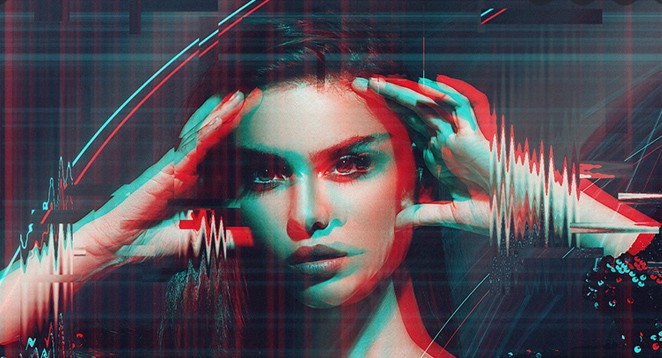 To understand Photomosh glitch effect, it is necessary first to define a glitch. Glitches are the jittery, pixel-y, distorted digital mistakes that existed in analog technologies in the past. For example, lines from a frayed VHS tape, distorting or splitting colors, digital defects from defective media, tracking issues, or static and scan lines from an old TV set are all faults. But glitches, by nature, are challenging to capture. As a result, glitches are becoming rare as technology improves.
The shortcomings of old technology have now become a trendy editing technique. Adding glitch effects to your photographs, videos, and designs is a great way to give your work a vintage, abstract, or even fashionable, futuristic appearance. You can use many apps like PhotoMosh to get such a Glitch effect.
How to Add a Glitch Effect to a Design?
Glitch effects may be created in various methods, including the addition of static or noise overlays to images, the creation of digital distortions or artifacts, the use of glitchy transitions in videos, and even the use of glitch typefaces in your designs. The options are limitless, and digital artists are continuously devising new techniques to create the effect.
However, the most accessible approach to adding a glitch effect to your design is to use one of the numerous unique pre-made glitch Photoshop actions, video templates, and fonts by using the Photomosh app.
How to Add Video Glitch Effect Using Photomosh?
The glitching effect, also recognized as chromatic aberration, is widely used on YouTube, Instagram, TikTok, and other social media platforms. It is often employed to spice up intros and titles. Photomosh allows you to easily add glitching and chromatic aberration to your videos in your web browser. Nothing has to be downloaded or installed!
Photomosh's simple drag-and-drop interface allows anybody to edit and apply effects to your videos. So, don't waste time on YouTube searching for tutorials. Instead, drag your files over and begin creating! You may also get the Glitch effect by following the steps outlined below.
1. Import your video
Go to: https://photomosh.com, Click the Load File button, then import the video to which you wish to apply the glitching effect. You may add it to your Library by dragging it from your PC or importing it from different online storage providers. For example, if it's a clip from your Twitch account, just connect your accounts to bring it over straight.
2. Add the Glitch Effect
Select the section of the video to which you want to apply the Glitch effect, then go to the Effects tabs on the right side of the screen and select Glitch. Next, adjust the effect with the sliders to get it exactly perfect.
3. Download and Share
When you're through with the glitch effect, click the Export button in the upper right corner. In 2 minutes or less, your video will be available for download. You may also upload it to YouTube, Vimeo, or Facebook.
PhotoMosh App for Android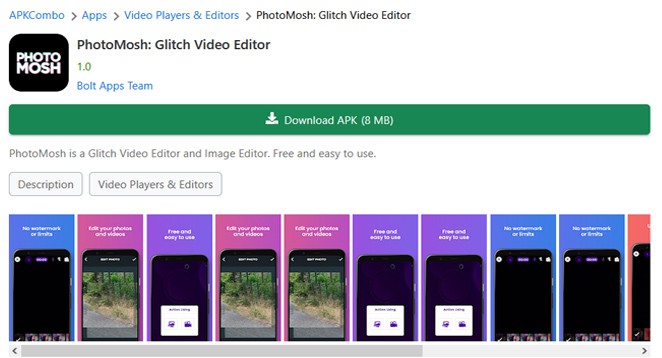 PhotoMosh is an Image Editor and Glitch Video Editor. You may get PhotoMosh Free App from the internet. Learn about the most powerful video and image editor. PhotoMosh allows you to edit your videos and images in various ways, including adding glitch effects and much more.
What is PhotoMosh Reddit?
PhotoMosh Reddit is a community site for people who want to talk about websites or apps that may be used to transform photos, such as PhotoMosh. It does not give an app for this, but you may discuss new effects and bug fixes, a plugin bundle with effects like Photomosh, or if you want to gain a different perspective on things online. You may also join the communities at r/Photomosh, r/glitch_art, and r/torrentrequest.
Is the Photomosh not working?
Restart the browser and try once again. Some Chrome Extensions may cause PhotoMosh to crash. Run Chrome in Incognito mode, which disables most add-ons. If that fails, try upgrading your browser to the most recent version.
What is PhotoMosh Pro?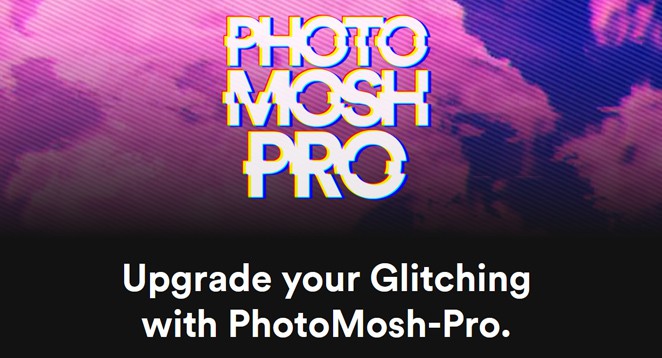 PhotoMosh Pro is created to generate perfect continuous looping videos from any input. PhotoMosh Pro is a real-time visual effect mixer that gives you complete creative control over images, videos, and gifs. It is a full-featured desktop version of PhotoMosh. It includes new and better effects, high-resolution video exports, modulators, audio-reactive effects, batch exports, an updated user interface, and more.
In addition to the effects on photomosh.com, there are over 30 entirely new effects. Effects may be stacked and re-ordered indefinitely. They are designed to create the most image and video creativity. Luma-Mesh, Optical-Flow, Data-Mosh, Feedback, Soft Glitch, Hard Glitch, Stretch, 8-Bit CGA, Kaleidoscope, Light Streak, VHS, Super 8, Overlay, Pixel Sort, Decimate, Mask and Mask Blocks, CRT, Tile, 3D Transform, Ascii, and more features PhotoMosh Pro has a strong export engine that allows you complete control over output media. Control the output's size, duration, frame rate, and file format.
Website: https://photomosh.com/pro
Best Photomosh Alternatives for Windows, Android, and iOS
If you are looking for best websites like Photomosh you are at right place, we will show you top alternatives to Photomosh to add vintage and glitch effects to your pictures and videos.
1. Image Glitcher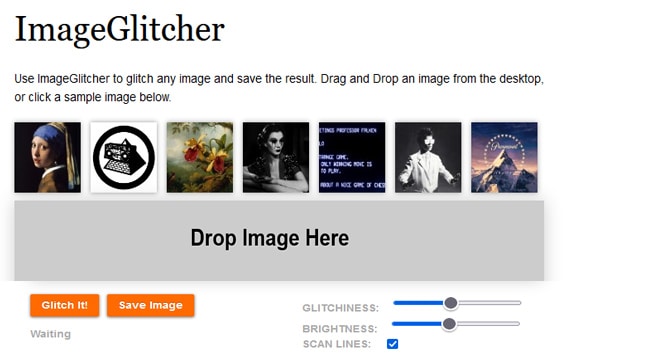 Image Glitcher is a simple website and app with few core features and capabilities. The application is free and has a simple design. However, you may encounter issues if you want to add a glitch effect to a high-quality file. Image Glitcher allows you to save your images in JPEG format while adjusting their brightness and glitchiness. ImageGlitcher may be used to glitch any image and save the output. Drag an image from your desktop or click a sample image to start. It is the best alternative to PhotoMosh.
2. GFTO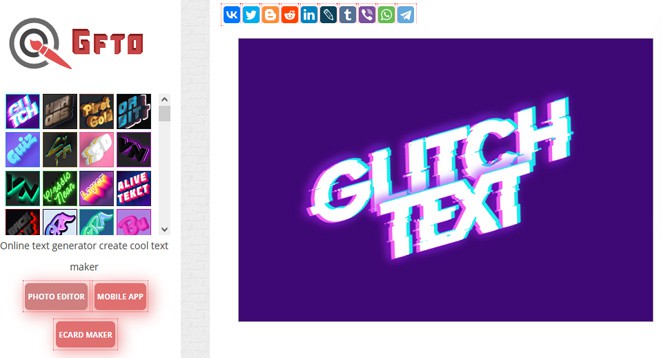 GFTO is another website similar to Photomosh, where you can add glitch effects to your videos and images. It is a text generator app that also includes many glitch text templates. You may customize the on-screen location of your images and the text's size, color, and font using this extremely configurable tool.
GFTO comes with powerful text editing features that enable you to apply gradients, upload numerous fonts, and change text styles as required. You may also use it to change the background and the color of the text borders and to add an outline to your text if you wish.
3. Online Image Glitcher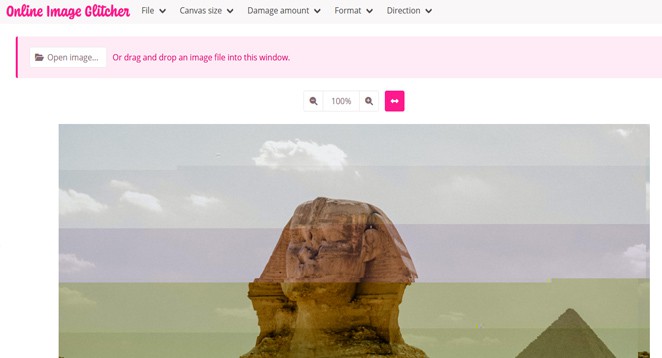 Online Image Glitcher is the next site in our list of alternatives to Photomosh. With this excellent tool, you can pick the quality and size of your image, as well as multiple file formats such as PNG, JPEG, and WEBP. This simple glitch effect generator also includes a preview window so you can examine the results of the changes you make to your original image. Aside from that, you may choose the strength of the glitch effect you wish to apply.
1-Hit option has the least amount of effects and damage.
1000-Hit shows maximum damage with severe effects.
The only disadvantage of this fantastic Photmosh alternative is that it does not provide users with any social sharing options.
4. Image Glitch Tool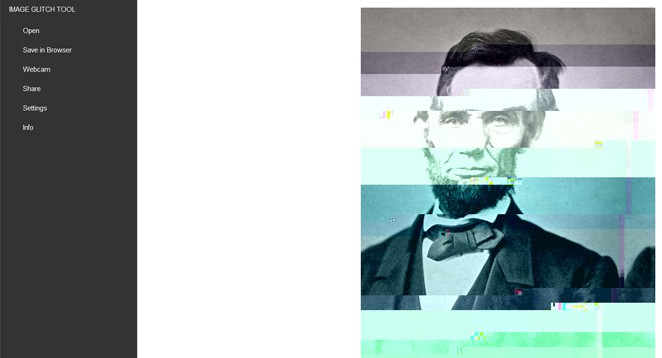 Image Glitch Tool, like Photomosh, is a popular site that works amazingly well as a glitch effect creator. It has a simple UI and a very creative design.
The tool displays a preview of the image you upload to its site and allows you to adjust the size of the image to ensure that it is error-free. Aside from that, it enables you to add glitch effects to photographs captured by your camera in a matter of seconds. The seed, quality, iteration, and quantity sliders of this powerful Photomosh alternative allow you to fine-tune the glitch effect.
The sole disadvantage of using this online image glitch tool is that text overlay is not supported.
5. Glitchatron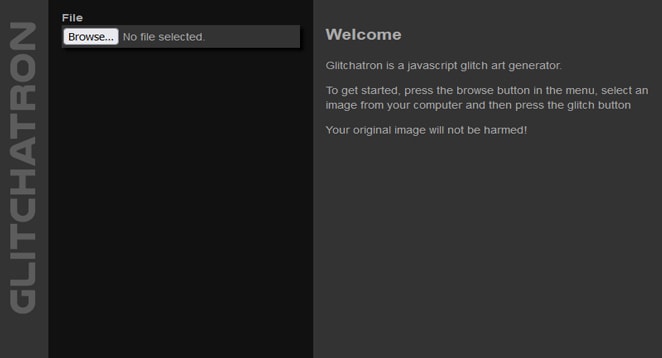 The tool has an easy-to-use UI that works well. In addition, it offers many glitch-level settings for your images, including Low, Medium, Extreme, and High. You may also input text, change its color, optimize its size, and change its alignment using a similar site like Photomosh. However, it does not let you change the font and only comes in two colors: black and white.
In addition, you can use it to apply both triangular and circular masks to your images and videos. Finally, after you've completed it, you can save your final photo in PNG format and post it on social networking sites. Glitchatron is perfect for beginners and can use advanced editing knowledge and skills.
6. Pixiko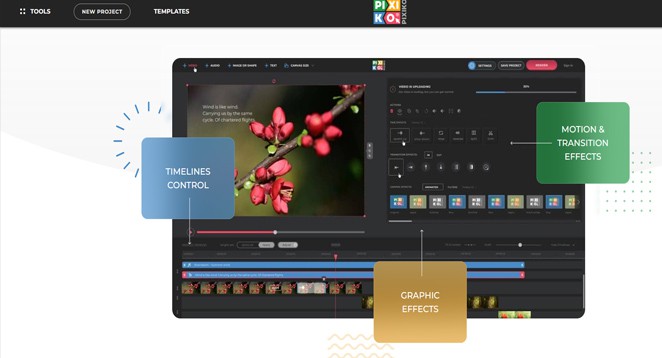 Pixiko is one of the best video and image editing tools like Photomosh to add glitch effects. This web-based gif creator is designed for the beginner in video editing and is simple to use. All editing tools are embedded inside the UI, allowing users to easily pick and edit GIFs.
7. Veed.io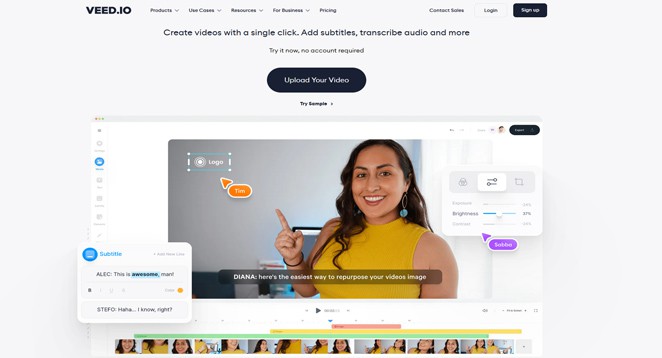 If you like the simplicity of pre-built glitch effects, Veed.io is your glitch GIF generator. You do not require to register an account to generate a glitch GIF. Once you have accessed the website, you just need to upload your file, choose the Effects tab, and create and locate the glitch effect. Veed.io delivers real-time previews so that you may see changes effectively. Additionally, it is web-based, enabling users to make GIFs on any device. it is considered among the best sites like Photomosh.
8. Coffee Cam
Coffee Cam is a mobile application that enables you to express your individuality by creating amazing images on your smartphone. The app is meant to take your images to the next level with professional editing tools and high-quality themes. You can consider this app similar to Photomosh to add the Glitch effect to your photo and videos.
9. 8Bit Photo Lab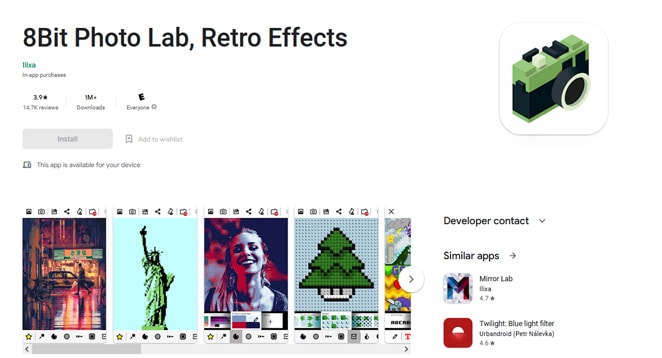 8Bit Photo Lab, Retro Effects for Android and iOS devices is a fun app tool that transforms photos taken with a smartphone or camera into 8-bit pixel art. This app is for photography lovers who wish to create or record images and videos like a VHS camcorder. You may take a picture, navigate through various pre-defined 8-bit filters, quickly edit and save the results, and then share them. With this tool, you can easily create pixel art, pixelate your photographs, generate beautiful memes, add glitch effects, and much more, making it a one-stop photography solution and a reliable alternative to Photomosh.
10. Glitch Lab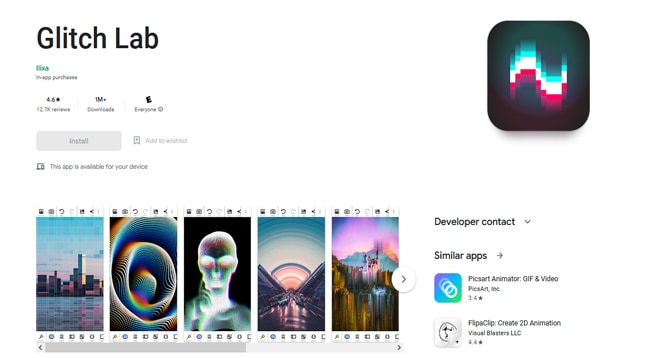 Glitch Lab is an excellent platform that brings well-known effects and unique ideas to the world of digital glitch art. It is a simple and easy-to-use tool that enables you to make a fantastic selection of your artwork. Using the site's features, you can capture and create a wide range of photographs. Color, pixel sorting, vintage, text and gimmicks, art filters, and many more are among the more than one hundred possible effects, separated into many categories. It is among the best app and websites like Photomosh.
11. Glitch Video Editor
Glitch Video Editor & Vlog Creator provides a variety of trendy Glitch effects, VHS, 3D Vaporwave effects, and trendy video effects for creating TikTok videos, Youtube vlogs, and Instagram stories. Moreover, if you want to become a famous YouTuber, you cannot miss this Photomosh alternative. YouTube videos may quickly become viral if you trim, chop, adjust the speed, add effects, filters, and music, and then upload them. The fashion industry is once again obsessed with the 1980s and 1990s, and videos are generally close following. Use the Retro Filter in your favorite video editor to create a unique retro style. In addition, different transition effects for video & photo editing, such as Blur, Fade, Slide, etc., make it easy to create montage videos; add slideshows with BGM and entertaining transitions to make your photos stand out.
12. Glitch VHS
Glitch VHS is a great resource that features over one hundred glitch effects, VHS filters, Camcorder, Vapor, the 1990s, Retro, VHS, and Glitch, as well as many more options for enhancing your images. It is an alternative for VHS camcorders with all the necessary services and features that distinguish it from the competition. With this application's variety of effects, you can easily create images and videos in a vintage style. You may upload a photo or video from your camera or library, change it with many effects and other tools, preview it, and then save it to your smartphone. Additionally, you may share your photographs and videos through social media and email. It would help if you considered it among the best apps like Photomosh.
FAQ Photomosh
Is PhotoMosh safe to use?
PhotoMosh com has an excellent web reputation. This website has a high trustworthiness score (62/100). Google Safe Browsing is a service developed by Google Inc. to detect harmful websites. This website is secure.
How Do You Make a GIF Glitch using PhotoMosh?
Follow the instructions below to transform your image with the PhotoMosh glitch GIF creator.
Launch PhotoMosh using https://photomosh.com on your web browser. You may choose Load File to import a picture or video or Use WebCam to capture a photo or video.
You have the choice to make JPG, GIF, or WEBM in the top left of the UI. You may choose amongst the three. In addition, you may explore numerous glitch effects on the screen's right side. To preview the effect and make the required changes, check the box.
PhotoMosh provides glitch effects when you click the Mosh button at the bottom of the screen to explore several effects without checking the boxes. Next, check the settings on the interface's right side to adjust the effect's intensity and speed. Finally, after making all the necessary edits, click Save once your clip is complete.
How to Add Glitch Effect to Photo without using PhotoMosh?
There are many Photoshop ways for creating glitch effects on photographs without using PhotoMosh. Therefore, this photo effect tutorial will explain how to make a primary RGB split effect into a few easy steps.
First, load your picture into Photoshop. Then, if desired, turn the image to black and white. You will create a unique effect if you begin with a color picture or a black-and-white image.
Create two duplicate layers of your picture. You may drag the image's thumbnail to the "create new layer" icon on the layers panel. The additional layers will be named "red" and "cyan."
Change the layer blending parameters for each layer. Double-click the picture thumbnail for the "red" layer to launch the Layer Style dialogue box. Uncheck the G and B channels under Advanced Blending and click OK while in the red layer. Do the same for the newly-created "cyan" layer, but this time uncheck the R box.
With the cyan layer still chosen and the Move Tool active, move the layer using the arrow keys. Repeat with the red layer until the desired look is achieved. You may also experiment with other hues by leaving on different combinations of R, G, and B channels. Alternately, experiment with adding a halftone pattern filter to produce the classic television scan lines. This is how you add glitch effect in photos without using PhotoMosh.
What are the best Photoshop Plugins to add Glitch Effect similar to PhotoMosh?
You can install many Photoshop plugins to add glitch effects to photos with a single click. Glitch Vandalizer Photoshop Plugin, Animated Glitch Photoshop Action, Glitch Ghost Photo Effect, Anaglyph, Glitch Distortion Photo Effect, VHS Glitch Effect, Glitch Image Effect, Toxic Potion Effects Pack, as well as many more. You can simply locate these effects on the internet.
Final Words
Glitch effect generator provides a simple and efficient method for adding glitch and classic effects to images and videos. The above-mentioned glitch effects generator sites like Photomosh are among the most popular and feature-rich services that may help you to transform photos and videos for social media and other platforms.
Using these apps similar to photomosh, you may create stunning and highly entertaining photos. We hope that these above tools will be able to meet your needs as efficiently as possible. Eventually, which Photomosh alternative will you choose? Leave your thoughts in the comments below!