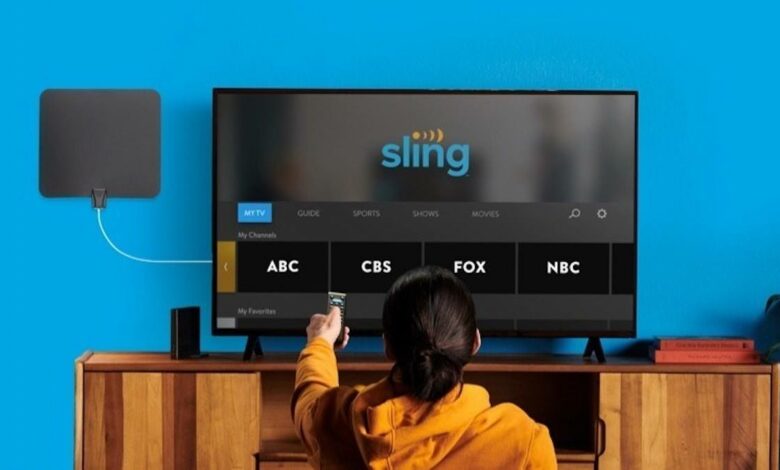 This essay will guide you on how to fix Sling TV Error Codes? This post will talk about authentication failures, video playback errors, content unavailable errors, loading errors, app temporarily unavailable errors, network connection errors, and recording and playback errors. Do you receive Sling TV error codes all the time? It may be a difficult experience, especially while trying to relax.
Error codes on Sling TV may occur for several reasons. Among them are network, technical, and streaming provider problems. Most issues will resolve themselves; if not, the simple remedies described below will restore your service.
Sling TV Error Codes and Solutions
The most frequent error codes Sling TV customers are likely to encounter, as well as thorough troubleshooting recommendations, are listed here.
Login Authentication Errors (errors 10-101 and 10-100)
Sling TV error codes 10-100 and 10-101 indicate authentication failures while attempting to access your Sling TV app.
They may occur due to erroneous login information or network connection problems. Furthermore, errors 10-101 and 10-100 may occur due to a bug in the app, your account, or your TV. To fix the errors, try closing and relaunching the app. It will restart the application, which should resolve issues with the login feature. Clean the app data and cache next, which will remove any corrupted data that might be causing the issues. Finally, if everything else fails, uninstall and reinstall the app.
Issues with video playback (Error 21-20 and error 24-1)
When trying to view a program on Sling TV, errors 21-20 and 24-1 occur due to video playback issues. When this happens, you'll notice that Sling isn't loading or that you receive a black screen before the error, as this Amazon customer experienced.
The errors are caused by network issues, authentication issues, or a brief system flaw or bug. They may also occur if you are experiencing buffering problems. There are many approaches to fix Sling TV errors 21-20 and 24-1. The first alternative is to wait for the issue to resolve itself. It usually occurs when there is a brief issue.
Another alternative is to close and relaunch the app. It will fix any momentary glitches or bugs interfering with playback. If the errors persist, the best action is to remove the Sling TV app and reinstall the most current version. It will remove any bugs, damaged data or cache, and settings that may have caused the error.
The Error Code 4-310
Sling error 4-310 is another standard error you may encounter when streaming. An issue emerges when the content you are attempting to watch is unavailable. The error might be caused by system failures, bugs on your device, or an outdated app.
You may fix the issue by restarting the app and erasing any temporary bugs and issues. You may also try changing your device, such as streaming Sling on Roku rather than your PC. If the issue continues, try uninstalling Sling and reinstalling an updated version.
Error code 9-803
Sling TV is unable to load due to Error 9-803. The app stays on the "Sling" screen when the error occurs. It may be irritating since the issue may take a long time to resolve. It might be due to network issues, a malfunction in the app or device, or Sling TV server issues.
The error may go away if the problem is on the Sling side. You may also try restarting your app to see if it makes a difference. If that fails, try restarting your streaming device. Unplug it from the power outlet first, then wait for 30 to 60 seconds before plugging it back in.
If the issue persists, removing the app from your device is the next best solution. After deleting it, restart the device and download and install the most current Sling TV app version.
Connectivity errors (Sling Error 2-5 and 2-6)
Sling errors 2-5 and 2-6 are connectivity errors that occur when Sling TV's servers cannot contact your Internet service provider. It is typically followed by a message stating, "The App is temporarily unavailable."
A bad internet connection often causes errors. For example, insufficient bandwidth, a weak Wi-Fi signal, disconnected or broken Ethernet connections, or internet outages on your ISP's end.
Other probable reasons for the error include issues with your router or modem. Errors 2-5 and 2-6 often resolve themselves quickly. If they don't, the first step in troubleshooting should be double-checking your connection.
Check whether your cables are correctly connected, or your Wi-Fi signal is strong. Next, ensure that you have a functional internet connection with enough capacity. If the problem persists, try restarting your router or internet modem. First, turn it off, then wait about a minute before turning it back on.
It might help to remove minor bugs and fix Wi-Fi signal issues, connection issues, and even slower speeds. If you keep getting errors 2-5 or 2-6, the issue might be with your internet service provider. You may contact them for more troubleshooting or switch to another functional internet connection.
Sling TV Error Code 8
Sling TV error code 8-xxx refers to a collection of authorization errors that affect the content and make it unwatchable. Among the errors in this category are:
Error 8-101 occurs when the player on your Sling TV app stalls.
Error 8-12/8-701 occurs when the requested content is unavailable.
Error 8-270 occurs when Sling TV servers cannot gather the required information to verify your streaming device.
Error codes in Group 8 may occur for many causes. They include, among other things, a bad network connection, a system failure, app glitches and bugs, an outdated app, and faults in the streaming device.
If you get one, you may try some of the following solutions:
Restart the Sling TV app:
Group 8 errors are infrequent and self-correct. You may, however, fix them by restarting your app, which will aid in the removal of minor glitches and bugs.
Uninstall and remove the Sling TV app:
The data in your app might be corrupted, resulting in group 8 sling errors. Removing the application and reinstalling a new version may help fix the issue.
Restarting or switching streaming devices:
Sling TV error number 8-xxx might be caused by an issue with your streaming device. If the issue is minimal, continuing may fix resolving it. If the issue persists, replacing the device may resolve it.
Getting in touch with Sling TV customer service:
Is the error message just displayed on your Sling TV channel? The issue may then be with Sling TV's technology. You should contact Sling TV customer care for troubleshooting assistance in such a case.
Sling TV error code 9
Sling TV 9-xxx errors are a collection of issues with account customization. Typically, the errors cause videos from Sling servers to be unavailable on your device.
Error codes 9-301 and 9-302, for example, make paid content unavailable on your device. Due to the errors, you may also be unable to purchase or rent pay-per-view content. When these errors occur, there are many methods to fix them. To begin, close and relaunch the Sling app. During this step, any minor issues affecting the account may be fixed, resulting in the error being resolved.
Sign out and then back into Sling. It will, like the relaunch, fix minor bugs and maybe resolve the issue. If the content you're looking for isn't unavailable, you may use the search function to find it. You may also watch your programs through on-demand content. If the problem continues, contact Sling TV customer care for more assistance.
Sling TV error code 16
Sling TV error 16-xxx refers to a collection of errors that afflict AirTV users who are streaming content. They include, among other things, recording and playback errors, as well as connectivity and network errors.
Depending on the error, there are different remedies accessible. Restarting the Sling TV app, resetting your streaming device, reinstalling the app, verify your connection, and more solutions are available. If the standard troubleshooting techniques fail, you may want to consider switching to a different streaming device. If the issue continues, contact Sling TV customer support.
Sling TV Error Codes Frequently Asked Questions
Do you need help troubleshooting and correcting a Sling TV error? The following are some commonly asked questions and answers that you may find helpful:
What  is a Sling TV authorization error?
An authorization error on Sling TV is an error that prohibits you from using the services associated with your Sling TV account. They may obstruct your access to content (for example, group 8-xxx errors) or even prevent you from logging into your account.
Authorization errors may be caused by various issues, such as incorrect login credentials, outdated applications, browsers, or devices, glitches, and so on. You have many options for resolving the issue. Restarting the app, resetting the streaming device, and switching are among them. The errors might, however, be occurring on the Sling TV server-side, in which case you can either wait for them to resolve or contact customer service.
What is the process for resetting Sling TV?
Resetting Sling TV is one of the most effective methods to fix bugs, software issues, and errors in your app, account, or device. Depending on the device, many methods can soft reset Sling TV through the settings menu. Some devices include a hard reset button, usually found on the back panel.
The most common way to restart Sling TV is to power cycle any streaming device. To begin, disconnect the device from the power source (but do not turn it off) (without turning it off). Then you connect it back in, switch it on, and start Sling TV after waiting 30 to 60 seconds.
Finishing
Do you watch your favorite content on the Sling TV app? Some of the error codes you may encounter, as well as possible remedies, are given above. Network issues, login errors, content errors, and device-specific issues are among them. Some errors are minor and readily rectified, while others are system issues that may take some time to resolve. However, you may use the above remedies to diagnose and resolve additional issues.
Unfortunately, some problems may continue, so you should contact the Sling TV customer service staff. Also read article on how to Fix the Camera Error in Windows 11.