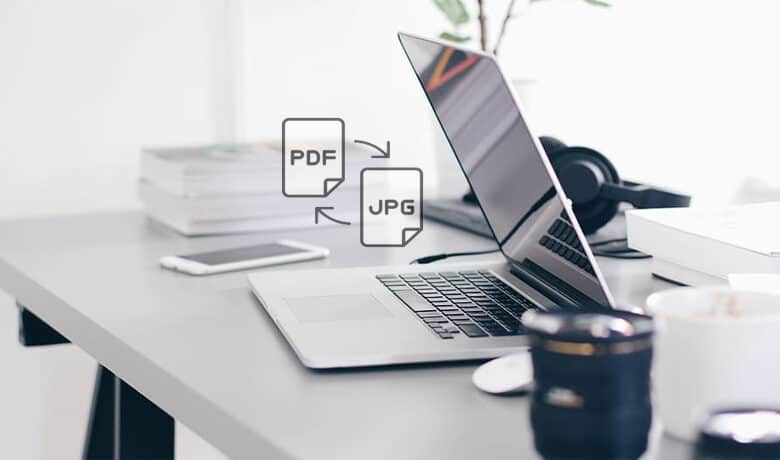 PDF to JPG Converter For Windows and Mac: PDF is a popular file format, particularly for documents, since it takes up less space and is more compact. However, additional software or even unique plugins are required to access the files. As a result, it may be inconvenient, particularly if you do have no the necessary tools to access the PDF files. As a result, PDF files need to be converted to a usable format that can be handled easily.
This article is mainly concerned with converting PDF to JPG using various tools and applications for the Windows platform. JPG or JPEG files are even smaller than the original PDF files from which they are converted. Furthermore, picture files may be opened without needing extra software or plugins.
Choosing a suitable PDF to JPEG conversion tool might be difficult if you are unsure of the application's functionality. Fortunately, after reading this post, your search will be much easier because it includes reliable converting software, most of which is freeware. Next, we'll look at some of the finest PDF to JPG converter applications for Windows, both online and offline.
Why should you Convert PDF to JPG?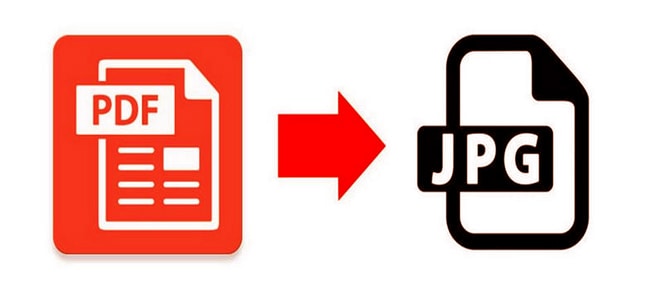 While the PDF (Portable Document File) format is widely used for document sharing, you may wish to convert PDF files to JPG before sharing them on websites or social media. Since 1992, the JPG or JPEG (Joint Photographic Expert Group) format has been reducing image files! JPG is an image compression format that enables you to change the compression rate of your image to improve or lower image quality. The more your image is compressed, the poorer the image quality and the smaller the file size. Smaller picture files are simpler to send through email or post to certain websites! By ensuring that your file isn't too compressed, some best PDF converter tool guarantees you don't lose quality for file size while making the PDF conversion file simple to send and share through email.
Features of PDF to JPG Converter
PDF File Converter may assist you in converting PDF to a variety of formats such as Convert PDF to Word, PDF to JPG, PDF to PNG, PowerPoint to PDF, Excel to PDF, TIFF to PDF, Split PDF, Merge PDF, and Compress PDF. We've compiled a list of the finest PDF to JPG Converters features;
1. Separate photos and simple file names
When you convert PDF to JPG using the online PDF to JPG converter, each page of your PDF file is converted into a unique JPG image and downloaded into a single .Zip folder. Each new image created after conversion will be renamed after the original PDF converted files, with the page number added. So, for example, your file name will be myfile.pdf Page 1.jpeg, myfile.pdf Page 2.jpeg, and so on.
2. Convert back to PDF when you need
Do you want to restore your PDF or JPG? Then, convert files back to PDF documents with a single click! With PDF's advanced tools and services, you can save time, enhance productivity, and work smarter. The free online JPG to PDF converter can easily change or convert your JPG file back into a PDF file!
3. Explore some other online resources
Choose the best PDF for all your document needs, whether you want to edit text, generate files, combine multiple documents, compress into a smaller file size, divide pages into new PDFs, add password protection, or add digital or electronic signatures to your papers. Get our desktop software solution, or use the Internet to access our resources!
4. Access Anytime, Anywhere
Convert PDF to JPG image files on your PC or mobile device anytime and whenever you want! The best PDF to JPG converter supports Google Drive, Dropbox, and Microsoft OneDrive. This software is also compatible with any web browser and Mac and Windows operating systems.
5. Personal Privacy Protection
They do not keep any of your data on file; therefore, your information is safe. Your papers and sensitive information are entirely secure.
6. Quick and Simple Online Conversion
The simple online converter converts PDF files to JPG files in an instant. In seconds, convert scanned or digital documents to an online image.
7. Free Draw & Design Features
You may edit and add new images and files with free PDF files to a JPG converter and easy design tools.
8. No Technical Expertise is Required
Our software does not need any specific expertise to use. Anyone with an online connection may quickly convert their PDF to JPG.
How to Convert PDF to JPG?
The PDF file format has been one of the most secure means of online document sharing. However, we need a tool to edit PDF files if we wish to edit them for free. So, if you're searching for a way to edit a PDF file for free online or offline, you've come to the perfect spot.
1. Select a PDF to convert
Upload a PDF from your computer or a cloud storage service like Google Drive or Dropbox to convert it to JPG. You may also drag and drop your file from your PC. Then, drag the PDF into the converter box to convert it to JPG.
2. View and download
Once you've submitted the PDF to the converter, you may access your new JPG file through a link that They will send to your email and will be valid for 24 hours. You may also save the file to your computer and read the PDF straight in your browser in its new JPG file format.
How do you save a PDF file as a JPG file?
Most PDF to JPG converter apps allow you to convert your PDF document to JPG by using the procedure shown below;
Go to your preferred PDF website.
Go to the Online Tools menu and choose View More.
Choose the PDF to JPG icon from the list of tools.
Drag your file into the browser area to upload it, and the tool will do the rest! To process the image, you don't even have to click "convert" or anything.
After that, you may download and save your recently converted file, which will be in JPG format.
It's as simple as that! You may edit your PDF documents as you like with the PDF's variety of online PDF features. You can edit, save, and convert PDF to JPG online, among other things. The best part is that these online, one-click PDF tools are completely free.
25 Best Free PDF to JPG Converter For Windows and Mac
To pick the best free PDF to JPG converter websites or apps, consider how many documents you will convert, and whether you need to edit them or convert many files at once. You may only work with one file at a time with these free solutions on the PDF to JPG website, and the file size is limited. It's just a quick approach to convert PDF documents, convert PDF to JPEG, or convert JPG images to PDF files.
Here we list the best free PDF to JPG converter app, you can convert your document or a part of it into Jpg format or Image. These online and desktop apps enable you to do the task quickly and without sacrificing quality. They are appropriate for both professional users and people who deal with documents on a regular basis.
1. Adobe Acrobat Reader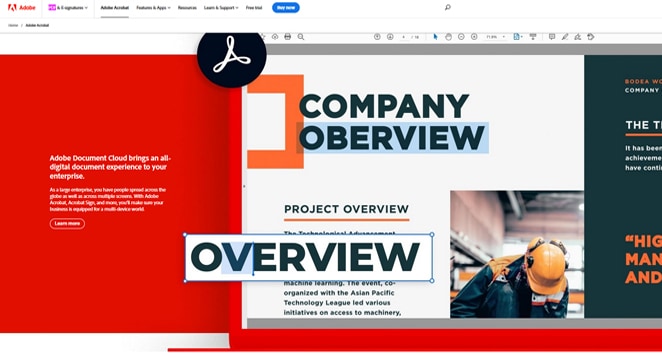 It is one of the most favored free PDF readers and converters. The tool runs online and perfectly converts PDF files to PNG, TIFF, and JPG formats. You may start it directly in a browser, such as Google Chrome, drag and drop your files, and wait a few seconds for the procedure to complete. Even if this is your first time using this converter, you will quickly learn how it works.
Adobe Acrobat provides a free trial version of the tool for Mac and Windows users who want to evaluate its features before buying the full price. It allows you to edit, split, and merge PDF files and add and remove PDF pages. Furthermore, PDFs may be resized and converted to GIFs, JPGs, and other standard formats.
Website: https://www.adobe.com/acrobat.html
2. PDF2JPG.Net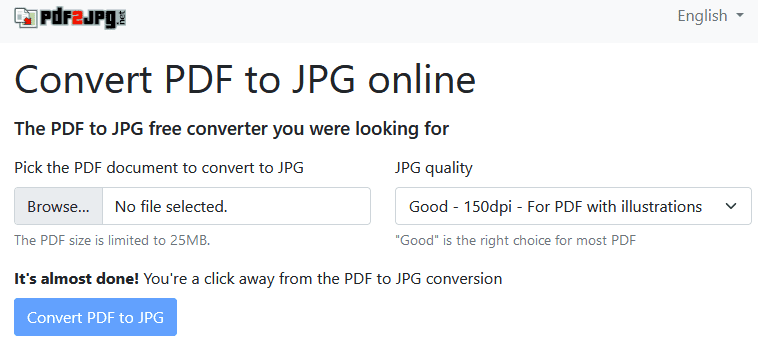 If you're searching for the finest free PDF to JPG converter online with advanced features, PDF2JPG.Net is your best option. The tool has a file limit of 25 MB, but it is still worth a go. One of the finest advantages of the online solution is the ability to choose from many image quality options based on DPI.
The greater the DPI, the higher the quality of the output. It is a feature absent in most free PDF to JPG Windows 10 converters. Another significant part of the solution is that various choices for editing the documents, such as Rotate PDF and converting JPG to PDF, are available on the page.
Website: https://pdf2jpg.net
3. PDF to JPG Converter by Baltsoft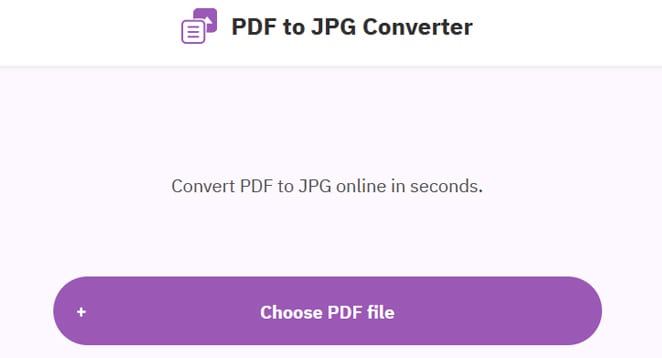 It is the finest free PDF to JPG converter since it can save encrypted and password-protected files in another format without sacrificing quality. It also lets users merge and split PDF files.
The only need for using it is a reliable Internet connection. After that, you may use any device to access the conversion toolkit. In addition, you may save converted files to Dropbox or Google Drive for simple sharing.
All uploaded files are removed immediately, three hours after successful online conversion. It allows you to download and save them while keeping your information safe.
Website: https://www.freepdfconvert.com/pdf-to-jpg

4. HiPDF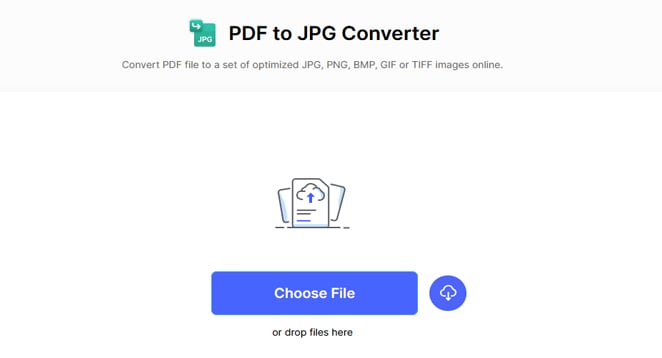 HiPDF is the most excellent free PDF to JPG converter available online. It is one of the few converters that offer an online option for converting documents and a Google Chrome plugin for the same purpose. The website is so helpful because it is simple to use for everyone.
You may either upload the file using the converter or add files to convert using the drag-and-drop tool. The solution is compatible with all major browsers and provides high-quality output. Furthermore, the tool ensures that your data is always secure.
Website: https://www.hipdf.com/pdf-to-jpg
5. PDFSimpli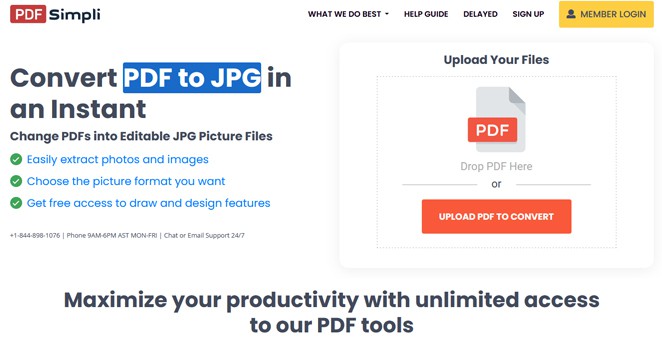 This website may assist you if you need to convert a PDF file to a JPG file. It supports Google Drive, Dropbox, and Microsoft OneDrive. In addition, you may use any web browser that works on macOS or Windows to access it.
Because the website does not save your data, your information is entirely secure. Furthermore, the speed is incredible since the conversion takes just a few seconds. If you want assistance, you may receive answers to your queries by calling their helpful customer service.
You may use free drawing tools and basic shapes to edit the document before converting it and adding new images.
Website: https://pdfsimpli.com/lp/pdf-to-jpg
6. InvestInTech Online PDF to JPG Converter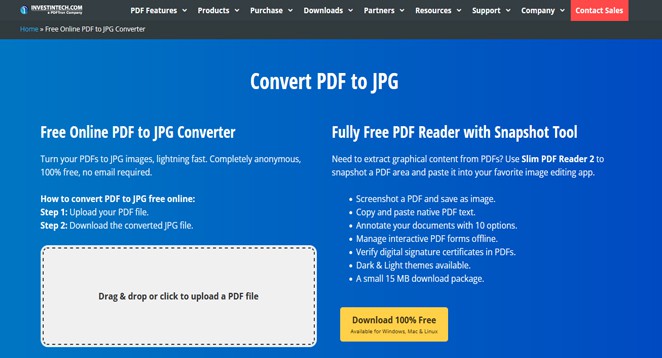 InvestInTech Online PDF to JPG is the next option on our list of the finest PDF to JPG converter online solutions. Like its name and every other tool mentioned in this post, the online tool is an efficient method to generate images from any PDF. The app works flawlessly regardless of the browser or device you are using.
Furthermore, if you want to avoid using the online solution or dealing with conversion needs regularly, you may download standalone applications for Windows, Mac, or Linku devices. As a result, the application is a flexible best free PDF to JPG converter for Windows 10.
Website: https://www.investintech.com/pdftojpg
7. LightPDF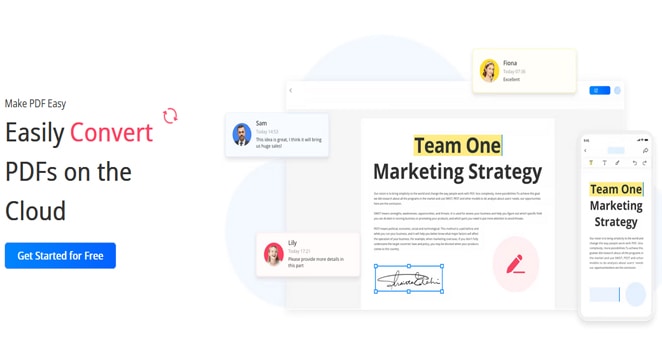 LightPDF is a fantastic PDF to JPG converter with a comprehensive toolbox for creating, editing, dividing, and merging PDFs. In addition, it enables users to convert PDF files to JPGs and other image and text formats.
The original format of the text will be kept after converting, thanks to integrated OCR technology. It ensures that the application remembers how letters, typefaces, and other elements were configured. You will get the text that can be changed in LightPDF by deleting or adding parts, changing formatting, etc.
Furthermore, editing features help add markups, mark PDFs, and so on. You may also use this Excel to PDF converter to apply text/image watermarks to PDFs and sign documents.
Website: https://lightpdf.com
8. Kvisoft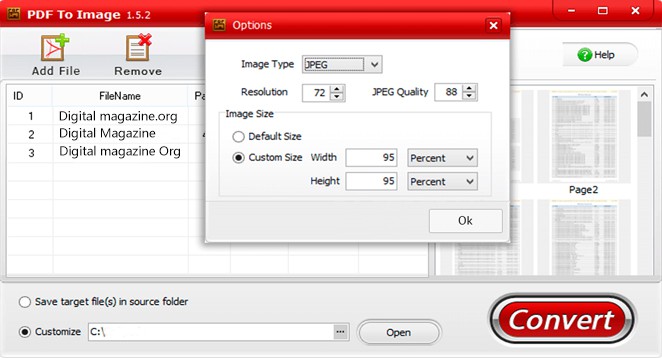 This free PDF to JPG converter will allow you to save your files in different formats, such as JPG, PNG, TIFF, GIF, and BMP. It is compatible with Windows 8 and later versions. Aside from being simple to use, it also enables you to convert multiple files at once.
You may remove selected documents with a single click if necessary. In addition, you may change the output size of your photographs before converting them by adjusting their width or height. The parameters determine the size and quality of an image.
Password-protected PDFs may be converted using this service. When importing them, you just need to provide your password. In addition, the source document's content, images, and layout may be preserved in an output file.
Website: http://www.kvisoft.com/pdf-to-image
9. PDFliner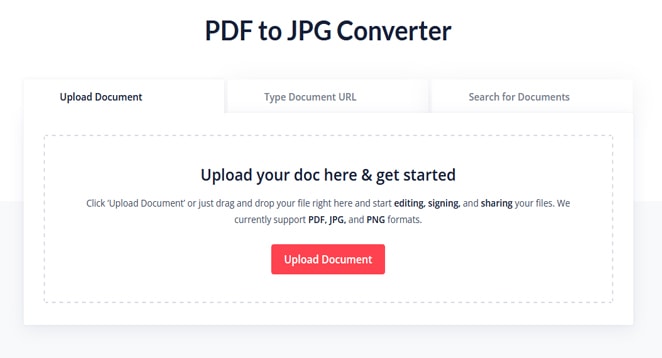 PDFliner's conversion tool allows you to convert PDF files to JPG photos easily. This online converter is free and enables you to edit PDFs while on the go.
You may edit PDF files and add e-signatures, watermarks, and password protection if required. Furthermore, the tool has an extensive, ever-improving collection of useful formats and templates. Annotation tools are available for users to make changes to existing PDF documents.
Website: https://pdfliner.com/pdf_to_jpeg_converter
10. PDF To JPG Converter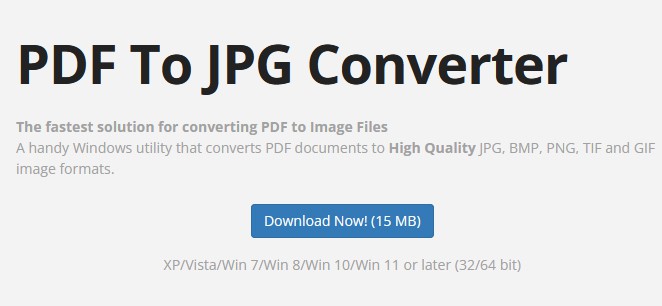 PDF To JPG Converter is the most excellent app in its field, enabling users on both Windows and Mac to convert PDFs of different sizes to another format. In addition, the output image DPI may be adjusted to produce a detailed large-format image or tiny thumbnails. If you need to convert many files at once, activate the folder creation option so that each PDF file is saved in its folder.
You may convert your original files into various image formats in addition to the conventional PDF > JPG conversion. Furthermore, the application includes multiple tools for post-conversion tweaking.
Website: https://www.pdftojpgconverter.com
11. SmallPDF
It is the finest free PDF to JPG converter since it converts your documents into images in seconds while maintaining excellent quality. In addition, the website has no size limitations and does not need registration. As a result, it is also one of the finest free PDF editors.
Each embedded image in your PDFs may be extracted and saved in JPG format. The resolution and quality will stay the same.
You may convert using this website in any browser that supports the Windows, macOS, and Linux operating systems. It is not necessary to install any third-party app to use it.
It uses SSL connections to offer the highest level of security for your downloaded files. After one hour, all papers converted using the website are immediately erased. A desktop version enables offline PDF conversion to JPG, PNG, GIF, TIFF, and BMP formats.
Website: https://smallpdf.com/pdf-to-jpg
12. Boxoft
This free PDF to JPG converter is compatible with Windows and macOS and provides various options for converting and saving files.
Using the drag-and-drop feature, you may add multiple documents and whole directories. Batch conversion is also an option. The user interface is easy to use. You may alternate between the two modes.
After downloading a file, you may see its name, status, size, and modification date. It makes it simpler to arrange them based on these criteria.
Website: http://www.boxoft.com/pdf-to-jpg
13. Free PDF Solutions
It is free software for converting PDF to JPG. It instantly converts documents to the required format due to its ease of use. Free PDF Solutions takes very little time to install. It also features a well-thought-out user interface.
Documents may be imported using a file browser or a folder view.
The application converts data quickly without using a lot of CPU or RAM; thus, it doesn't take up a lot of system resources. However, it needs to provide outstanding outcomes in terms of quality.
It is only compatible with Windows. Furthermore, the output formatting is terrible. This program's main benefit is that it enables you to convert many files simultaneously.
Website: https://www.freepdfsolutions.com/free-pdf-to-jpg-converter.html
14. PDFMate
It is one of the finest free PDF to Word converters that supports various other formats. In addition, it lets you convert each PDF document page into a separate JPG file.
You may read the contents of a PDF file as a JPG image and share it online without fear of downloading problems. You may also save your preferred section of a PDF document to your portable device to read on the go.
This PDF converter is simple to use and features a user-friendly interface. It also offers batch conversion and reads PDF files without needing Adobe Acrobat Reader.
You may use a particular version of PDFMate on Mac devices to convert files.
Website: https://pdfmate.com/pdf-converter-free.html
15. Icecream PDF Converter
This PDF to JPG converter is available in both free and paid editions. However, you can only convert your files using the free version.
One of its most intriguing features is the ability to combine all files into a single PDF document. It also has a PDF reader and can open password-protected files.
It can convert PDF files to JPG, DOC, ODT, BMP, TIFF, PNG, and GIF formats. For easy and high-quality conversion, even the most essential parameters will suffice.
Website: https://icecreamapps.com/PDF-Converter
16. PDF2Go PDF To JPG
The next best service to change PDF to JPG available on the list is PDF2Go PDF To JPG converter. It is one of the great programs since it enables you to upload files for converting using Dropbox, Google Drive, or the memory on your computer. The application is also compatible with smartphones and tablets.
For recurrent needs, you may also install the PDF2Go PDF To JPG Google Chrome plugin. Because it offers additional customization and downloads possibilities, the tool might be considered an advanced alternative to PDF2JPG.Net. Aside from changing image quality, you may also change the color filter, height, and width, and apply filters like Enhance, Sharpen, Despeckle, or Equalize to download the image. Everything is completely free and without restrictions.
Website: https://www.pdf2go.com/pdf-to-jpg
17. Wondershare PDFelement
It is an excellent free PDF to JPG converter that works wonderfully on Windows and Mac. As part of PDFelement Pro, it is suitable for both professional and beginner users. The conversion is quick, and the images are of good quality.
It reads the input graphic files and saves them as text thanks to the excellent built-in OCR (Optical Character Recognition) capability. Output files may be opened in Word, Excel, PowerPoint, and other applications.
It converts multiple files to PDF on practically any device. As a result, documents may be rapidly scanned and edited. You can read our article on Microsoft Print to PDF in Windows 11.
Website: https://pdf.wondershare.com
18. iSkysoft PDF Editor
It is a multipurpose tool that allows you to edit, convert, distribute, and sign files effortlessly. In addition, it features OCR technology, enabling you to incorporate scanned documents into your workflow without the need for additional stages or third-party software.
It supports several formats and produces excellent results. Images may be added, rotated, extracted, cropped, pasted, replaced, copied, and deleted.
Annotations may be added to files by users to share information with their team members. There are also personalized drawings, notes, remarks, stamps, and text fields accessible.
Website: https://pdf.iskysoft.com
19. Movavi PDF Editor
It is the finest free PDF to JPG converter for macOS and Windows since it allows you to update previous presentations with new tables, photos, and charts and even import data extracted from other software like AutoCAD and Excel.
PDFs may be converted to various forms, including HTML, TXT, DOC, Microsoft Word, and EPUB. In addition, individual document pages may be exported as JPG, PNG, or BMP pictures. Microsoft Office and graphics files may also be converted to PDFs.
Before converting, you may add, change, and format content in your document. The application also enables you to insert, trim, and resize images. As a result, the conversion process is quick and produces high-quality output.
Website: https://www.pdfchef.com/pdf-editor
20. PDF24 PDF to Images
The fact that we are nearing the conclusion of the top free PDF to JPG converter online list only sometimes implies that the solutions are deteriorating. On the contrary, PDF24 PDF to Images is an excellent option for converting documents on Android, Mac, Windows, Linux, iOS, and other platforms.
This service is online and does not need you to download or install any standalone apps. If necessary, you may download the standalone app. PDF24 PDF to Images is very secure and always safeguards your submitted documents. PDF24, like a handful of the other apps listed as the best free PDF to JPG converter for Windows 10, enables you to customize the image quality.
Website: https://tools.pdf24.org/en/pdf-to-images
21. XODO PDF to JPG Converter
The tool's operation and interface are simple. Furthermore, since the service operates online, it is compatible with Windows, Android, iOS, and various other devices and operating systems.
You may download the standalone app of this finest PDF to JPG converter online in addition to the online service. The solution's three-step conversion method is outstanding and beneficial to many students, professionals, and other users. You may also add documents from Google Drive or Dropbox to your device's storage.
Website: https://pdf.online/pdf-to-jpg
22. EaseUS PDF Online
Aside from JPG conversions, the website also provides PDF to Word, PPT, and Excel conversions. You may also convert from one format to another. It is excellent for both beginners and experienced users due to its simple and easy operation. Furthermore, the security restrictions prevent anybody other than you from accessing the conversion files. There are no security issues since your data is saved using 256-bit SSL encryption technology.
You may use the web-based converter on various operating systems, including Windows, Linux, Mac, and smartphones. First, upload your PDF file or drag and drop it on the website to convert it to JPG. Then, wait for the tool to do the conversion automatically. Now, download the file and save it to the selected destination.
Website: https://pdf.easeus.com/pdf-online/index.html
23. Soda PDF
Soda PDF is a rather powerful and versatile PDF software package that includes all of the essential tools required to convert, edit, compress, merge, and protect documents. While other applications manage all of this with visible complexity, Soda PDF provides simplicity, with actions requiring just a few clicks. It is also known as Soda PDF Anywhere since it can be used as an online or desktop version on Windows, Mac, Linux, Android, and iOS without limits.
Website: https://www.sodapdf.com
24. PDF SwifDoo
SwifDoo is an excellent tool for converting PDF to JPG files. This tool includes an online converter that makes file conversions simple. On Windows 10, 8, 7, and XP, you may use this powerful PDF application to edit, merge, split, and convert PDF files to JPG images. It can convert PDF to JPG, BMP, TIF, and PNG with many resolution settings.
What matters is that it can convert a multi-page PDF into a single JPG image or separate image files, as well as group convert many PDFs to JPG images at the same time. When you convert PDF files to JPG images, neither the text nor the image quality is affected. However, when necessary, it allows you to simply edit the text.
Website: https://www.swifdoo.com
25. UPDF PDF Converter
If you need a quick tool to convert your PDF files to pictures, UPDF is ideal. It can convert your document into various image formats, including JPG, BMP, PNG, TIFF, and GIF.
This smart tool's PDF to image conversion is only one of its many features. It allows you to change text, rearrange pages, rotate, remove, and insert new ones.
The service is free, although the free version has several limitations. However, it is compatible with Windows, Mac, Android, and iOS.
Website: https://updf.com/pdf-converter
Zamzar is an online file converter that provides a one-stop destination for all file conversions, including audio, videos, images, and documents. For example, you may use Zamzar to convert files such as EPUB to PDF, AVI to MP4, ODT to PDF, WMA to MP3, PDF to CSV, CSV to XLS, and so on. Zamzar's service is available to everyone to use on any device. Zamzar is one of the most popular online converters today, with millions of visitors every month because of its multi-functionality, usability, and accessibility.
Website: https://www.zamzar.com
Final Words PDF to JPG
Any of us may need to convert PDF to JPG for many reasons. Fortunately, the above-mentioned online PDF to JPG converter can provide you with the highest quality output while also completing tasks rapidly. We hope the above resources were the exact solutions you were looking for. We would be happy to help you in any manner. You can also read article on Top 10 PDF Management Solutions that you can use online, offline, or as a hybrid solution on your PC with cloud capabilities and also learn how to install Advanced PDF Manager, its features, how much it costs, and anything else you need to know about it.