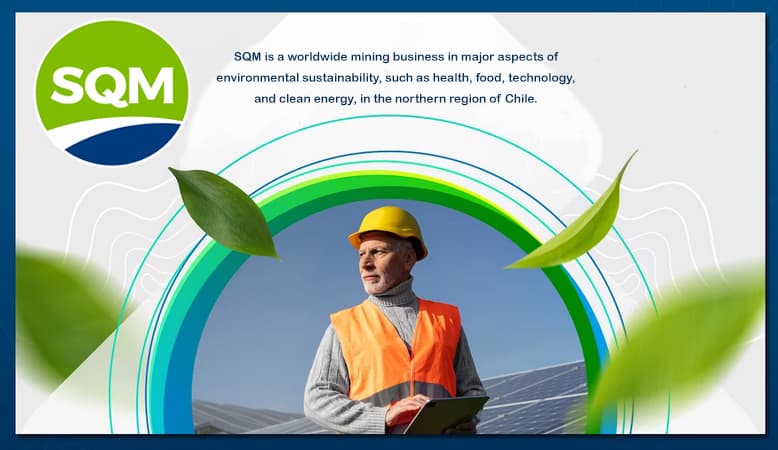 SQM Club – Soultion for Human Progress: SQM is a worldwide mining business in major aspects of environmental sustainability, such as health, food, technology, and clean energy, in the northern region of Chile. In its five business segments, the company is a global leader: Specialized Plant Nutrition, Iodine and derivatives, Lithium and derivatives, Potassium, and Solar Salts.
What is SQM Club?
SQM is a Chilean business with a 51-year of experience and good economic and financial standing. It is one of the major national and international Chilean companies, with more than 9,000 (internal and external) employees and commercial offices across the globe, exporting its goods to over 110 countries.
It is a global leader in the lithium, iodine, potassium nitrate, and solar salts markets. Its five business lines are present in a broad range of sectors. Professional growth and employment security are crucial for SQM. The organization prioritizes the work environment and the safety of its employees by providing chances for training and professional and personal development. It is a business with unique and particular procedures, which enables the discovery of systems that do not exist elsewhere. In addition, its worldwide presence provides genuine opportunities for growth overseas.
Website: https://www.sqm.com
SQM Club Brief History
SQM and Corfo sign agreement for arbitration in Salar de Atacama in 2018.
SQM acquires rights to a lithium project in Australia in 2017.
SQM expands its lithium business to Argentina in 2016.
Production is suspended at Pedro de Valdivia plant in 2015.
Lean M1 methodology is implemented in 2014.
Nueva Victoria plant earns ASIQUIM Responsible Care certification in 2013.
Ayllu wine is born as part of the Atacama Tierra Fértil program in 2011.
New product line launched in Dubai in 2010.
SQM signs new joint ventures in India, China and France in 2009.
María Elena rebuilt after 2007 earthquake in 2008.
Production begins at the new nitrate prilling and granulation plant at Coya in 2007.
The Company issues its first Sustainable Development Policy in 2006.
Lithium hydroxide production begins in 2005.
SQM begins new expansion phase in 2001.
New potassium nitrate plant built in Coya Sur in 2000.
Lithium carbonate and iodine production begins in the Salar del Carmen and Nueva Victoria, respectively in 1997.
Second ADR placement on New York Stock Exchange in 1995.
Salar de Atacama lease agreement with Corfo begins in 1993.
First potassium nitrate produced in Coya Sur in 1986.
Privatization begins in 1983.
Nationalization of SQM in 1971.
SQM is born on June 29th 1968.
New nitrate crystallizing plant built in Coya Sur in 1951.
Pedro de Valdivia begins operations in 1931.
María Elena nitrate office opens in 1926.
Why Should Join SQM Club?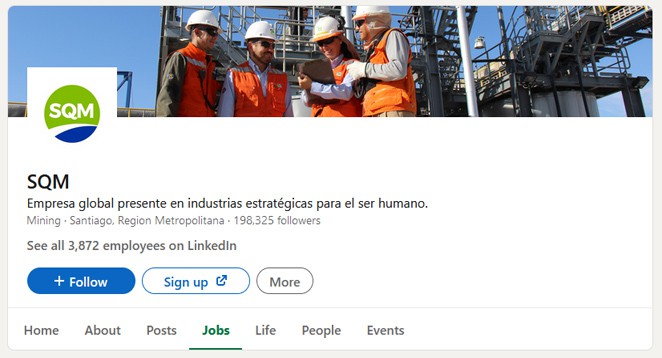 SQM club is a worldwide mining business in critical areas for sustainable development, such as health, food, technology, and clean energy, in the northern region of Chile. We think that a diverse and inclusive culture is essential to our purpose of helping to create a better society, with a particular emphasis on women, those with disabilities (law 21,015), and local employment.
It is a fantastic opportunity for outstanding individuals who can grow as Integrated Operations Center Engineers, contributing to attaining its goals and managing the area's administrative administration and continuous development. You can join SQM Club Linkedin for jobs at https://www.linkedin.com/company/sqm/jobs
Requirements
You should coordinate duties between members of the CIO and roles that offer support services to the CIO to establish integration in their activities to satisfy the area's goals.
Lead continuous improvement initiatives via the formulation and execution of activities.
Standardize the upgrading and implementation of CIO processes, as well as compliance.
Lead the onboarding and training of CIO members and positions that assist the CIO.
For this challenge, they want individuals with the following:
Professional qualification in Civil, Industrial, or Chemical Engineering.
A maximum of four years of experience is required as a Project Engineer, Process Engineer, or Change Agent in the industrial/mining industry.
Superior level of English (spoken and written)
Recommendations
Type of contract: Unlimited duration
Monday through Thursday workweek 4×3
Carmen Lithium Chemical Factory, situated in the second area of Antofagasta, is the place of employment.
The ability to participate and advance in a dynamic work environment, as well as ongoing education.
An appealing idea for corporate perks
The official route for applications is: https://www.TrabajaEnSQM.com. Signup and register immediately; They await your application!
SQM Club Products
SQM Club is the global market leader in producing potassium nitrate of natural origin, with the lowest carbon footprint, being chlorine-free, and being 100 percent water soluble, allowing for a more rational use of water in fertigation applications, thereby increasing the quality and yield of a wide range of crops. Its expertise is the result of years of research and countless field studies undertaken by its agronomic experts across the globe in close collaboration with farmers. This solid agronomic knowledge is essential for the creation of specialized formulae and corresponding fertigation software tools, enabling them to give professional advise for balanced nutritional programs. For more details visit the website: https://sqmnutrition.com
Products includes;
Specialty plant nutrition
Lithium and derivatives
Iodine and Derivatives
Industrial Chemicals and
Potassium
Final Words
SQM is a company always looking for excellent outcomes to generate shared value for shareholders, workers, customers, suppliers, and communities. They promote creativity, agility, and innovation throughout the work and everyday difficulties. They design the work with sustainability and environmental sensitivity in mind. SQM club wants to create an organizational culture of excellence based on the ten principles of the Lean (M1) approach.
They promote and encourage internal meritocracy as the primary means of professional advancement. SQM Club fights for equal opportunity, tolerance, and diversity. They aim to provide chances for professional growth so that individuals may reach their full potential.