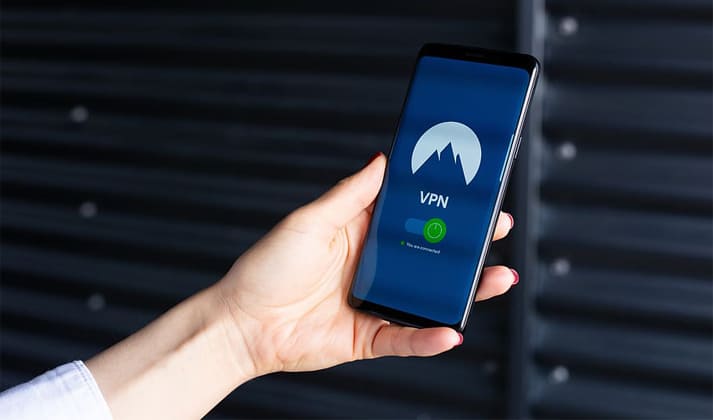 Best Free VPN Apps for Android: Android smartphones are one of the most widespread operating systems nowadays. As a result, dangerous threat actors focus a lot of their attention on them, showing higher rates of attempted malware attacks. While a virtual private network, or VPN, maybe a helpful tool for adding important protection to your online activities, not all free VPN services can be relied upon.
For this reason, we put some VPN apps through various tests and chose to work only with trustworthy and risk-free. The best free VPN Apps for Android may prevent you from getting your data tracked, protect your identity, and access content that is blocked or restricted on the internet.
What is VPN?
The abbreviation "VPN" refers to a service that protects your Internet connection and your privacy while using the internet. VPN creates an encrypted tunnel for your data that protects your online identity by masking your IP address and enables you to use public Wi-Fi hotspots without risking your personal information. So that you may browse in complete anonymity if you use a virtual private network (VPN), the data you send and receive online will remain hidden from hackers even if they get access to the public hotspot where you are connected.
When you try to open a website, the request is sent to your Internet Service Provider (ISP), and your ISP then directs you to the site you want to visit. When you connect to a VPN, however, it will route all of your internet traffic through a VPN server before sending it to your chosen address.
How to choose the best VPN?
Finding the best free VPN Apps for Android starts with focusing on your primary requirements. For example, will you be streaming content? How do you stay secure online? Doing some gaming?
Choosing a VPN service with many locations and applications for every medium is a good start. Still, it is essential to determine whether it supports the sites and platforms you'll be using.
If watching movies or TV is your primary priority, check for a VPN that unblocks your preferred services, such as Netflix or iPlayer. Torrent users will undoubtedly want P2P functionality on as many servers as possible, an effective kill switch to hide their identity, and an audited no-log policy to ensure that all your online activities remain hidden.
Many VPNs also limit the number of devices that may be connected simultaneously. So if you have many mobile devices, computers, smart TVs, or other devices to protect, you should look for best free VPN Apps for Android  that allows for more simultaneous connections — or may have no limits.
Checking the support site of a VPN is one of the greatest methods to discover if it is excellent (or terrible). Look for detailed and well-written content that will help you in any tricky situations you find yourself in. Live chat help is also appreciated but not required. Email assistance is often surprisingly quick, with some companies answering in minutes.
Of course, pricing is essential, but we recommend focusing on functionality first.
In brief, search for best free VPN Apps for Android that allows you to perform anything you want. That can be inexpensive; some excellent offers are on our list, and you can always use pricing to narrow down your selection to a final pick later.
Is it worthwhile to have a free VPN on Android?
The value of a free VPN for Android is highly dependent on your needs.
To start, keep in mind that free VPNs have some limits regarding data use, speed, functionality, and country selection. As a result, a free VPN is sufficient for casual surfing.
However, if you want to go all-in and use a VPN for streaming, torrenting, or unblocking content in specific locations, you should check into subscription services.
You may do this by upgrading any VPNs mentioned here since they offer premium membership plans with no data, bandwidth, server list, or other limitations. You may also check our list of the best VPN services and choose one of our top VPNs.
How Does a VPN Work?
In most cases, connecting to a VPN is easy. First, you download and install the best free VPN apps for Android after signing up with a VPN service. Then, you choose a server to connect to, and the VPN takes care of the rest.
Do you want to know the specifics? Here's how your data is transported over an encrypted tunnel after the connection is created.
The VPN client application on your device encrypts your data flow and transfers it securely to the VPN server. The data is sent through your ISP, but they cannot decrypt it because of the encryption.
The VPN server decrypts the encrypted data from your Android device.
Your data is sent to the internet, receiving a response addressed to you, the user.
The VPN server then encrypts the traffic and sends it back to you.
Your device's VPN client will decrypt the data so you can understand and use it.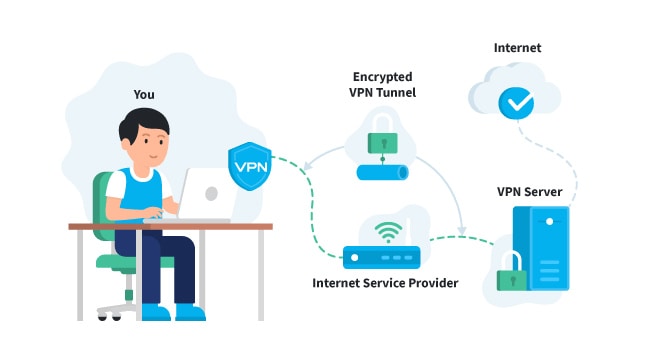 VPN apps operate in the background of your smartphone and do not interfere with other applications. In addition, they give an extra level of security to your Wi-Fi network.
Best free VPN Apps for Android
If you are looking for the best free VPN Apps for Android phone or tablet, these services should be at the top of your list.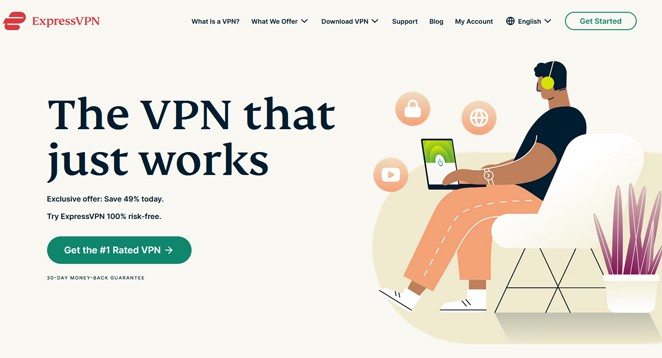 According to our detailed user testing and independent review process, we can safely say that ExpressVPN is the finest VPN available among the other best free VPN Apps for Android.
ExpressVPN has over 3,000 servers in 160 locations distributed over 94 countries, a kill switch, split tunnel, and obfuscated servers. While other providers have more servers in total, very few have such a wide spread, which means that you'll receive fast, dependable connections no matter where you are. It has a particularly outstanding range in Asia, which is sometimes overlooked by other providers.
All applications use industry-standard AES-256 encryption in combination with the OpenVPN and Lightway protocols. Lightway is the big favorite here, with its in-house, open-source protocol providing incredible speeds – however some other providers deliver higher peak speeds when using WireGuard. Unless you have a 1Gbps+ connection, you won't see a change.
ExpressVPN also uses its own TrustedServer technology, which ensure that its RAM-only DNS servers do not save any information about you or your activity. In a nutshell, ExpressVPN is quick and safe, and a recent upgrade introduced a much-needed kill switch to iOS, Excellent work.
ExpressVPN's applications are easy to use and almost similar across the board – once you've tried one, you've used them all – and the device support is broad. Not only can you protect your PC, Mac, iPhone, or Android, but also your router, Chromebook, Linux PC, Fire TV Stick, and a variety of other devices.
One of the most popular reasons for using a VPN is to get access to geo-restricted streaming content. ExpressVPN performs in this area. It consistently unlocked a number of Netflix regions, BBC iPlayer, Disney+, Amazon Prime, and worked fine for regional TV stations throughout the globe in our tests. Only a few other services, such as NordVPN and Surfshark, can compete, and Express remains our top streaming VPN.
Website: https://www.expressvpn.com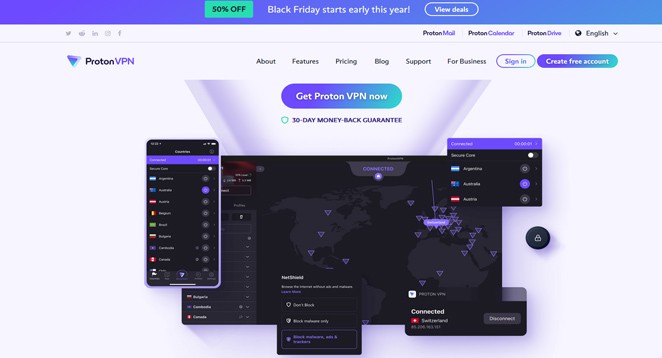 ProtonVPN is an excellent choice if you have one device to worry about. This free service offers "medium speeds," which means you won't have access to the 10 gigabit-per-second servers that paying users to have. Still, the speeds are sufficient, but no servers support Netflix streaming. That's another pricey feature, although you can probably get similar streaming providers that need to be more actively good VPNs than Netflix is.
ProtonVPN offers an excellent privacy policy and no data limitations, but even when the service is free, you must register an account to use it. ProtonVPN Free offers three country choices. It is, still, one of the best free VPN Apps for Android to consider.
Website: https://protonvpn.com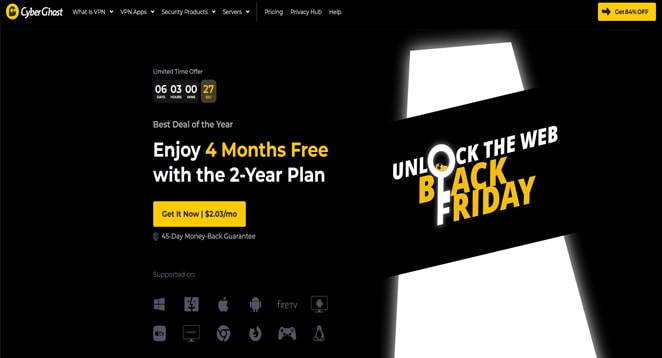 CyberGhost offers streaming-optimized servers that allow you to access your streaming apps from wherever. During our testing, we could quickly unblock Hulu, Disney+, BBC iPlayer, and multiple Netflix libraries on Android phones while maintaining an average download speed of 45 Mbps. It is sufficient for HD and 4K streaming. The connections were very reliable, and the connection speeds were excellent, allowing you to browse, watch, and download without interruption on your Android smartphone.
The Best Location function links you to the quickest and most dependable server. With its Wi-Fi Protection function, you may configure how your VPN should behave when you connect to a new network. When you connect to an unfamiliar or unprotected public WiFi network, for example, if you choose the default action to "Protect," you will be automatically connected to a VPN server. It is the reason it is among the best free VPN Apps for Android to consider.
While it is not exactly free, CyberGhost offers a 45-day money-back guarantee. It gives you almost a month to test all of its features before requesting a full refund if you are not completely happy. To test the reliability of the promise, We contacted assistance through 24/7 live chat and requested a refund. After a brief conversation, the agent authorized the request. We received the full refund in exactly four days.
Website: https://www.cyberghostvpn.com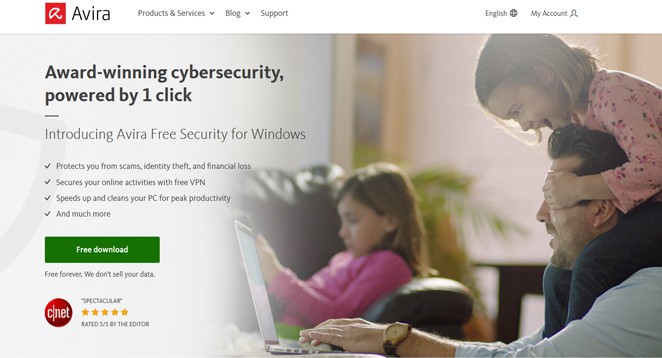 It includes excellent security features to protect your digital identity and among the best free VPN Apps for Android in 2022. Your Android smartphone is highly secured from cyber attacks and tracking thanks to AES 256-bit encryption. We tested Android tablet and discovered no IP, DNS, or WebRTC leaks. However, We were unhappy to find out that it lacks a kill switch, leaving you unprotected if your VPN connection fails. Avira Phantom VPN has fast servers in 33 countries are available through the Android app, which is excellent for a free VPN. Most free VPNs only allow you to connect one device at a time, however Avira's free software will enable you to connect all of your Android devices at once.
We connected Realme X7 Pro and Google Pixel C tablets to its San Francisco server during the tests. While streaming HD movies on both devices, the connections remained stable. Even though We were connected to the same server, we didn't notice any unexpected drops or slowdowns in performance. The average download speed was 25 Mbps. When We tried Avira Phantom's US – Streaming server, it unblocked Netflix US, Disney+, and Hulu. Overall it is the best Free VPN Apps for Android.
Website: https://www.avira.com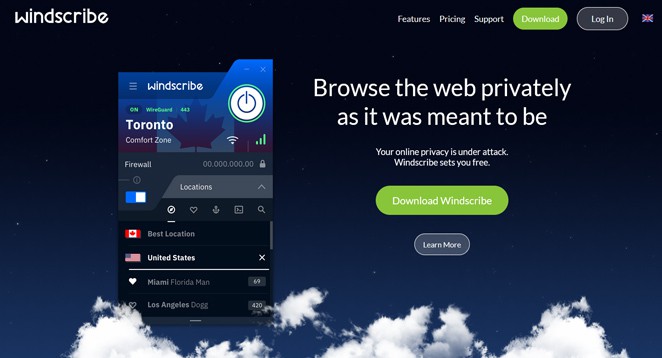 Another good option for Android users. You will not have limitless use as with ProtonVPN. Instead, you may browse for up to 10GB every month. However, there are no device limitations, and you have ten country connection possibilities.
Windscribe's free service needs a verified email address. Windscribe has a good privacy policy; however, it does monitor bandwidth usage to keep you within the free limits.
Website: https://windscribe.com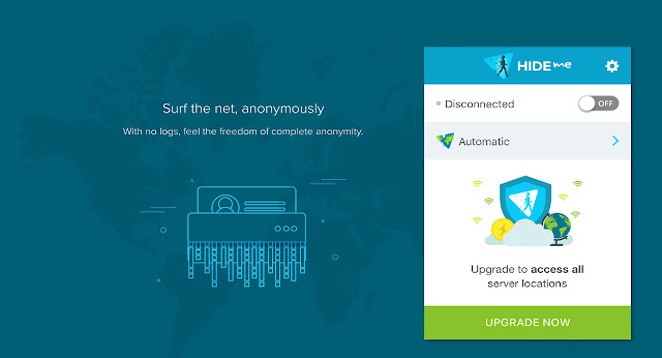 Hide.me is a free VPN with excellent security features to protect your Android data. It has military-grade 256-bit encryption, split tunneling, IP/DNS leak prevention, and an automated kill switch. Its Auto-Protect function, which automatically protects your connection on unknown WiFi networks, impressed us. It is headquartered in Malaysia, a privacy-friendly nation located outside the authority of the 5/9/14-Eyes. It prevents the risk of third-party interference with your data. Furthermore, it has a strong no-logs policy, which means that hide.me will never save any of your data.
The Android app allows you to move between servers in four countries: Canada, Germany, Netherland, and the United States. It was compatible with Crackle and Funimation but not with Amazon Prime Video, Netflix US, Hulu, or any other popular streaming service. Furthermore, the free edition only provides 10GB of data each month. It is excellent for a free VPN but only allows for three hours of HD streaming. However, since the servers are P2P-friendly, you may also use them to download small torrent files on your Android smartphone. It only allows one device connection at a time, but you may configure it on your router to cover all of your devices simultaneously. You can consider Hide me among the best free VPN Apps for Android to protect your privacy.
Website: https://hide.me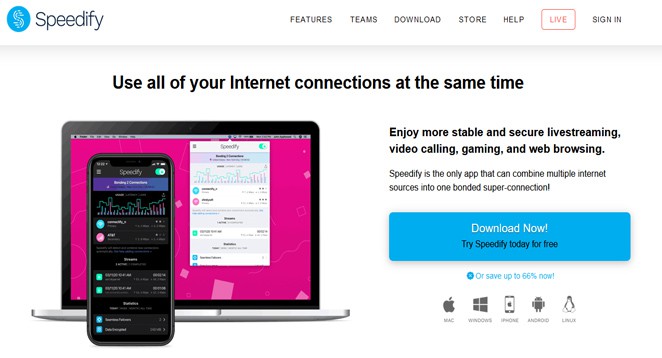 Speedify uses Channel Bonding technology to boost your connection speeds for faster Android surfing. It does so by allowing you to use multiple internet connections simultaneously. It is among the best free VPN apps for Android. Speedify specializes in smooth VPN transitions between Wi-Fi and cellular networks. When you go between Wi-Fi and cellular, the connection usually stops and resets, but with Speedify, it simply continues running, which is excellent. It also connects your Wi-Fi and cellular connections to boost connection speeds.
We set the bonding mode to "Speed" during testing and had an average download speed of 27 Mbps, 10% faster than the VPN connection we regularly get with Speedify. In addition, it allows you to watch an HD travel vlog on Facebook Watch without lag or delay.
The VPN also provides enough security features to secure your Android device. It uses AES 128-GCM encryption to hide your internet activities. While it is not as safe as 256-bit encryption, it is enough for daily usage. There are five network protocols to select from UDP, TCP Multiple, TCP, HTTPS, and Auto. UDP provided us with the quickest speeds. TCP, on the other hand, is more dependable and secure.
The main issue with Speedify is that its free Android app only provides 2GB of bandwidth per month. It allows for 3 hours of SD streaming; however, it is best used for surfing, checking emails, streaming short movies, or downloading small files.
Website: https://speedify.com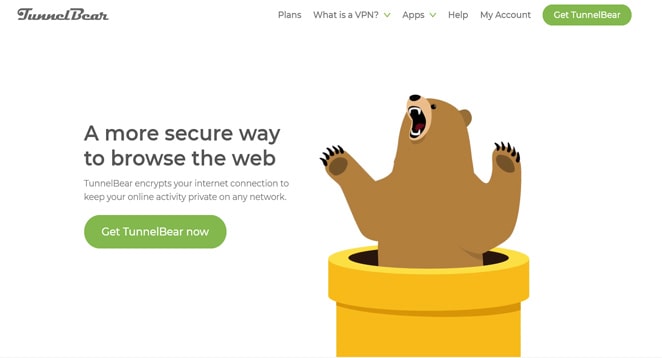 It protects your Android smartphone with 256-bit military-grade encryption, making it almost hard to access your data. It also includes an automated kill switch to secure your identity if your VPN connection fails. The free edition has no advertisements, which is always appreciated. We also liked its SplitBear function, which allows you to prevent particular Android applications from using the VPN connection. It is among the best free VPN Apps for Android to consider in 2022-23.
Unfortunately, TunnelBear's free Android app could have been better at unblocking popular streaming apps like Disney+, Hulu, APV, or the region-locked Netflix titles. However, its GhostBear function hides the fact that you're using a VPN, allowing you to access banned social media sites such as TikTok.
The VPN provides an easy-to-use Android app to help you protect your connection. The app took me 3 minutes to download and install on an Android device. You will be requested to create an account when you first start the app. Then, enter your email address and create a password. After that, you must verify your email address before you can proceed.
The downside of TunnelBear is that it only provides 500 MB of data per month. It is insufficient, especially if you are a power user who enjoys streaming and torrenting. You can also get an additional 2 GB if you recommend a friend and install it on your desktop device.
Website: https://www.tunnelbear.com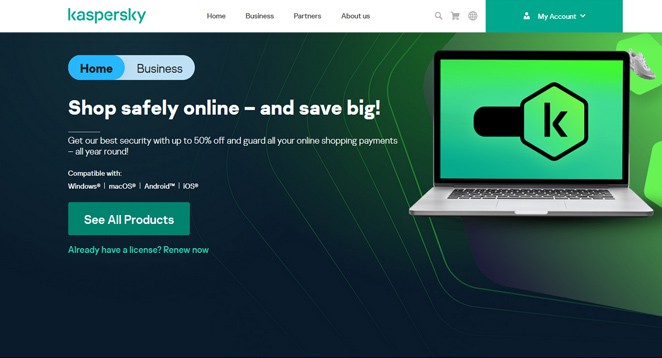 Kaspersky is among the best free VPN Apps for Android that is very user-friendly, making it simple to protect your Android device. You may encrypt your connection and begin surfing with a single click. It took less than two minutes to set up on an Android phone. The whole procedure, from download to installation, was fast and simple. The greatest thing is you don't even need an email account to start.
It provides 200MB of data daily, enough to surf the web or check your email. Small files may also be downloaded. It is not, however, suitable for streaming or torrenting. The free server should provide you with decent connection speeds for seamless surfing. The app chooses the quickest one depending on your location, so it's generally one nearby. During testing, the average speed was about 35 Mbps.
It has enough security features to protect your connection and hide your IP address. Military-grade encryption secures your data from anybody trying to track your online activity, while IP/DNS leak prevention protects you against leaks. We were disappointed that the free version only has one server and that you cannot pick where it is located. It means you won't be able to access international content using it. However, it is still a decent option if you wish to avoid having your internet activities tracked.
Website: https://www.kaspersky.com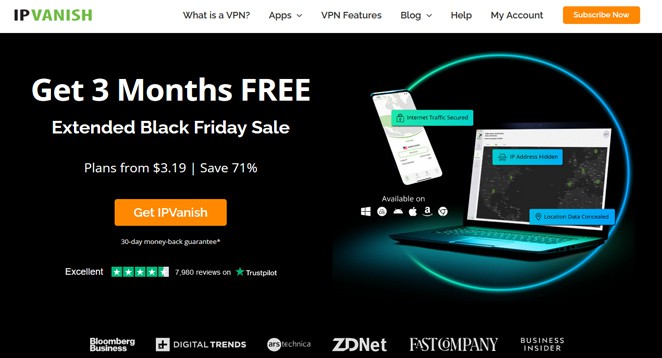 IPVanish is an excellent feature-rich premium VPN that is low-cost. It is a very well-developed and consider among best free VPN Apps for Android and offers unlimited data. However, there is no free trial, but when you subscribe to the long-term plan, you receive a 30-day money-back guarantee.
Thanks to the WireGuard protocol, IPVanish offers the highest level of data protection with AES-256 encryption and impressive speeds. Furthermore, the obfuscation tool will hide your VPN usage, and the split tunneling feature featured in the Android app will allow you to choose which applications must use a VPN tunnel.
The provider has a large fleet of 2000+ servers spread over 50 locations, so you'll never have to struggle with overcrowded servers. Also, we had no trouble unblocking Netflix and other major streaming sites' worldwide libraries using this VPN.
What could possibly be better? Perhaps you can get the unlimited benefit of using a single IPVanish subscription. As you can see, this is an excellent low-cost option for a free Android VPN.
Website: https://www.ipvanish.com
Final Thoughts
VPNs aren't only for computers. You may also use them to improve the security and privacy of your Android phone or tablet. So whether you want extra protection for your connection on a public Wi-Fi network or to bypass geo-restrictions for most of your favorite streaming services, a free VPN can help you.
Of course, the issue is that a variety of VPNs are available on the Google Play Store. So, which ones are worthwhile? Our experts have tested a variety of VPNs for Android smartphones and compiled a list of the best free VPN Apps for Android you can trust. On this page, you may find our top recommendations.