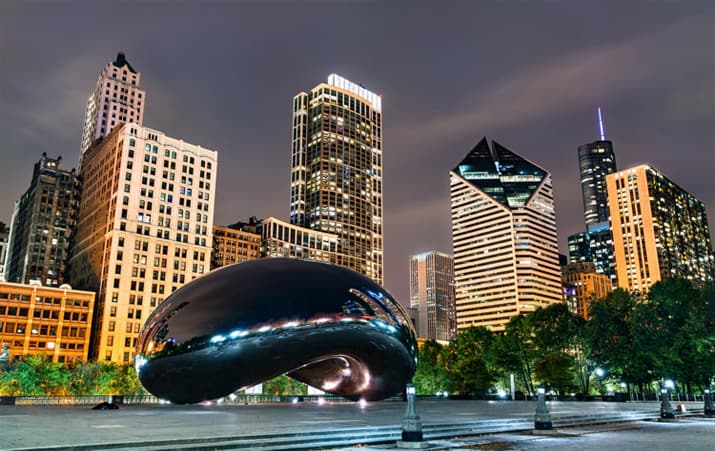 If you are thinking about living in Illinois, there are a few things that you need to take into consideration before you really go through with the move. Even though moving to Illinois can be a stressful experience, it can be beneficial to familiarize yourself with the ins and outs of the potential new city you will be relocating to. Understanding the ins and outs of your potential new city may make a major difference. Illinois is a state in the Midwest, and it is known for both its long history and its growing population.
The state of Illinois, which is commonly referred to as the "Land of Lincoln," is home to a diverse cultural landscape, a lengthy and storied history, and a vast variety of fascinating and interesting things to do and see. There are a lot of reasons why deciding to live in Illinois is a smart choice; these reasons vary from the state's thriving cities to its charming little villages. Choosing to live in Illinois is a good choice for a lot of different reasons. In the following paragraphs, we will go over a few of the many reasons to live in Illinois. It is a fantastic state to settle down in.
The City of Chicago
One of the most obvious and significant benefits of living in Illinois is the opportunity to live in or near the City of Chicago. Chicago is the third-largest city in the United States and offers a vast array of cultural, culinary, and entertainment options. From world-class museums like the Art Institute of Chicago to iconic landmarks such as the Willis Tower and Navy Pier, there's always something new to explore. Chicago is also a hub for commerce, innovation, and technology, making it an ideal location for young professionals.
Outdoor Activities
If you live in Illinois you will see that it  is home to numerous state parks, forests, and lakes, making it an ideal destination for outdoor enthusiasts. Whether you enjoy hiking, camping, fishing, or boating, you'll find plenty of opportunities to enjoy the great outdoors. The Shawnee National Forest in southern Illinois offers breathtaking vistas, hiking trails, and wildlife viewing opportunities, while Lake Michigan provides miles of beaches and opportunities for water sports.
Affordable Housing
Compared to many other states, Illinois offers relatively affordable housing options, particularly in its smaller cities and rural areas. This makes it an attractive choice for families, first-time homebuyers, and retirees looking to stretch their dollars further. In addition, Illinois has a diverse mix of housing styles, from historic Victorian homes to modern condos and townhomes.
World-Class Education
Illinois is home to several prestigious universities, including the University of Illinois at Urbana-Champaign, Northwestern University, and the University of Chicago. These institutions offer top-notch education and research opportunities, attracting students from around the world. Illinois also has an excellent K-12 education system, with many highly ranked public and private schools throughout the state.
Culinary Delights
Illinois has a thriving culinary scene, with a diverse range of restaurants, cafes, and bars serving up delicious food and drinks. Chicago, in particular, is known for its deep-dish pizza, hot dogs, and Italian beef sandwiches, while the state as a whole is known for its corn, soybeans, and dairy products. Illinois also has a growing craft beer industry, with many breweries offering unique and flavorful brews.
Cultural Diversity
Illinois has a rich history of cultural diversity, with vibrant communities representing a wide range of ethnicities and cultures. Chicago, in particular, has a long history of immigration, with distinct neighborhoods representing Polish, Mexican, Chinese, and African American communities, among others. This diversity is reflected in the food, music, art, and traditions found throughout the state.
Sports Teams
Illinois is home to several professional sports teams, including the Chicago Cubs and White Sox (baseball), the Chicago Bears (football), the Chicago Bulls (basketball), and the Chicago Blackhawks (hockey). Attending a game or even just following the teams can be an exciting and enjoyable way to connect with fellow Illinoisans and celebrate the state's sporting culture.
Convenient Location
Illinois is situated in the heart of the Midwest region, making it a convenient location for travel and transportation. The state is home to several major airports, including O'Hare International Airport in Chicago, as well as several major highways and railways. This makes it easy to explore other parts of the country or even take a weekend trip to nearby cities and towns.
Festivals and Events
Should I move to Illinois? Illinois is known for its many festivals and events, which celebrate everything from local culture to international cuisine. Some of the most popular events include the Taste of Chicago, which showcases the city's diverse culinary scene, the Chicago Jazz Festival, which brings together top jazz musicians from around the world, and the Illinois State Fair, which celebrates the state's agricultural heritage with carnival rides, livestock competitions, and more.
Friendly People
Last but not least, Illinois is known for its friendly and welcoming people. Whether you're in a big city or a small town, you're likely to find residents who are willing to help you navigate the area, recommend local attractions, or simply strike up a conversation. This warm hospitality and sense of community are just some of the many reasons why Illinois is a great place to call home.
Final Thoughts
In conclusion, Illinois offers its residents a wide range of things to do and see, from the busy streets of Chicago to the quiet beauty of the state's parks and woods. Chicago is the most populous city in Illinois, with a population of over 2.7 million people. The state of Illinois is a beautiful place in which to live, work, and play since the state's housing is reasonably priced, the state's educational system is of world-class quality, and the state's cultural scene is vibrant. In the Land of Lincoln, there is something that is ideal for individuals of all ages and phases of life, whether they are young professionals, families, or seniors so if your final decision is to live there you should contact long distance movers in Illinois. The best long-distance moving companies offer customized moving plans, great customer service, and prices that are comparable to other companies. They are a full-service moving and storage company whose goal is to make long-distance moves stress-free and memorable for their clients.