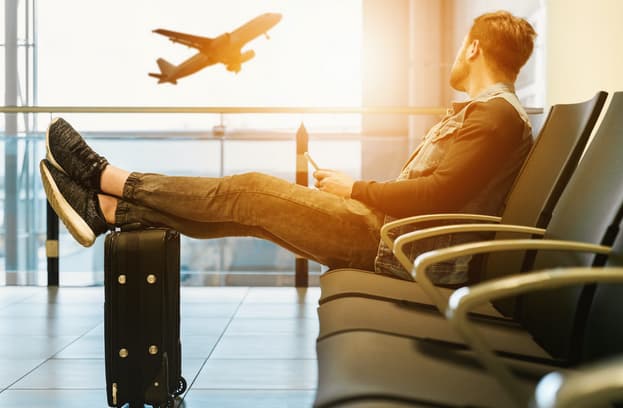 We don't want to sound like a Debbie Downer, but traveling is a rare luxury nowadays due to how much it can cost you. According to Forbes, each traveler can anticipate going through at least $1,400 on a 3-day trip.
We're here to help you and your wallet to save money while traveling. From creating a budget to looking for discounts, travel doesn't have to cost you an arm and a leg! Here's your guide to saving money while traveling.
Look Into Passive Income
Would you like to learn how to offset some of your travel expenses? Passive income is here to save your day (and your wallet). Honeygain is an innovative app that allows you to earn passive income by sharing your unused internet connection!
It's as good as it sounds! Installing the app on your phone makes you a part of a global network that helps businesses and researchers gather publicly available online data and insights.
Honeygain guarantees security when sharing your internet connection through traffic monitoring and multi-factor authentication. The app runs silently in the background without disturbing your regular phone use.
If you have a PayPal account, you could link it to your Honeygain account and travel peacefully, knowing you're earning free PayPal money while you see the world!
Create a Budget and Stick To It
We've already talked about how travel can take a toll on your bank account – buying plane or train tickets, looking for a place to sleep, securing travel insurance, and local means of transportation.
If you want to save money while you travel, creating a budget for your travel spending is essential. Some people track their spending with pen and paper, and others use apps like Mint or YNAB to keep tabs on their wallets.
It's also advisable to allocate more money to travel than you think you'll need. This way, you won't have to worry about overspending and struggling to pay for something at the end of your trip.
What's more, planning and allocating more money upfront means that you're ready for any emergencies that might come your way.
Try to Travel Off-Season
Traveling off-season is increasingly popular amongst travelers. Travel during off-peak times will save you money and improve your overall travel experience. Because who wants to wait in extremely long lines with hundreds of other tourists?
Moreover, countries with large waves of tourists tend to increase their prices right before planes full of tourists land at the local airport each year. How do you avoid that? After choosing your travel destination, research what times of the year are considered travel season and off-season times.
Most often, Europe's off-season is from November to March. Regardless of which countries you decide to visit (aside from ski resorts), you're sure to find fewer fellow tourists and spend-worthy prices when traveling Europe during the colder months.
Avoid crowds of tourists in countries like Japan, China, and Taiwan by traveling during the winter months. For Northern America, the off-peak season falls between the winter months of November and April. Many wish to experience summer Down Under, but visiting during Australia's winter (June to August) will save you cash on airfare and tourist activities.
Avoid Hotels if Possible
According to a 2021 NerdWallet study, the best time to book a hotel for a trip is 15 days before you arrive at your destination. But hotels are often costly, no matter when you book them.
We all enjoy the comfort of a snuggly bed and a hot shower at the end of a long day. And travel is no exception. But have you considered opting for a hostel or an Airbnb instead of a chain hotel when you travel? You'll enjoy the same comforts for a much lower price!
Airbnb can also help you save money if you're traveling with friends or staying somewhere for at least a few nights. At an Airbnb, you might also meet a genuinely kind host who'll share insider tips on what to visit, what to avoid, and how to find the best local deals.
Travel With a Friend
This one's simple – not only will you have more fun, but traveling with a friend means splitting expenses. You can save money by sharing the costs of eating out, accommodation, transportation, local attractions, and more.
Some sites, such as Tripping or Vrbo, allow you to rent homes directly from owners and split costs with your friends. These are great because you can negotiate with the owner and often save money. Given that you pay one flat rate for the home for your stay, you can bring as many friends as the owners will allow and lower the cost.
Going to local markets with your friends and pre-planning dinner can also be a great way to experience new cities like a local and get great deals on dinner. Moreover, finding local food joints and street food are great ways to experience local flavors on a small budget.
Stay on the Lookout for Discounts
Are you a student, a senior citizen, or a young adult? Many businesses provide discounts to those with a student or a pensioner ID. Companies like SAS also offer reduced flight ticket prices for people between 12 and 25 years old.
It's always a good idea to look around before buying something. Check out different sites and shops to choose the deal that suits your wallet best. If taking a trip still seems too expensive, consider payments in installments. This way, you'll spread out your expenses and pay less upfront.
Don't forget about websites like Groupon, where you can always find the best local deals and discounts. Moreover, follow travel-related businesses on social media because they often share various discount codes and contests that could help you save money.
Don't Be Scared to Haggle
If you visit local flea markets or similar shops, the owners will probably be willing to haggle with you. Haggling can help you save money on any souvenirs or other smaller purchases. Here's how to negotiate like a pro:
Show confidence: people will be less likely to mess with you if you seem confident.
Talk less, listen more: don't give away that you're interested in a product. Let the shop owner approach you with an offer.
Don't give up: before negotiating, research market conditions and prices. If you know that a product is seasonal or perishable, tell that to the shop owner, and they might be willing to lower the cost more.
Know when to walk away: not every haggling situation will result in you scoring a deal – and that's okay. It's always good to try and get a discount, but remember to stay polite and respectful and not go overboard.
Traveling doesn't have to be costly. Implementing simple tips like earning passive income and looking around for discounts will help you enjoy your trip more!