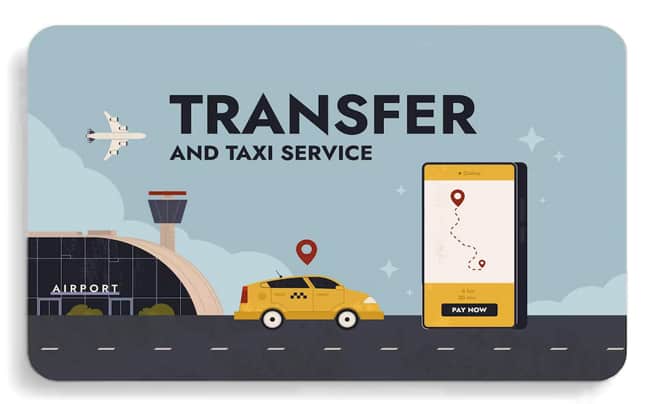 Ideal airport transfer Services to avoid unpleasant surprises: An effortless and hassle-free airport transfer can make all the difference when traveling. Choosing the right airport transfer company is essential for your trip's stress-free start and end. With so many options available, it is crucial to consider certain factors that ensure dependability, professionalism, and superior service. In this post, we will provide five essential tips to help you select the ideal airport transfer service to guide you in locating the best option. Some businesses may be local, while others may offer a global service.
There are a few significant advantages to reserving with an international service rather than a local one. The level of customer service you receive from a global booking platform will be significantly superior to that of any local provider. Local providers typically have a single telephone number, which, in addition to being subject to tolls if you are calling from abroad, will likely only be available during business hours of the country it operates in, meaning that any last-minute changes that must be made during the night will probably be overlooked.
Reputation and Evaluations
When selecting an airport transfer company, its reputation and consumer evaluations are essential. A reputable company will have a long history of providing customers with reliable and efficient service. Check social media platforms, such as Instagram, Facebook, Twitter, and LinkedIn, and look into relevant websites to garner feedback from previous customers.
Reviews that are favorable and have high ratings indicate the company's effort to ensure customer satisfaction. Choose the Transfer service with the best reputation for punctuality, professionalism, and helpful chauffeurs, ensuring a comfortable and secure journey from beginning to end.
Options for Fleet and Vehicles
Different travelers have different transportation requirements. A reputable airport transfer service will provide a diverse fleet of vehicles to meet these various needs. Whether you are traveling alone, with a group, or with specific cargo needs, selecting a company that provides the appropriate vehicle options is essential.
The finest transfer service is proud of its extensive fleet, which ranges from compact vehicles to roomy minivans that can fit various group sizes and luggage requirements. It ensures you can discover the ideal vehicle for your needs, whether for business travel, family vacations, or group trips.
In addition, they suggest a variety of optional extras, such as infant seats, extra waiting time, and additional locations, among many others, to ensure that you can customize your transfer experience.
Transparency and Pricing
Regarding payment, no one enjoys hidden fees or unpleasant discoveries. Pricing transparency is a crucial factor to consider when selecting an airport transfer company. Look for a company that provides transparent pricing information, including surcharges or additional fees. Always compare prices from a variety of vendors to determine the best deal.
However, some companies may offer a meager price, but their service quality will be much better, leaving you wishing you had paid a few extra dollars for quality. Due to this, it is vital to consider the other items on this list and the price when comparing different companies.
Professionalism and Service to Customers
The airport transfer company's professionalism and customer service can significantly improve your experience. Friendly and knowledgeable guides who prioritize your comfort and safety can enhance your travel experience. A reputable company will also provide superior customer service before, during, and after your excursion.
The finest Transfer service is dedicated to professionalism and customer service. Their chauffeurs are seasoned, punctual, and familiar with the surrounding area, guaranteeing a smooth and efficient transfer. In addition, their customer service is available 24 hours a day, seven days a week, to resolve any questions or concerns, giving you peace of mind throughout your journey.
Adaptability and Accessibility
Unpredictable travel plans require flexibility when selecting an airport transfer company. Choose a company with flexible booking options and round-the-clock availability to facilitate any last-minute changes or unforeseen delays. Typically, a provider's policy will be advertised on their primary website. If they have a no-refund policy, you must examine it thoroughly. The standard refund policy is a full refund if the change is made well in advance and an 80% refund for last-minute cancellations or coupons.
10 Best Airport Transfer Services
AllRide Cab
CabGrid
Limo Anywhere
Airport Express
Ola Fleet Technologies
Book My Cab
GroundLink
Airport Express
SuperShuttle
Carmel Car and Limousine Service
Conclusion
Choosing the ideal airport transfer service can significantly improve your travel experience by providing peace of mind and a stress-free beginning or ending. You can make an informed decision by considering reputation, fleet options, transparent pricing, professionalism, and adaptability.
As seen in the preceding article, many reputable airport transfer services are available. However, the dependable Airport Taxi and Transfer service guarantees a pleasant airport transfer experience with its stellar reputation, diversified fleet, transparent pricing, professionalism, and customer-centric approach. Remember these tips to avoid unpleasant circumstances and have a smooth trip, although you won't have any if you travel with the finest.