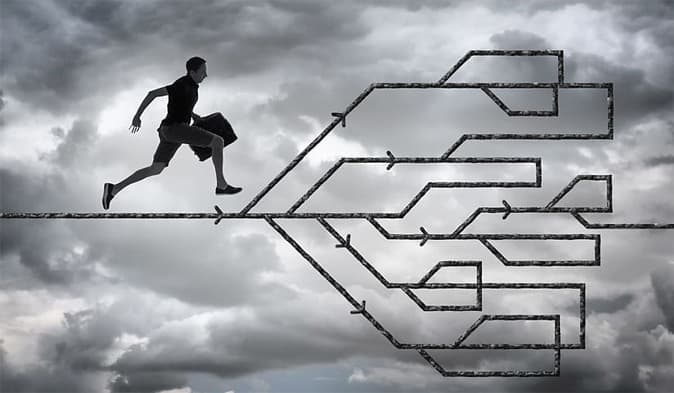 Best Cloud Management For Your Business: The variety of cloud management is linked to various cloud services. For example, cloud services can include data aggregation and storage, remote access to software platforms, data analytics, and other digital activity providers can offer over the Internet. Taking these into account, cloud management may consist of various tools for managing cloud services, such as software programs to assist hardware configuration, those that monitor systems, and those that gather additional intelligence to help human decision-making.
Cloud management may also contain tools for analyzing cloud service performance. Many cloud service contracts, for example, include uptime and downtime clauses that ensure that services are accessible to clients for a certain proportion of active service time. To help satisfy these standards, cloud management solutions may continuously monitor uptime and downtime, as well as the causes of both, not just to enable benchmarking and troubleshooting but also to ensure that providers meet uptime requirements.
Other cloud management forms depend on the type of cloud services, such as whether the provider provides a single application or a platform as a service (PaaS). Cloud management solutions also help you ensure that servers are operational enough to deliver or monitor services used to fulfill other goals. In addition, they may deal with general concerns like security, compatibility, or the operational setting. It's all part of improving cloud services and developing industry standards to satisfy the fast-growing demand for these services.
What is Cloud Management?
It is the process of monitoring and optimizing the usage of one or more private or public clouds. To control cloud usage, organizations often employ a cloud management platform. Cloud management enables IT administrators to transfer workloads between clouds and control cloud resource costs.
Organizations nowadays are likely to host all or a component of their IT infrastructure on the cloud. They may use a private, public, or hybrid cloud that combines private and public cloud platforms in a multi-cloud approach. With so many cloud alternatives, it is critical to have a cloud management strategy that helps enterprises make wise decisions about how and when to use cloud-based services, as well as ensure that their cloud use is cost-effective.
Monitoring usage to establish a baseline is the first step in cloud management. Once an organization understands its cloud consumption and expenses, it can decide where to run workloads in a multi-cloud environment. Cloud management permits and even automates the migration of workloads between private and public clouds while monitoring performance and cost. These tools can significantly improve the efficiency of multi-cloud administration.
The Cloud management systems may manage data, content, or applications in the cloud or all three:
Cloud data management
Cloud data backup is frequently used as part of a disaster recovery plan. This procedure may be automated using cloud management technologies.
Cloud content management
Using several clouds to host content with varying accessibility requirements might save money when rarely used archival content is housed in a low-cost cloud with increased latency.
Cloud application administration
Cloud management enables businesses to monitor cloud-native apps and rapidly scale up processing or storage resources as needed.
25 Best Cloud Management For Your Business
Here we list some of the best Cloud Management for your business growth.
1. Zapier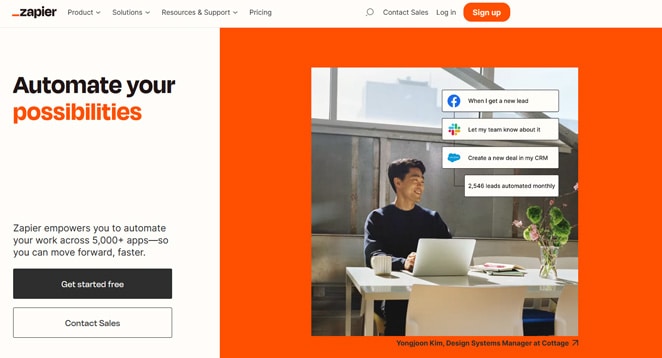 Over 1.8 million people and businesses have used Zapier to automate their processes. Zapier automatically transfers data across your online apps, allowing you to focus on your most critical tasks.
Create custom workflows quickly for over 4,000 online apps and let Zapier handle routine tasks automatically, freeing up your staff to focus on more essential activities. In addition, you can rely on Zapier for your mission-critical workflows due to its 99.9% uptime and SOC 2 Type II and SOC 3 certification. It is one of the top cloud management for your business.
Zapier for Businesses has collaboration and security capabilities that allow you to unleash the power of automation across your whole business. Get live onboarding and planning assistance from a dedicated Customer Success Manager to help you develop your automation approach. In addition, advanced administrative capabilities such as SAML single sign-on (SSO), account consolidation, app limits, and more allow you to fine-tune your security settings.
Website: https://zapier.com
2. Google Cloud
Google Cloud Platform is a modular platform that offers various development and scale services to businesses of any size and sector. It provides document storage, data warehousing, security key enforcement, app creation, API management, AI and machine learning, live chat, and other features. It is the most reliable cloud management.
Users may store massive volumes of data in cloud storage and scalable data warehouses with built-in machine learning using the Google Cloud Platform. Users can also access relational and non-relational databases for transactions, complicated searches, streaming, offline sync, and other purposes. The platform also features data migration capabilities like BigQuery data import, high-scale network data transfer, and a rackable storage server for massive amounts of data.
Website: https://cloud.google.com
3. BigTime
BigTime cloud management is the access-anywhere operating system that powers the world's best professional services teams. See how they can assist your project-driven organization in tracking and billing its most valuable asset: time. BigTime can assist you in removing the risk from usage, capacity planning, and revenue forecasting. Users may manage project teams, work in progress (WIP), profitability per project, and even each employee. It helps users receive payments as quickly as possible and with little friction. Organizations may use the Quickbooks integration established by the BigTime development team, which Intuit chose as their OEM developers, to optimize their process.
Website: https://www.bigtime.net
4. Anypoint Platform
Anypoint Platform is the most extensively used integration platform in the world, capable of connecting any application, data source, or API, whether in the cloud or on-premises. MuleSoft's Anypoint Platform provides a complete integration experience built on proven open-source technology, removing the hassle and cost of point-to-point integration. CloudHub iPaaS, Mule ESB, and a single solution for API management, design, and publication are all part of the Anypoint Platform. Like other best cloud management on this list Anypoint platform is the best to consider.
Website: https://www.mulesoft.com
5. Operations Hub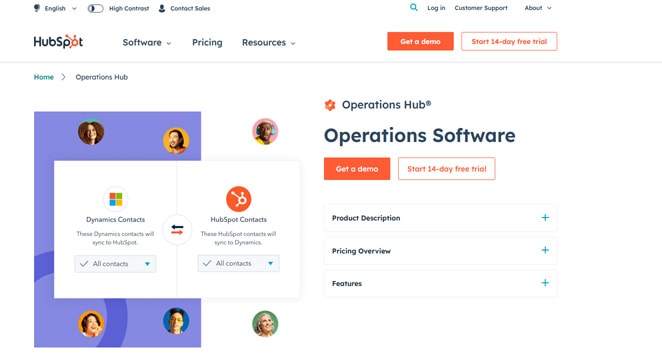 Operations Hub cloud management is a comprehensive toolbox that includes everything you need to connect, clean, and automate your customer data. HubSpot's native integration synchronizes contacts, leads, and company data in two directions and in real-time.
Operations teams spend 80% of their time-fighting data and process fires and just 20% of their time driving business strategy and enhancing customer experience. To remedy this, Operations Hub augments HubSpot CRM by bringing your customer data together on a single linked platform. Consequently, the business is more efficient, aligned, and elegant, with an unfettered and strategic operations staff and a frictionless customer experience.
Website: https://www.hubspot.com
6. JumpCloud Directory Platform
JumpCloud is an open directory platform that enables safe, frictionless access to any resource from any device, any place. The objective of JumpCloud is to Make Work Happen® by enabling convenient, secure access to company IT resources from any device or location. The JumpCloud Directory cloud management provides a single cloud-based solution for IT, security operations, and DevOps to administer and manage employee identities, devices, and Zero Trust principles. JumpCloud has approximately 100,000 businesses as customers worldwide, including Cars.com, GoFundMe, Grab, ClassPass, Uplight, Beyond Finance, and Foursquare. In addition, BlackRock, General Atlantic, OpenView, and Foundry Group are among the investors in JumpCloud.
Website: https://jumpcloud.com
7. Boomi
Boomi is an integration platform (PaaS) for developing cloud-based, on-premise, or hybrid application integrations. It is built on the Boomi AtomSphere integration platform, which is 100% native to the cloud. Cloud-to-cloud, SaaS-to-SaaS, cloud-to-on-premises, on-premises-to-on-premises, and B2B integration are all supported by the platform. In addition, Boomi AtomSphere enables real-time integration that can be scaled to meet high-volume demands and master data management (MDM) and platform extension capabilities. You can consider it among the best cloud management.
Website: https://boomi.com
8. Datadog
Datadog is a cloud-based monitoring, security, and analytics platform for developers, IT operations teams, security engineers, and business users.
To enable unified, real-time observability of our clients' complete technological stack, Datadog's SaaS platform unifies and automates infrastructure monitoring, application performance monitoring, and log management.
Website: https://www.datadoghq.com
9. Splunk Enterprise
Splunk Enterprise is a cloud-based platform that helps businesses manage extensive data and analyze machine data. Data visualization, performance metrics, data collecting, real-time search indexing, KPI tracking, reporting, and monitoring are all essential elements.
Splunk Enterprise integrates with several third-party platforms, such as Microsoft Excel, Tableau, Okta, PingFerderate, Azure AD, CA SiteMinder, OneLogin, and Optimal IdM. The solution is appropriate for businesses in the aerospace, communications, healthcare, manufacturing, finance, energy, and utility industries.
Website: https://www.splunk.com
10. New Relic
New Relic One is the only dashboard you'll need to monitor your apps' overall health and availability. In addition, it gives real-time performance visibility for every component of your production app, from the end user's browser to the underlying server architecture. So you have complete visibility whenever you want it. You should visit this best cloud managementfor your business.
Website: https://newrelic.com
11. APPSeCONNECT
APPSeCONNECT is an iPaaS solution for businesses of the future. This cloud management unique design serves the primary processes of business applications by combining Cloud businesses, SaaS management software, and on-premise systems. This solution enables businesses to leverage their existing systems, resources, technology, and data. Furthermore, it optimizes your business processes, increasing enterprise efficiency and production.
Website: https://www.appseconnect.com
12. TextP2P
TextP2P is a 98% open-rate text marketing, email marketing, and ringless voicemail platform that assists small to medium-sized businesses in engaging their consumers. Users may use the platform to send mass messages or have intimate two-way discussions. Message automation, keywords, and surveys are also supported.
TextP2P cloud management has various features such as mass customized texts, multimedia (MMS) messages, ringless voicemails, link click tracking, scheduling, phone, and text forwarding, shared inbox, custom fields, and virtual local mobile numbers. In addition, users may handle follow-ups by bulk scheduling reminders, connections, and notifications. TextP2P also features client notes and list management to assist in arranging the sales funnel into several groups, such as prospective, current, and loyal customers.
Website: https://textp2p.com
13. DigitalOcean
DigitalOcean is cloud management that enables businesses to create and launch cloud-based applications. In addition, administrators may use the platform to create application development frameworks, keep product catalogs up to date, and collect and save business data in a centralized repository.
Website: https://www.digitalocean.com
14. Automate.io
Through a drag-and-drop interface, Automate.io customers may connect apps without scripting. Users use their credentials to connect to any services they want to integrate, then choose which app will initiate the workflow. Trigger events are selected from a drop-down list unique to each trigger app. After that, actions may be added by selecting the required application and the activity from a drop-down list. Users may then drag and drop the output fields from the trigger into the action input areas. Multiple action steps can be added, with the preceding action's outputs acting as trigger events to form complicated, cross-process workflows. It is the best cloud management for the growth of your business.
Website: https://automate.io
15. Cleo Integration Cloud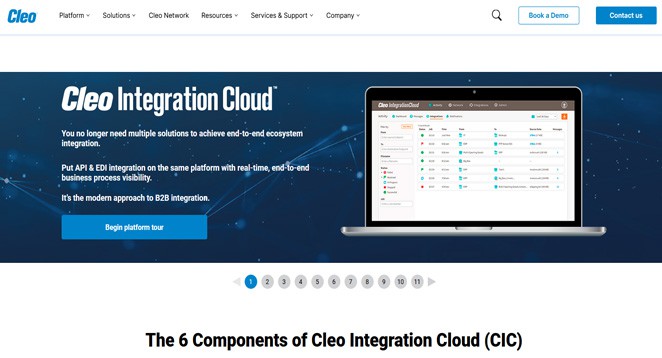 Cleo is a business-focused ecosystem integration software firm that ensures each customer's potential is achieved by offering solutions that simplify identifying and generating value via the mobility and integration of corporate data. It gives companies strategic, "outside-in" visibility into important end-to-end business flows across their partner and customer ecosystems, marketplaces, and internal cloud and on-premise applications. By reinventing and remastering their digital ecosystem with powerful application, B2B, and data integration technologies, our solutions enable teams to enhance business agility, speed on boarding, modernize core business processes, and generate new income streams. You should consider Cleo integration cloud as the best cloud management.
Website: https://www.cleo.com
16. LogicMonitor
The SaaS-based observability and IT operations data collaboration platform from LogicMonitor assists ITOps, developers, MSPs, and business leaders in gaining visibility and predictability across the technologies that modern organizations rely on to deliver exceptional employee and customer experiences. LogicMonitor monitors everything from networks to apps to the cloud in real-time, allowing businesses to focus less on troubleshooting and more on creativity.
Website: https://www.logicmonitor.com
17. Skyvia
Skyvia is a universal cloud management that allows customers to fully control their business data from various sources, including Salesforce, Dynamics CRM, QuickBooks, MailChimp, SQL Azure, MySQL, and many others. It allows users to link cloud and relational data without scripting, securely back up cloud data, and restore it with a few clicks. Data may be accessed and handled online using SQL or provided using the OData REST API.
Website: https://skyvia.com
18. Site24x7
Site24x7 provides unified cloud monitoring for DevOps and IT operations in small and big businesses. The service tracks how people interact with webpages and applications on desktop and mobile devices. With comprehensive monitoring capabilities, DevOps teams can monitor and debug apps, servers, and network infrastructure, including private and public clouds. In addition, the end-user experience is monitored from over 100 places across the world and by multiple wireless providers.
Website: https://www.site24x7.com
19. ParkMyCloud
ParkMyCloud, a Turbonomic firm, offers an easy-to-use platform that assists organizations in identifying and eliminating wasteful cloud spending. It is trusted by over 1,000 organizations worldwide, including Sysco, Workfront, Hitachi ID Systems, Sage Software, and National Geographic, to save them millions of dollars in cloud spending each year. The SaaS service from ParkMyCloud enables organizations to effectively manage, administer, and optimize their investment across different public clouds.
Website: www.parkmycloud.com
20. Cloudways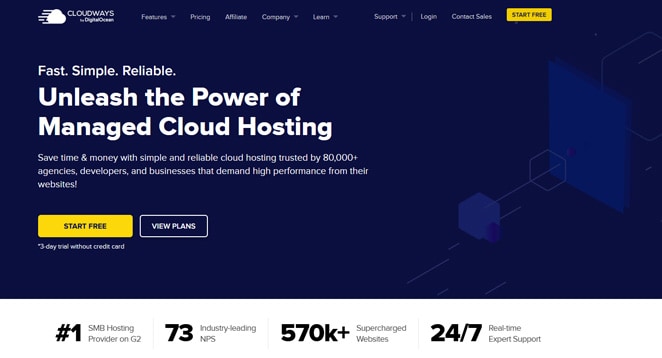 It is a managed cloud hosting service that assists businesses in the eCommerce, IT, and media industries in launching, managing, and maintaining apps and servers. Automated backups, IP whitelisting, two-factor authentication, team management, patching, and real-time monitoring are among the features. It is the most reliable cloud management.
Website: https://www.cloudways.com
21. Pandora FMS
Pandora FMS is a scalable system owing to its Metaconsole, which enables centralized management of several nodes, each of which may monitor thousands of devices. Similarly, due to solutions like the satellite server, which allows monitoring of isolated or encrypted networks, creating a high-availability installation with tremendous versatility is feasible. In summary, Pandora FMS is a solution that can be tailored to any environment, independent of size or architecture.
Website: https://pandorafms.com
22. Network Performance Monitor
The SolarWinds Network Performance Monitoring software makes it simple to discover, analyze, and address performance issues before they cause disruptions. SolarWinds Network Performance Monitor is a low-cost, user-friendly application that provides real-time views and dashboards to measure and monitor network performance at a glance. Install and manage your developing network without breaking a sweat using dynamic network topology maps and automatic network discovery.
23. Hevo
Hevo is a no-code, bi-directional data pipeline system mainly built for sophisticated ETL, ELT, and Reverse ETL needs. It helps data teams streamline and automate enterprise-wide data flows, resulting in a weekly engineering time reduction of 10 hours and 10x faster reporting, analytics, and decision-making. You can consider it the best cloud management in 2023.
Website: https://hevodata.com
24. TANAZA
Tanaza is a cloud management platform to help businesses with the creation, deployment, and remote monitoring of Wi-Fi networks or access points that run on Linux. For example, IT workers may set IP addresses, monitor device traffic flow to discover bottlenecks in bandwidth demand, improve channel distribution, and receive email warnings about defects.
Website: https://www.tanaza.com
25. Syxsense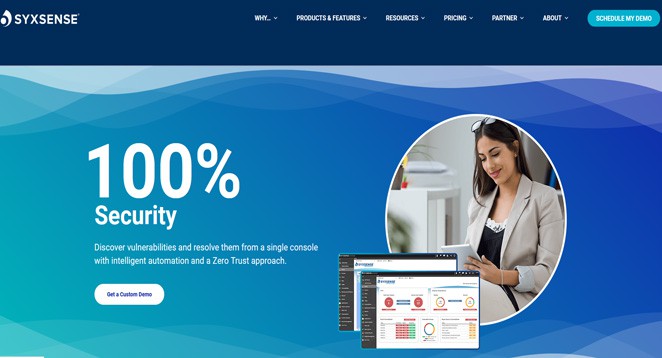 Syxsense is a cloud-based endpoint security software that assists SecOps departments, managed service providers (MSPs), and IT professionals in maintaining threat prevention through authorization scanning, third-party patching, communication blocking from infected devices, and continuous team collaboration.
Website: https://www.syxsense.com
Final Words
The process of maintaining control and supervision of cloud computing infrastructure, resources, and services in public, private, or hybrid cloud settings is known as cloud management. IT administrators may keep control, visibility, and scalability with cloud management tools and technologies while adapting quickly to change.
An effective cloud management platform should enable the user to observe how and when each component of the cloud infrastructure is being used and assist the user in making decisions about where to run workloads. Users should be able to monitor how cloud-based apps are working, where slowdowns occur, and which sections of the cloud are underused. In addition, a cloud management platform should ideally provide insights into security vulnerabilities and public cloud usage inconsistent with business policies. It pays for itself when a cloud management platform can indicate where cloud management expenses can be decreased, and performance can be optimized.
On the other hand, monitoring cloud computing analytics to make sensible business decisions necessitates a particular skill set. They are useless without someone who understands how to use cloud management technologies properly. Cloud service brokerages can help organizations with IT staff unfamiliar with public cloud integration and management.