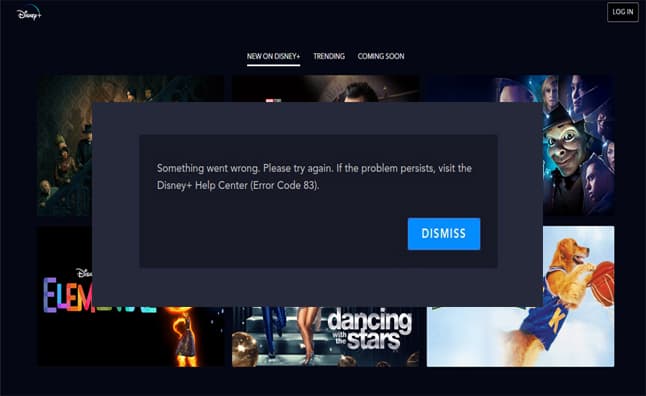 Disney Plus error 83 occurs when streaming Disney on computers, phones, tablets, or other compatible devices. It disturbs your normal use of Disney+. Can you help me fix this error? In this post, Digital Magazine will show you various methods.
What is Disney+
Disney+ is a streaming service that offers content from Disney, Pixar, Marvel, Star Wars, and National Geographic. Disney+ provides a wide selection of content, including over 500 films, 15,000 episodes, and 80 Disney+ Originals. It offers a wide range of content, including exclusive originals and loved classics. With thousands of titles available, you can enjoy a high-quality viewing experience. Disney+ does not have a free trial. You have multiple plan options to choose from, so you can find the subscription that suits you best. The pricing for each plan may differ. Sign up now to enjoy your favorite movies and shows on Disney+.
You might encounter a few errors when using Disney+, a streaming service. Some common Disney+ errors are Error Code 42, Error Code 73, Error Code 83, Error Code 91 & 92, and Error Code 142. On this page we are going to discuss how to fix Disney Plus Error Code 83 in easy steps.

Disney Plus Error Code 83
If you're trying to stream on Disney Plus, you might encounter an annoying issue called Error Code 83. This error stops you from using Disney Plus, but you can only see the error code without any description. The error is as follows:

Something went wrong. Please try again. If the problem persists, visit the Disney+ Help Center (Error Code 83).
This error code can occur on various devices such as computers, phones, tablets, streaming devices (e.g., Apple TV, Roku), smart TVs, and gaming consoles (e.g., PlayStation, Xbox One, etc.).
How to Solve Disney Plus Error Code 83?
Here are some tested ways to fix Disney Plus error 83. Give them a try for help.
1. Check If Disney Plus is Down
If you see error code 83 on Disney Plus, check if the issue is with Disney Plus. You can check if Disney Plus usually runs by going to Downdetector for Disney Plus. If you're still experiencing the Disney Plus error 83, here's a possible solution you can try.
2. Check Device Compatibility
Disney Plus is not available everywhere on all devices. If your device doesn't work with Disney Plus, you might see Disney+ error code 83. Check out this website to see if your device is compatible with Disney Plus. The Mobile devices includes Apple iPhones and iPads, Android phones and tablets, Amazon Fire tablet and Windows 10 & 11 tablets and computers. TV-Connected devices includes Amazon Fire TV, Apple TV (4th generation and later), Chromecast, Roku, PlayStation, Xbox, Android TV devices, Hisense smart TVs, LG WebOS smart TVs, Samsung Tizen smart TVs, Vizio SmartCast TV, Cox Contour TV and Contour Stream Player Box, Xfinity Flex and X1 TV Box and Xumo TV and XiOne Box.
3. Check the Web Browser
To see if your device works with Disney+, you can check if your web browser is compatible. You can also use the mentioned site to check if Disney+ is available on your web browser. If not, you can try using a different web browser.
Browser requirements for Disney+
PC
Chrome 71+ (supported on Windows 7 and later)
Edge (supported on Windows 10 and later)
Firefox 68+ (supported on Windows 7 and later)
Mac
Safari 11+ (supported on macOS 10.12 Sierra and later)
Chrome 75+ (supported on macOS 10.10 Yosemite and later)
Firefox 68+ (supported on macOS 10.9 Mavericks and later)
Chromebook
The latest version of Chrome is supported on Chrome OS 79 and later
Browser version
Browser versions are typically updated automatically but can also be updated manually. Choose your browser from the list below to find out which version you have and how to check for updates:
4. Check the Internet Connection and Speed
If your network connection is disabled or slows down suddenly, you may also encounter Disney+ error 83. You can check if your internet connection is enabled. If so, you can check your internet speed to see if it's fast enough for streaming on Disney Plus. You can check your internet speed using;
5. Restart the Device
When your device is on, it can create temporary files that might cause Disney+ code 83. To fix the problem, restart your device and try Disney+. See if the error goes away.
6. Upgrade the Disney Plus App
When a new version of Disney+ is released, you won't be able to access the old version on your device. It can be the cause of Disney+ error 83. To fix error code 83 on Disney+, upgrade the app to the latest version and see if it goes away.
7. Reinstall Disney Plus App
If you can't find a Disney+ update, it might mean there are some bugs or corrupted files on the app. To fix the issue, try reinstalling Disney+. It might solve the problem and allow you to use it again.
8. Upgrade the Device Firmware and OS
Incompatible issues can lead to error code 83 on Disney Plus. If the methods mentioned above don't work, check if your computer uses an outdated operating system or if the firmware needs to be updated. If yes, you need to update them to have a try.
9. Try a Different Disney Plus Account
A Disney+ account issue can cause the Disney+ error code 83. If the previous methods don't work, try signing in with a different account to see if the problem persists. To troubleshoot error code 83, check your account details and subscription status to ensure everything is normal. For assistance, you can reach out to Disney Plus support.
Final Words
Disney Plus Error Code 83 is usually caused by device compatibility or a connection error. Some possible causes are using an unsupported device or method to access Disney+. Internet connection is not stable or slow. If your internet provider had a service outage recently, it's beneficial to power cycle your modem and router. Just turn them off and then turn them back on again. Bookmark Digital Magazine for upcoming posts on Disney+ error codes. We will cover Disney+ Error code 42, Error code 73, Error code 91 & 92 and Error code 142 in our next posts. If you still need help, contact Disney+ support for help.