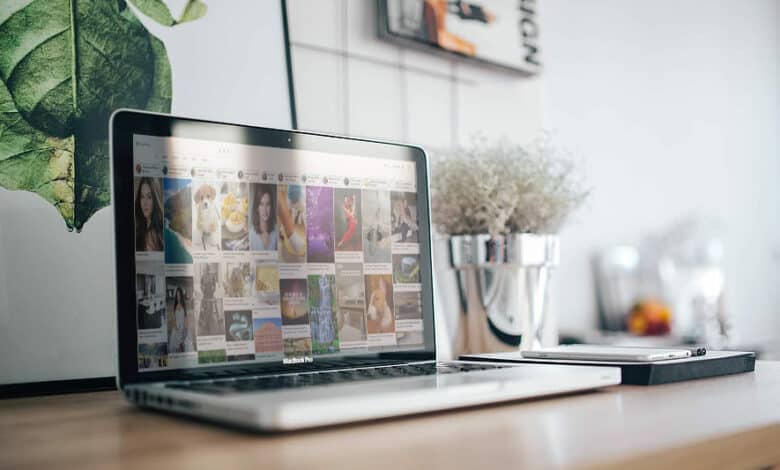 Best Reverse Image Search Tools To Find an Image: The Reverse Image Search tool is easily accessible on the internet for your assistance around the clock, making it so that searching by image is no longer complicated. These online tools allow you to do image-based searches by simply uploading the required image from your device's local storage.
Reverse Image Search tools are designed to make things easy for the users; thus, you may run it by dragging and dropping an image. This feature is compatible with cloud storage (Google Drive and Dropbox). Therefore, if your image is saved in the cloud, you can quickly import it for an image search. As soon as you're through uploading an image, the tools will use their powerful CBIR technology to show the findings in collaboration with leading image search engines, such as Google, Yandex, and Bing.
What is Reverse Image Search?
Reverse image search is a search engine tool that takes an image file as an input query and returns image-related results. Google is among the search engines that provide reverse image features. In addition, some websites, like Reddit, include this option.
To use Google's reverse image search, upload an image file from your computer or enter the URL of an internet image on the image search page or any image results page. You may also download extensions for Chrome and Firefox that enable you to get search results by clicking on any web image. The method is more effective with images linked to web information — items for which possible results exist — than obscure images.
Reverse image search has the following applications:
Locating the image's source information.
Looking for duplicate content.
Compliance with copyright rules is ensured.
Identifying unknown products and other stuff.
Debunking counterfeit images.
Discovering images with a greater resolution.
Why should you use Reverse Image Search?
Since billions upon billions of images are accessible on the internet, it may be challenging to search through all those images to locate precisely the images you are looking for, together with their sources (photo matches) and the information that goes along with them. You may also discover that it is difficult to find other sizes and thumbnails cropped from images already in your ownership or even to locate other websites that use the same photo. On the other hand, "Reverse Image Search" is here to save the day in this situation!
It is essential for verifying the origin of photos, screenshots, WhatsApp images, and Internet memes. For example, tinder and Facebook users have used Search by Image to explore the profile images of potential dates. In contrast, tourists use it to discover the location of photos, and matrimonial sites use reverse image search to detect false uploads.
How does Reverse Image Search work?
To reverse image search on PC, iPhone or Android, upload an image from your mobile or computer device or paste the image's URL in the box (Enter URL).
Select a File (Upload image)
Now, reverse image search makes it easier to discover a particular image using a keyword search.
Enter Image URL
The search may be started by clicking the "Search Similar Images" button.
The free reverse image search engine will get the most relevant images from Google, Bing, and Yandex and show them to you in a couple of seconds. However, before returning matched results, image search engines will compare the uploaded image to several other photos in their databases to guarantee the most accurate results are returned. In addition, when accessible, search engines often use image information, such as the file name, date, camera image, etc.
Despite all of these steps, the process offers findings quite quickly. The tool will look for related photos using search engines if there is no exact match for the query. No login or registration is required to use reverse image search capabilities. In addition, there is no limit on the number of searches that may be conducted using the tool.
For Desktop
There are various reasons to use RIS on a computer, two of which are improving the image's resolution and regularly monitoring your submitted photos.
To locate comparable photos on a computer, use the reverse image search tool and upload or input the image's URL.
On a computer, you may right-click an online image, copy the link address to get the URL, or open the picture in a new tab and copy the link from the address bar. In addition, images stored on a computer may be uploaded quickly by selecting the upload option. So what are you waiting for? When you are through uploading, click the "Search Similar Image" button.
Reverse Image Search for Android and OS
It only takes a little work compared to a computer image search. People use their phones to take pictures of things to discover comparable items on the internet, either to compare prices/availability or to get a recipe for preparing food.
Open any web browser and go to the reverse image search. Then, upload the image by hitting the "Upload" button or providing the image's URL.
To get the URL, you may navigate between tabs after viewing the image in a different window or save by tapping and holding until the option to save the image appears. After uploading the image, you must wait for the results after selecting "Search Similar Images."
Google Reverse Image Search
Since the company introduced Google image search in July 2001, millions of users have been able to search for image-based content using keywords. In time, however, it became essential to develop a more integrated method for locating the best-matched images using 'other images.' So in 2011, Google introduced a photo search tool to its reverse image search.
Most of us think of searching on Google by entering a text query; however, another method you may use is the search algorithm developed by the corporation to your advantage: the Google reverse image search. When looking for anything specific on the internet, you may run a reverse image search in several methods, some of which depend on your browser.
A reverse image search is quite similar to a standard keyword search; however, instead of searching Google's database with text, an image is used to search. It lets you locate the image's source and get more information about it. It is essential to credit an image to the person who made it in the first place or if you want additional information about the image's origin or the person who generated it.
Benefits of Using Reverse Image Search
Using reverse image photo lookup has several advantages, including:
1. Search for similar images
Do you need a similar image with different styles? The reverse image search helps you find images similar to or related to the one you have.
2. Discovering the Original Sources of Images
If you need help finding the original creator of an image and want to give them proper credit, here's what you can do: look for an image source. If you're looking for a solution to find the source of an image, the image source finder tool is your best option.
3. Find Plagiarized Photos
If someone steals your photos, don't worry! You can outsmart them with reverse image lookup. If you have many photos and want to check if someone uses them without permission or credit, try using a Google reverse image tool. It can help you find out. You can also see how many other pages have uploaded your image.
4. Create Backlink Opportunities
To prevent others from using your photos without giving you credit, use a picture finder and kindly request them to mention you as the author and provide a link to your page. It can boost your SEO!
5. Find People by Photo
If you want to find someone's contact details or look up information about an actor you saw in a trailer, here's what you can do. You can use our reverse photo search tool to find the person by their image.
6. Discover Exciting Travel Spots
Image reverse search is a valuable tool for discovering new tourist destinations. This tool can use a picture to find and tell you the location of a place.
7. Product Search by Image
People often encounter images of products that require appropriate labeling. You can easily find information about products using an online image finder. It lets you search for products by uploading an image with just a few clicks.
8. Discover More Versions of a Particular Image
The current image version is not practical. Reverse image lookup allows you to find different versions of an image, such as ones with different sizes, formats, or better quality.
If you can't find an image in your desired size, you can use an image resizer tool to change its dimensions. This tool can easily resize images by adjusting their dimensions or percentages.
9. Detect Fake Accounts
Are you worried that someone might use your photo on a fake social media account because you think you're cute? Use reverse picture lookup to maintain a clean reputation. If you suspect you are being catfished. Someone is pretending to be someone else on a social media account. Using a reverse photo lookup tool can help you find a person's true identity through a picture search.
12 Best Reverse Image Search Tools in 2023
Here we list some of the best reverse image search tools you can consider in 2023.
1. TinEye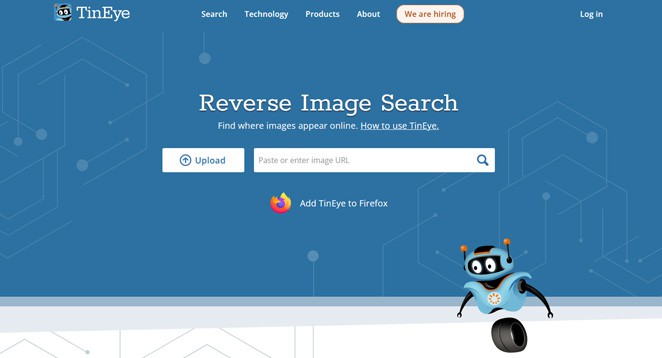 Even if you are relatively new to reverse image search, you have likely heard of TinEye, one of the most well-known and oldest tools for this task. Search for an image by entering its URL or, perhaps more conveniently, by uploading it. A plugin for most common browsers also enables image searches on websites with a single click.
Website: https://tineye.com

2. Google Images
Google has its own compelling reverse image search integrated into Google Images, a website you may already use. To use it, open Google Images in a web browser and click the camera icon in the search box. Now, you can search by image URL, upload an image, or even drag an image into the search box. Google's reverse image search is strongly linked with its other search functions, which is the most outstanding aspect.
Website: https://www.google.com/imghp

3. Bing Image Search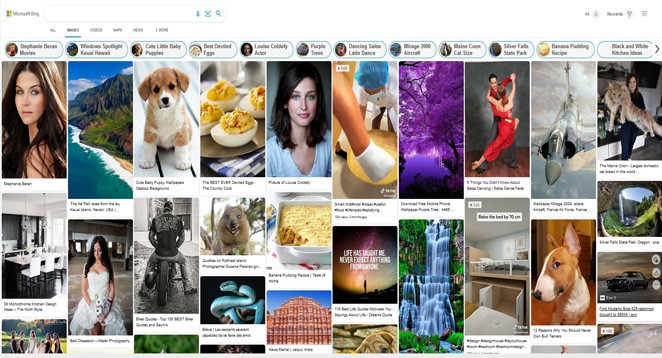 Bing's reverse image search is even more accessible than Google's since the image search symbol is in the Bing homepage's search box — there is no need to visit the Image Search page. Instead, click the logo resembling Instagram's Search using an image to use Bing's visual search. You may go to an image URL, drag an image into the window, or snap a picture using your computer or mobile device's camera. It is beneficial for purchasing since Bing can locate comparable goods based on an image search.
Website: https://www.bing.com/images

4. Yahoo Image Search
This tool resembles Google Images but produces somewhat different results. Finding a great image online is terrific, but it can be not easy — whether you're searching for a photo to include in a presentation or illustrate a website, you need to know if you're permitted to use it and how you may use it. Today, Yahoo! Image Search is introducing a Creative Commons licensing filter that makes it easier and faster to locate free photos.
Yahoo! Image Search now includes an option for Creative Commons, enabling you to filter for Flickr photos that may be used commercially or changed with restrictions set by the image's owner.
Website: https://images.search.yahoo.com
5. Pixsy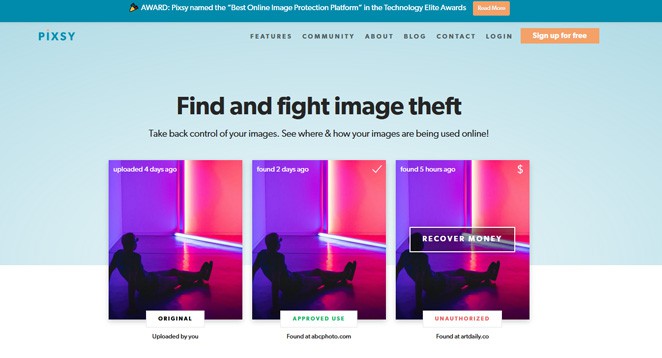 Pixsy is free; however, in contrast to most reverse image search engines, you must create an account before using it. The site may be used for basic non-professional reverse image searches. Still, the real emphasis is on professionals who wish to uncover unlawful usage of their photos leading to takedown requests. Premium membership tiers (beginning at $19 per month) can aid with these takedowns. In addition to uploading photographs straight from your computer, the website also enables you to import images from social networking sites for searches.
Website: https://www.pixsy.com

6. Reverse Image Search
It is comparable to an image search switchboard operator, as opposed to a standalone search engine. It enables you to do a reverse image search on Google, Bing, and Yandex with just one click (the most popular search engine in Russia). It's a technique to throw a broad net and quickly search more comprehensively for an image.
Website: https://www.revesesearch.com
7. Getty Images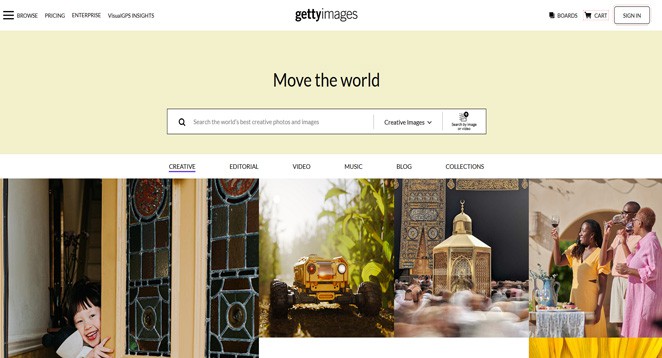 Getty is well-known in the marketing, advertising, and editorial communities. The site's stock picture database is unrivaled, and users can use a reverse image search engine to locate comparable photos for professional licensing. To use this feature, visit the Getty site and select Search by image or video to the right of the search bar. When you submit a file, Getty will rapidly display photos and videos that are similar to the one you uploaded.
Website: https://www.gettyimages.com
8. Picsearch
It is an "innovative image search tool" that provides access to over three billion images! Although Picsearch resembles the other reverse image search engines mentioned in this article, it offers users different results.
Picsearch is ideal for marketers seeking relevant and engaging photographs and images based on specified keywords. There is also an "Advanced Search" option that enables users to filter photographs by size, allowing marketers to locate the ideal image for their website or social network header.
Website: https://www.picsearch.com
9. Pinterest Visual Search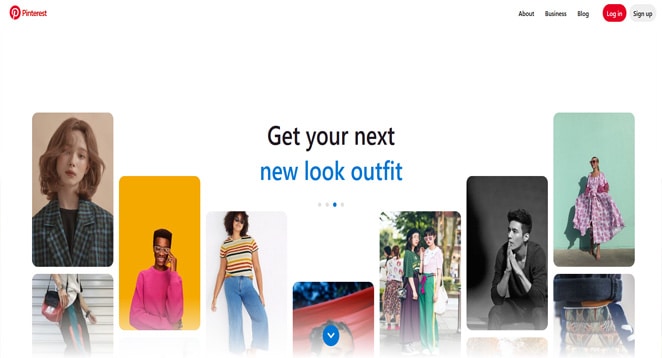 If you're a frequent Pinterest user, you may be startled to hear that the social networking site has a reverse image search feature. To use it, click any pinned image and the magnifying glass icon in the bottom right corner. Similar pins will appear in search results on Pinterest. It is not a standard image search tool but a quick and simple method to locate similar pins to the one you looked for.
Website: https://www.pinterest.com
10. Openverse
Want a search engine that provides more diverse results for image queries? Consider Openverse (formerly known as Creative Commons Search). This tool is part of the open-source WordPress project. This reverse image search engine crawls "openly licensed photos from throughout the Internet." It means they are free, in the public domain, or licensed under Creative Commons.
If you don't require results as detailed as those provided by Google, Bing, or Yahoo, this might be a helpful tool for discovering intriguing photographs that roughly match your search.
Website: https://wordpress.org/openverse
11. Flickr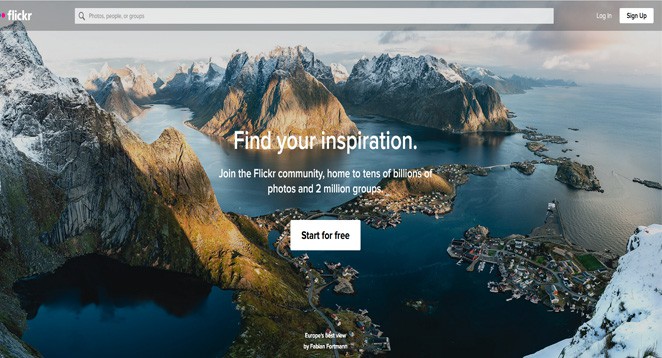 Flickr is a distinct kind of image search engine due to the amateur and professional photographers that share their photographs on the network. If you appreciate browsing and looking for stunning photographs, you've come to the right place. However, if you search for images to use in business or marketing endeavors, you must filter your results by the appropriate use license.
Website: https://www.flickr.com

12. Shutterstock
Shutterstock is a Reverse Image Search tool, more affordable image search engine for royalty-free stock images. Their image bank is comparable to Getty Images, as are their search filters. In addition, Shutterstock provides both pre-paid image packs and yearly subscriptions. Their most popular package offers 350 monthly image downloads for $169. Another budget-friendly alternative for marketers: is a set of five royalty-free images for $49.
Website: https://shutterstock.com
Final Words
There are several image search engines worldwide. Some, such as Google's and Yahoo's, are vast and detailed, while others are specialized and limited. These services share a database of photos that may be searched using keywords, tags, or subjects. The finest image search engines deliver the best possible match to a query and have an extensive enough database to accommodate their user base.
Any image you submit to the tool for reverse image search is 100 percent secure. They never share, sell your images, or save your stuff in their database. Therefore, you can be confident that your information is secure.
In conclusion, most individuals and marketers may need to know that these technologies exist. As a result, many waste time searching for specific images on the Internet, trying to figure out to call them or where to find them. Before using an image, it is advisable to confirm its origin and examine any sites with which it may be linked. A reverse image search tool might brighten a marketer's day. Please bookmark this page, as we will add more tools to update this post.