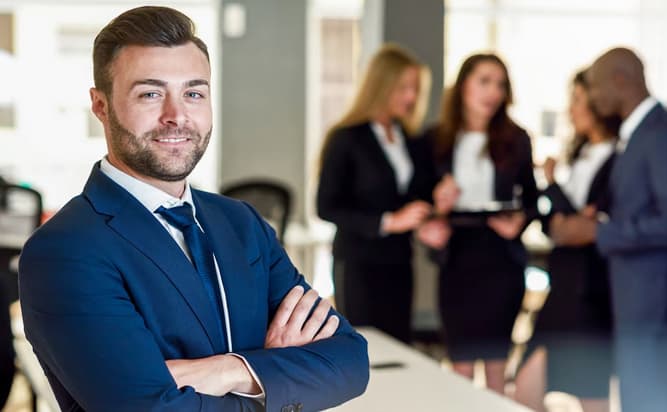 We can all agree running a software company is not for the faint of heart. All SaaS companies large and small need people to fill various job roles.
One such role is the customer success manager (CSM). It's a fast-growing field in the tech and software world. As we speak, big-name brands such as TikTok and Gartner are actively recruiting CSMs on LinkedIn.
Why? Because it's a crucial role for any software company. Your customer retention must be strong. After all, most businesses get 65% of their revenue from existing customers compared to about 15% for new customers.
In the following article, you learn more about customer success managers to help you make a great choice for your company.
That said, there are many benefits of hiring a customer success specialist, but before that, what does this job role involve?
What is a Customer Success Manager and What Do They Do?
A customer success manager is mainly responsible for customer retention and loyalty. They help customers achieve their goals using your product even when the customer makes it through the sales funnel.
In other words, a CSM (also known as VP of CS, Sales Manager, or CS Director), helps the customer to discover the value in your product – helping them buy and become long-term and loyal customers.
It is a mid-level management position in the customer service department. Don't get me wrong; the CS Director also works with other departments to create a coherent customer experience that boosts customer retention and loyalty.
On a typical workday, a CSM duties include:
● Have a deep understanding of the customer's needs and pain points. The CSM can then help clients to easily and continuously achieve their goals using your software product
● Follow up with customers to build stronger relationships even after they have become loyal and paying customers
● Gather customer feedback about the product using data analysis so as to improve the overall customer experience
● Increase the customer lifetime value and revenue by upselling and cross-selling
● Educate customers about your products to improve brand image and boost loyalty
● Personalize each customer's experience to boost customer satisfaction
● Create a thriving fan base and find brand ambassadors to share your product's benefits
● Among others
As you can see, it's quite a demanding (but important) role especially if you want to boost customer loyalty and repeat business. So, what's the difference between customer success and customer service/support?
Customer Success Vs. Customer Service: What's the Difference?
Many people often think customer success is just another term for customer service, which isn't the case.
While both focus on helping customers, there are a few differences in their approaches. The following are the main differences between customer success and customer service.
Customer success:
● Proactive – analyze, discuss, and strategize how to boost customer retention and loyalty
● Main objective – seeks to achieve the desired business objectives throughout the customer journey
● Measures metrics such as customer retention, revenue growth, and customer lifetime value
● The job role is more consultative in nature
● Customer success is a value-added business function to drive expansion and revenue
Customer service:
● Reactive – customer service reps receive and resolve support tickets
● Main objective – focuses on issue resolution
● Measures metrics such as resolution times, quality of service offered, and overall customer experience
● The job role is more operational in nature
● Customer service is an integral business function since customers will also ask questions
Moving on, what are the benefits of adding a customer success manager to your software
company?
How a Customer Success Manager Can Benefit a Software Company
You're probably asking: I already have customer service and sales teams, why do I need a customer success manager?
Well, here is how a CSM can benefit your software company.
Improved customer retention, loyalty and engagement
According to Zendesk, "…50% of paying customers log into their SaaS service once a month or not at all?"
This means it's hard to keep customers engaged and using your products. Unless, of course, you have a CSM.
It's the CSM's job to foster long-lasting connections with clients, so they can meet their needs long after the initial sale is done.
Following up with customers after the sale boosts brand loyalty, and reduces churn rate – the percentage of paying customers who leave your business after a short while.
Increased recurring revenue
Engaged and loyal customers will continue using your software product as long as they feel satisfied with the overall customer experience.
If there are shortcomings somewhere in the customer's journey, the customer will quickly find an alternative brand.
A customer success manager can help your business avoid this issue and gain you more repeat business.
Additionally, a CSM can use tactics such as upselling and cross-selling at various stages of the sale cycle to increase your revenue over time.
Better adoption and onboarding
Since a customer success manager's basic role is to guide the customer as they transition from mere leads to active users of your products, they form an important part of the onboarding process.
CSMs hold the customer's hand throughout ensuring you don't lose them during the onboarding process, which can be a challenge for many new users. The faster customers can go from sales prospects to active users, the higher the adoption rate for your product.
Better team productivity
To run a successful software company, you need all of your teams to work together towards your common mission.
Customer success bridges the gaps between multiple departments. For instance, customer success bridges the gaps between the sales, customer support, and development team.
By communicating customer needs and sharing data with these different teams, customer success management allows you to offer an enhanced customer experience overall.
Better customer relationships and experience
This is a no-brainer.
At the end of the day, a customer success specialist will help you to create close and long- lasting relationships that will drive business growth for years.
Also, your customer support team will have all the tools and guidance they need to create beautiful and personalized experiences for each customer.
Customer Success Managers (CSMs) are Growing in Demand
Customer success management is a fast-growing career in many industries, not just technology. LinkedIn reported that CSMs is the third most promising job in 2018, and the demand has continued to grow ever since.
You can attribute the growth to advances in technology leading to the birth of more software companies, and the career is relatively easy to start.
For instance, you only need a bachelor's degree in business, technology, or a related field. The CSM can also take online courses provided by websites such as Udemy. Earning high-value certifications such as the CCSMP is an added bonus.
According to Salary.com, customer success managers in the US earn a median salary of $115,670 per year (without counting benefits) so you might want to factor that into your budget.
In summary
A customer success manager is a wise investment for any forward-looking software company looking to drive revenue and expansion.
Customer success management allows you to focus on your customer's needs so you can gain the insights you need to create the products they'll love to buy and keep using.