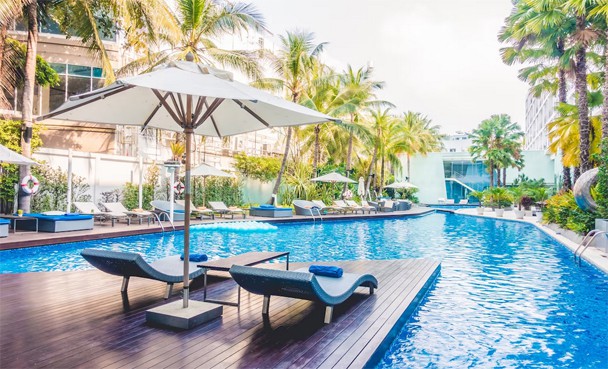 Vacation Rental Booking Software Development Services: Vacation rental software is a helpful tool for managing your vacation rental business. It simplifies your daily tasks and is affordable too. The vacation rental software makes it easy to manage reservations and improve your online booking system. The custom software helps you save resources and grow your online rental business quickly and efficiently. Boost your property's appeal and enhance customer service with personalized vacation rental booking and accounting software development services.
What is Vacation Rental Software?
Vacation rental software helps companies manage customers, bookings, and facility maintenance. This software helps vacation rental companies ensure customer satisfaction during vacations. Managers and supervisors use it to track daily activities like cleaning, maintenance, and guest traffic. Sales and marketing use it for promotions, while staff members use it to plan and schedule rentals.
This software works with online booking websites, allowing vacation rental companies to share their offerings. While many solutions offer basic facility management features, it's common for vacation rental software to integrate with facility management software.
To be included in the Vacation Rental category, a product must:
Add an online booking engine.
Manage staff schedules and track their progress in facility management tasks.
Keep track of rental unit availability and pricing.
Provide marketing and sales management features.
Provide various ways to communicate with customers across different channels.
Monitor and assess how full your space is, how satisfied your customers are, and how efficiently your units are used.
Why to use Vacation Rental Software?
1. Increased Revenues
Increase your rental property's visibility by advertising on multiple platforms. Simplify the guest experience with a seamless process to boost your earnings per booking.
2. Reduced Errors
Sync calendars on all booking channels and send automated confirmation messages with clear instructions to minimize mistakes made by humans.
3. Operational Growth
Vacation rental software automates routine tasks, allowing you to grow your business without spending a lot on property managers.
4. Efficient Management
Connect your vacation rental booking sites to your management software to avoid double bookings and missed inquiries.
Top Features of a Vacation Rental Software
Boost your vacation rental business with these powerful software features.
1. Marketing Automation
You can automate your marketing campaigns on popular sites by having all your guests and vacation rental information in one place.
2. Channel Manager
You can easily sync all your bookings from different sources and update your listings automatically.
3. Reservation Management
Easily handle your reservations in real time, with the ability to accept, edit, and manage them seamlessly. Save time by automating confirmation messages and the process initiation.
4. Live chat
Make it easy for guests and hosts to chat on one platform. It will simplify addressing questions, discussing rental preferences, negotiating prices, and staying informed.
5. Ratings & Reviews
Users can provide feedback on hosts, guests, properties, and their overall experience to assist other users and administrators make improved decisions.
6. User Management
To improve management, the tool gives you complete control over all your users, such as guests, agents, salespeople, and registered hosts.
7. Accounting
You can effectively manage your property expenses by integrating an accurate and scalable accounting system with your vacation rental booking software.
8. Powerful Integrations
Combine payment processing, commission calculation, accounting, and channel management tasks to increase efficiency.
Vacation Rental Accounting & Booking Software Services
Improve your business with custom software solutions.
Rental PMS
Timeshare Management Software
Airbnb Integration Services
Vacation Rental Management Software
Guest Management Software
1. Rental Property Management Software
The online rental property management application module helps you easily manage and track your properties. You can categorize them based on their types, locations, and more. It also allows you to store all essential documents in one convenient place. The software becomes a central hub for efficiently managing all your properties and their documents.
Integration with syndication sites
User-friendly interfaces
Rental website design
2. Timeshare Management Software
Accept reservations, book them, and manage all your private clubs, destination boutique resorts, and other fractional properties and seamlessly access data like bills paid by the third-party company, all in one place. The software will help you manage sales, marketing, and commission calculations to improve accuracy and efficiency.
Property owner module development
Online reservation services
Digital marketing automation
3. Airbnb Integration Services
Discover the benefits of integrating Airbnb API into your vacation rental software. Access our innovative features for simplified acquisitions, secure billing, and controlled booking systems. Easily manage and audit all your booking documents with Airbnb-level standards.
Security and surveillance system
Booking and billing system
API integration services
4. Vacation Rental Management Software
Use online rental management services to gain an advantage over competitors and improve your brand. These services offer potent features like real-time channel management and accounting. The software can also help manage funds, taxes, and security and maintenance charges.
Vacation rental website design
Accommodation booking software
Business intelligence modules
5. Guest Management Software
Improve customer relations, save money, and profit more with our custom management module. It simplifies concierge services, housekeeping, events management, and more. Using dedicated software for guest management can help you provide excellent customer experiences, leading to more repeat business and positive reviews.
Guests' data management
AI-based personalization
Events scheduling
Complimentary inventory management
Best Vacation Rental Software in 2023
Here we list some of the best software, you can consider in 2023.
1. Guesty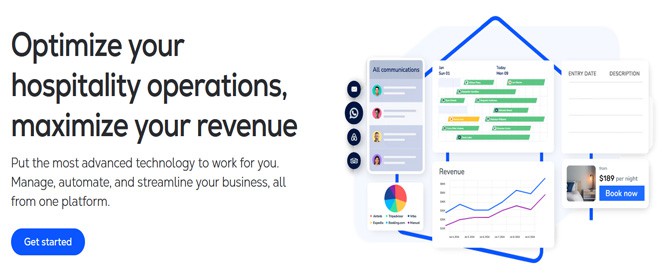 Guesty's software simplifies the operational needs of short-term rentals for property managers and management companies. Guesty allows users to easily manage their listings from various online travel agencies such as Airbnb, Booking.com, Agoda, and TripAdvisor. The platform offers a range of guest-centric tools, including a Unified Inbox, Automation Tools, 24/7 Guest Communication Services, and Payment Processing. Managing properties can be challenging. Guesty simplifies the process.
Website: https://www.guesty.com
2. Hospitable.com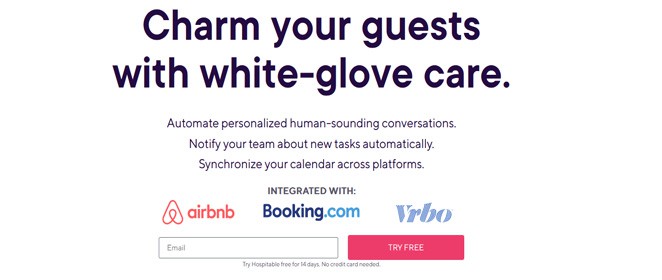 At Hospitable.com, hosts should be able to earn money from short-term and vacation rentals without giving up too much of their time. They aim to help everyday hosts quickly access advanced technology. Their software makes it simple to host short-term stays, just like long-term stays.
Hosts can earn bookings and assist guests while they sleep. Hospitable.com can handle up to 90% of guest communication directly. It can automate scheduling and remind your team of their tasks. It can also synchronize availability calendars on Airbnb. Booking.com and Vrbo are working together to prevent double bookings.
Website: https://hospitable.com
3. Hostaway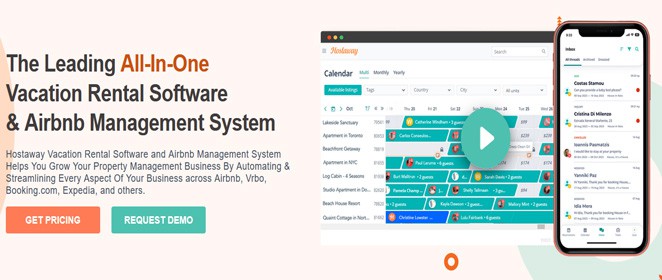 Hostaway is a popular vacation rental software for property managers. It helps them increase bookings and reduce the amount of work involved. Hostaway is a tool that enables you to automate and improve your operations. It brings all aspects of your business together in one place, making property management easy and efficient. Connect and easily manage your listings on popular travel platforms such as Airbnb, Vrbo, Booking.com, and Google. Boost your profits and fill up your rooms by implementing dynamic pricing strategies and creating your website for direct bookings. Are you ready to turn pro? Discover why many property managers choose Hostaway to enhance their rental business.
Website: https://www.hostaway.com
4. Rent Manager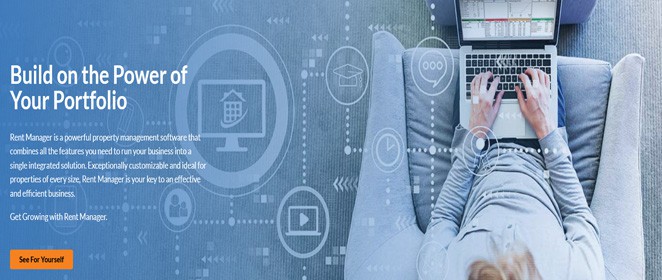 Rent Manager is a property management software that has won awards. It is designed for managing residential, commercial, and short-term-stay properties of any size. The program has many customizable features, such as a double-entry accounting system, maintenance management/scheduling, marketing integration, mobile applications, over 450 insightful reports, and an API that works with top PropTech providers.
Users can access their data from anywhere, whether in the field, on an emergency maintenance call, in the office, or at home. Rent Manager offers different platform options, such as Rent Manager Online and Rent Manager Express. They also have mobile tools like rmAppSuite Pro and rmResident. You can use our platform to accept payments, conduct inspections, generate reports, communicate with tenants, and more. Find a software solution that can adapt to your needs.
Website: https://www.rentmanager.com
5. iGMS (formerly AirGMS)

iGMS is a software for vacation rentals that helps hosts manage their short-term rental tasks more efficiently. The software lets users manage their Airbnb, Booking.com, and Vrbo accounts all in one place. They can easily access all the advanced features through the mobile app. Get the most out of automated guest messaging and reviews, templates, team and task management tools, an advanced channel manager, financial reporting, a direct booking management toolkit, payment processing, and more. You can try it for free for 14 days without needing a credit card.
Website: https://www.igms.com
Frequently Asked Questions
1. What is a vacation rental software?
A vacation rental software helps manage all aspects of a vacation rental business simply and efficiently. The software automatically enables you to manage your channels, bookings, housekeeping, and other tasks. It improves the accuracy and effectiveness of your services, leading to better experiences for your guests.
2. How do I integrate a vacation rental software solution with my website?
Whether you choose a SaaS platform or an on-premise vacation rental and timeshare management software, The software management team will seamlessly integrate it with your website. It allows your customers to make bookings on your website quickly and provides you with real-time updates on your platform. They can also assist you in creating the back-end process for standalone pages. It includes a property page builder, picture uploading, calendar, and booking engine. With this, hosts can easily update their listings with the latest information.
3. What is the cost of developing vacation rental management software?
The cost of developing vacation rental management software varies and is not fixed. The factors determining the answer include the technologies, features, platforms, and integrations involved. To find out the cost of the software, you can schedule a free consultation call with the team and share your requirements. They will create the project plan and give you a free quote for your project.
4. Do they provide integration services for vacation rental management software?
Absolutely! They can seamlessly integrate vacation rental software solutions with any API you prefer. You can incorporate any module into your software solution, from payment integrations to other third-party tools, to enhance the customer experience.
5. How can I make money from my software for managing vacation rentals and timeshares?
Vacation rentals are becoming more popular for hosts and guests. You can find multiple ways to make money from your software solution. Here are a few ways you can make money from your project.
Paid listings
Marketing and discovery fees from hosts
Commission from hosts per booking
Booking fees from guests, etc.
You can also use additional methods to profit from ads and selling related services.
6. How long will it take to create my vacation rental app?
The cost and time to develop a vacation rental app depend on what features you need, which platforms it will run on, what other apps it needs to work with, and the design guidelines for your brand.
Final Words
This article explains what vacation rental software is. Please bookmark our website. We will talk about a top vacation rental software for property managers who want to increase bookings quickly. Connect and manage your listings on popular travel platforms like Airbnb, Vrbo, Booking.com, Google, and more. Boost your profits and fill up your rooms by implementing dynamic pricing strategies and creating your website for direct bookings.