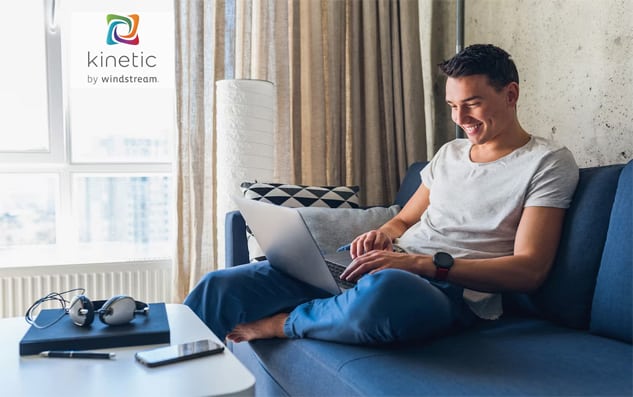 It's hard to get a high-speed internet connection in rural America to meet today's online activity. In many rural areas, slow satellite and DSL connections cause lag and buffering, which could slow down Zoom meetings, video streaming, online gaming, and working from home.
Kinetic, Windstream's fiber-backed internet brand, could give these people an excellent, cheap internet option with city-like download speeds. However, speeds and pricing vary considerably by area, and some users pay high costs for average speeds while others enjoy fast connections at low prices. Windstream Internet in 2023—plans, price, speed, and more.
What is WindStream?
Windstream Communications offers high-speed broadband Internet, phone service, and Digital TV bundles to home users, small, medium, and large enterprises, and government organizations.
Alltel Corporation's landline business and VALOR Communications Group, Inc. merged to become Windstream Corporation. Windstream is a leading U.S. distributor of advanced network communications and technology solutions for clients, small companies, large organizations, and carrier partners. Windstream bundles internet, security, telephony, and digital TV. Data, cloud, unified communications, and managed services are offered to businesses and enterprises. A 125,000-mile fiber-optic network provides central transport options for the organization.
Website: https://www.windstream.com
Is Windstream Internet Right for You?
Windstream might provide you the speed you need for uninterrupted streaming, gaming, and more if you live in a rural area with only satellite, slow internet, or DSL. If your location does not have fiber or fast cable, choose an ISP package with the most incredible speeds and cost. If you pick an internet provider with low data limits, buy the plan that meets your data requirements, or you might face expensive overage charges.
Windstream Internet: Coverage
Windstream offers internet in 18 states, with plans to expand. Even with this excellent coverage region, the FCC Broadband map shows that Windstream covers just 2.78% of DSL users. Despite its nationwide coverage, Windstream Kinetic targets rural and suburban people with low population density and spread over large regions.
Alabama, Arkansas, Florida, Minnesota, Mississippi, Missouri, Nebraska, New York, New Mexico, North Carolina, Oklahoma, Ohio, Pennsylvania, South Carolina, and Texas have Windstream Internet. Georgia, Iowa, and Kentucky have a dense Windstream footprint.
Windstream Internet Customer Satisfaction
Windstream's user review ratings were as follows:
BBB: Unrated
Consumer Affairs: 3.7
Trustpilot: 3.2
Google Reviews: 1.0
In 2022, Windstream's American Customer Satisfaction Index score rose from 61 to 62. Verizon Fios (72) and T-Mobile (71) scored higher than Windstream.
Windstream Internet Services
Depending on the location, Windstream provides several internet options. In rural and suburban areas, Windstream provides DSL, sometimes powered by a fiber backbone. Kinetic Internet offers 100 Mbps. Speed availability may vary. Depending on the network, rural places may have slower DSL internet speeds than urban areas.
Kinetic Windstream Fiber provides pure fiber-optic Internet to your home at gig and multi-gig speeds. Windstream fiber has limited coverage; therefore, multi-gig speeds are still uncommon. These speeds should rise as the fiber footprint expands.
Windstream Internet Plans
Kinetic Windstream's price plans seem confusing at first. Windstream Internet prices, plans, and other features vary by region, even within a city. Considering speed variation, Windstream pricing is relatively stable. It is one of the finest Windstream internet options in most places. Windstream internet customer service at 1-877-445-4070 will help you determine your speeds and prices.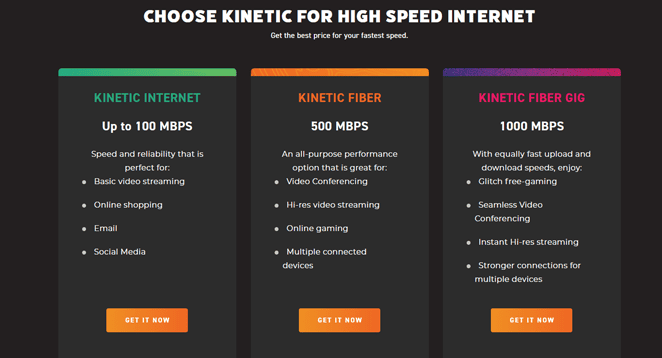 Most Kinetic plans provide signals to your home DSL connection through fiber. This hybrid technology makes the internet quicker than rural internet connections.
Pricing
Location affects download speeds. Legacy Lakes Way in Aberdeen, NC, offers 200 Mbps to 1 GIG plans beginning at $39.99 with speeds up to 800 to 1,000 Mbps. However, Caballo, NM residents pay $39.99 for 10 Mbps download speeds. Based on Internet usage in low-tier markets, Windstream recommends the minimum download speeds for Kinetic plans: 10 to 100 Mbps.
Standard Kinetic Internet: 15 Mbps for online surfing and email.
Enhanced Kinetic Internet: 25 Mbps for streaming, emailing images, and downloading music.
Premium Kinetic Internet: 50 Mbps for families with several users who stream movies and download high-quality photographs.
Premium Plus Kinetic Internet: 100 Mbps is suggested for many users for downloading movies quicker (1 GIG HD movie in 25 seconds), music streaming, and video conferencing.
| | |
| --- | --- |
| Service | Windstream Additional Charges |
| Installation fee (One-time) | $35 |
| Activation fee (One-time) | $60 |
| Equipment rental | $9.99/mo. |
| Kinetic Secure | $14.99/mo. |
Windstream subscribers may upgrade for faster speeds. Upgrade to a Kinetic 200 plan with a special price between $40 and $60 monthly, without taxes and fees—free upgrades for three months. Customers only pay for nine months.
Windstream will add one million more households and businesses to its fiber-backed gigabit internet network by year's end. It can standardize the company's price nationally. Wait and see. Windstream Kinetic plans till then.
Equipment Rental
Windstream has the lowest equipment rental rates. $10 rents a modem/router. Some marketplaces charge $7. Customers can use and install their Windstream-compatible equipment to save $1,200 annually.
No Data Caps
Windstream has no data limitations or overage fees, another perk. Mediacom charges $15 for 50 GB above your plan limit. Therefore, exceeding your limit by 150 GB will incur a $45 fee. Data caps cause throttling. Nearing your data limit, some providers reduce speed. With Windstream, you won't have to worry about this.
Windstream Availability Map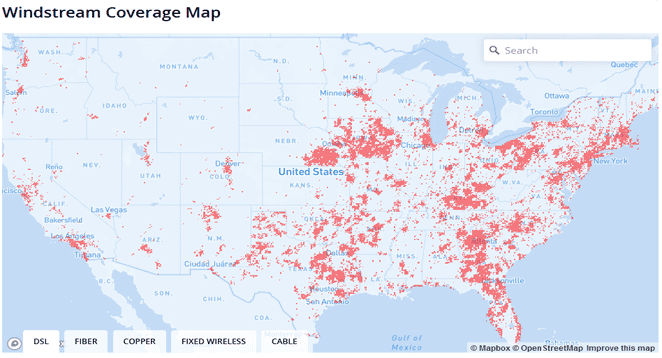 Windstream serves 18 states, mainly in the Midwest and East Coast. It provides broadband, home security, internet security, and VoIP. These services are available in bundled packages.
Hybrid fiber-DSL connections provide much better internet speed. Windstream's most popular internet service, Kinetic, is a hybrid fiber-DSL that connects 9 million people, making it the sixth-largest DSL provider in the US.
Windstream's new Kinetic Fiber service offers up to 3.3 million users of fiber-optic internet. Windstream, an upcoming fiber internet provider, has the ninth-largest coverage area in the U.S.
Final words
If you're looking for a new internet provider, Windstream has benefits and limitations. Location-specific pricing and plans make it difficult to determine speed levels. Windstream also charges for Kinetic Secure, its online security package, unlike Xfinity and Spectrum.
Windstream plans are contract-free and provide unlimited data. It can deliver high-speed internet even in rural and suburban regions with few wired internet providers. With Windstream Fiber's ongoing network growth, you can be sure the provider has exciting plans!