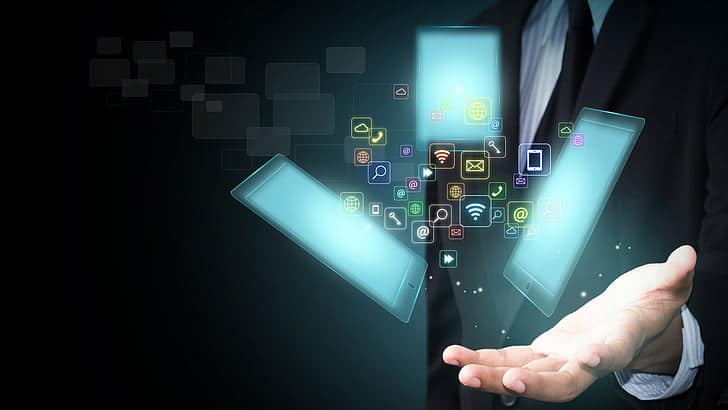 Best IT Management Software For Your Business: The monitoring and administration of an organization's IT systems, including its hardware, software, and networks, is what is meant by the term "IT management." IT management software focuses on ways to improve the efficiency of the systems. It is also about helping individuals to be more productive in their job.
Many companies are putting information technology at the core of their strategic planning. As a result, IT departments are being pushed to perform more than ever in the digital era and are increasingly becoming a pivot point for innovation.
Why is IT Management Software Important?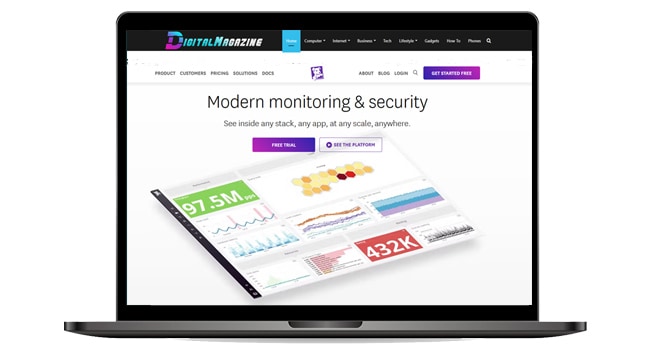 The IT departments of contemporary companies are the backbone of the business, but the strength of these departments is only as good as the software that supports them. They are in charge of the technology used by employees, the data infrastructure, and company security. In addition, they often collaborate with support to encourage customers to "Try turning it off and turning it back on again."
If you've ever had trouble navigating the information technology systems in a corporate data center, then you recognize the importance of having an efficient management strategy for the plans. IT management software allows the monitoring of all of an organization's data and technology from a single location.
IT management software is a suite of applications that helps organizations enhance the quality of the services they provide by directing how they use their technological resources, ensuring the safety of their data, and enforcing the most effective technical procedures. Many choices are available, but effective ones take a lot of work to come by. For example, you may own a small company that has recently seen a surge in customers and needs assistance sorting through all these new customers promptly. Or, this isn't the first time your firm has been around the block, and you're searching for a new technology solution to help improve the way your back end's structure.
No matter what you require, you can trust us to point you out correctly. We have researched the IT management software that has received the most attention to identify which products are dependable, user-friendly, beneficial, feature-packed, and customer-oriented. The following are some of the most excellent solutions for IT management software:
20 Best IT Management Software For Your Business in 2023
Here we list some of the best IT management software for your business in 2023;
1. Rippling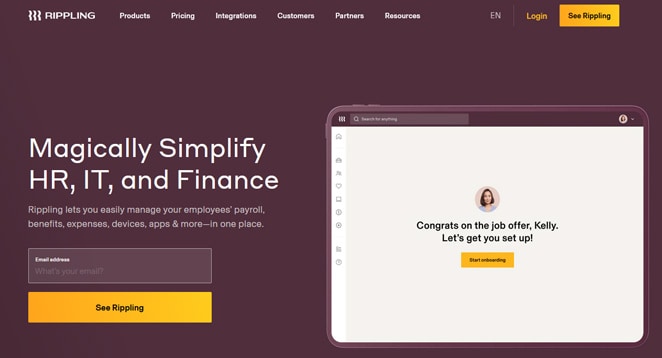 Rippling allows firms to manage HR, IT, and Finance in one location. It consolidates a corporation's generally dispersed workforce systems, including payroll, costs, benefits, and computers. So, the whole employee lifetime can be managed and automated within a single system for the first time. It is one of the top IT management software you can consider for your business.

Consider onboarding as an example. With Rippling, you can recruit new employees anywhere in the globe within 90 seconds and set up their benefits, payroll, corporate card, computer, and even third-party apps like Microsoft 365 and Slack.
Website: https://www.rippling.com

2. monday.com
Monday.com, a robust IT Management software, enables teams to collaborate effectively and accomplish projects on schedule.
Its user-friendliness and adaptability allow for rapid onboarding of your staff and the opportunity to organize your work as you see fit.
The platform's features include the following:
Customizable workflow templates to manage anything your way.

Time tracking to meet critical deadlines.

Automation to eliminate manual work.

Dashboards to gain valuable insights and see the status of things at a glance.

Integrations with popular tools and apps to streamline processes.
Website: https://monday.com

3. Zapier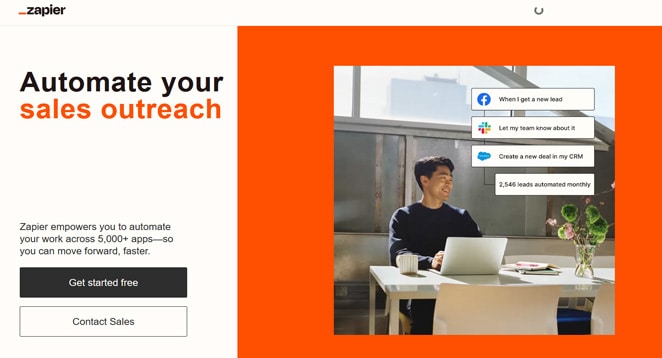 With Zapier for Companies' collaboration and security capabilities, you can unleash the automation potential of your whole organization. Collaborate with a devoted Customer Success Manager to receive live onboarding and strategy assistance to build your automation approach.
Customize your security settings with advanced administrative capabilities such as SAML single sign-on (SSO), account consolidation, and app limits. The Company plan provides additional security, management, and support, making it suitable for enterprises that wish to automate operations across different teams or have more advanced administrative control.
Website: https://www.zapier.com

4. Malwarebytes for Business
Malwarebytes for Business is a cloud-based security solution consisting of Endpoint Protection and Endpoint Detection and Response. This IT management software offers enterprises comprehensive malware protection and cleanup with accurate threat detection, proactive threat blocking, and thorough remediation, all of which are cloud-based and simple to use. In addition, Malwarebytes Endpoint Detection and Response provides detection, isolation, and remediation of threats at the enterprise level.
Website: https://www.malwarebytes.com

5. EZOfficeInventory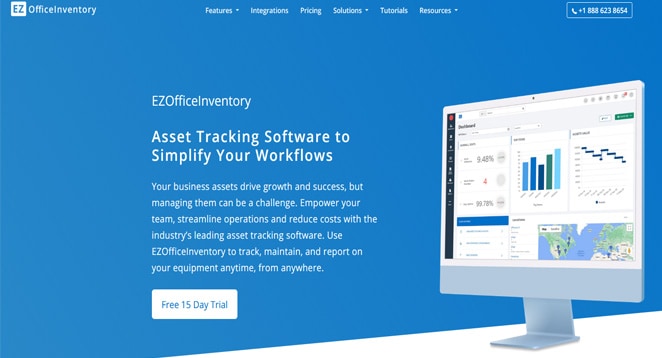 EZOfficeInventory IT management software improves the management of assets and inventory stock. They monitor the entire asset lifespan, allowing you to generate Purchase Orders and service tickets, and efficiently manage vendors.
Create personalized labels and quickly scan barcodes and QR codes with our smartphone app. Additionally, we provide RFID integration to reduce processing times even further.
This asset monitoring software provides simple depreciation management, scan-based audits, and actionable reporting to assist you in making smart business decisions. Location and ownership histories make it easy to keep track of several assets. The Zendesk integration and work order management modules facilitate the centralization of all asset-related tasks. You may also configure custom fields and notifications for a completely individualized asset management experience!
Website: https://www.ezofficeinventory.com

6. Miro
It is an online collaborative whiteboard platform that enables distant teams to collaborate successfully, from ideation using digital sticky notes to planning and monitoring agile processes. Globally, over 25,000,000 Product managers and owners, UX/UI designers, agile coaches, and design thinkers use Miro to develop the Next Big Things. It is one of the best IT management software you can consider.

Website: https://miro.com

7. AVG Antivirus Business Edition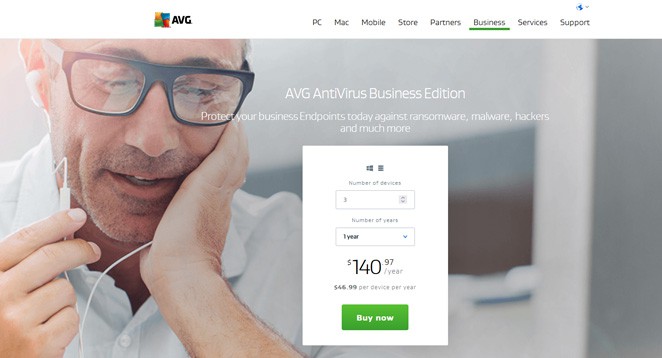 AVG Antivirus Company Edition is a comprehensive business security solution. Designed to address all security requirements, it tries to prevent the propagation of viruses, worms, Trojans, and rootkits to user devices while preserving data confidentiality and security.
The Corporate Firewall and Antivirus protect business devices from any potential infection. At the same time, the Smart Scanner routinely examines every inch of a user's data to ensure the security of newly created files. You can consider it among the other best IT management software mentioned on this list.

Website: https://www.avg.com

8. Wrike
It is a cloud-based collaboration and project management platform that enables users to manage projects from beginning to end with complete visibility and command over activities. The end-to-end system manages projects from the original request by monitoring work progress and reporting outcomes.
Wrike  IT management software provides project managers and team leaders with a practical application for collecting and organizing project requirements, creating project plans, and visualizing Gantt chart timelines. As work continues, it is simple to modify project plans, and all concerned teams will be notified of any changes. In addition, the custom report builder enables users to segment project data to deliver the results to executives or teams.
Website: https://www.wrike.com

9. Jamf Pro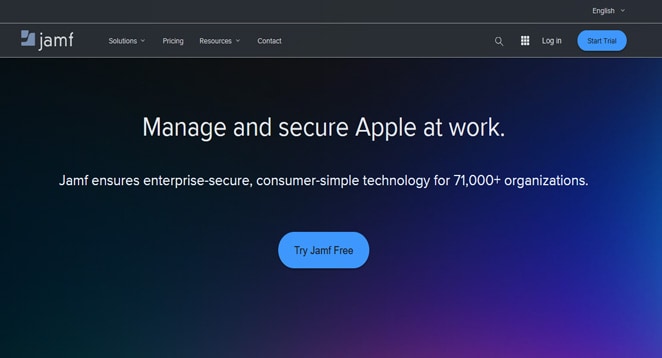 IT professionals use Jamf Pro, a comprehensive business mobility management product, to deploy, catalog, and protect Apple devices.
There is a deployment choice for everyone with cloud and on-premise deployment options. Jamf Pro also integrates with asset management systems, network access controllers, and other IT services to provide zero-touch deployment and bulk app licensing, among other capabilities.
Website: https://www.jamf.com

10. SolarWinds Service Desk
SolarWinds Service Desk (previously Samanage) enables global enterprises to provide their workers with an exceptional service experience. The IT service management software expedites the efficiency and visibility of services sought and supplied within a business, making it simple to simplify process improvement and increase productivity constantly. Through unmatched agility and scalability, SolarWinds Service Desk IT management software enables enterprises to promptly and reliably provide workers with the required services to perform their jobs.
Website: https://www.solarwinds.com

11. PDQ Deploy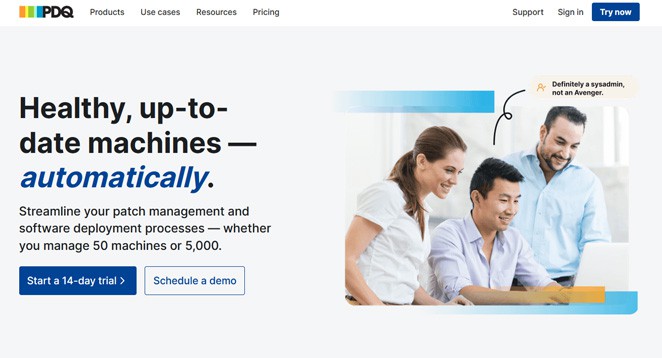 The best way to automate your IT administration is using PDQ Deploy. Minutes are required to update third-party software, implement custom scripts, and make significant configuration changes. With more than 200 apps immediately deployable.
Website: https://www.pdq.com

12. ManageEngine Endpoint Central
Desktop Central is a complete desktop and mobile device management tool from Manage Engine that offers centralized control of desktops, servers, laptops, tablets, and smartphones.
Desktop Central enables professionals to automate typical desktop administration tasks. For example, Desktop Central automates patch installation, software distribution, IT asset management, licensing management, software usage statistics monitoring, USB device management, remote desktop control, and more. This IT management software facilitates the administration of Mac, Windows, and Linux operating systems.
Website: https://www.manageengine.com

13. FreshService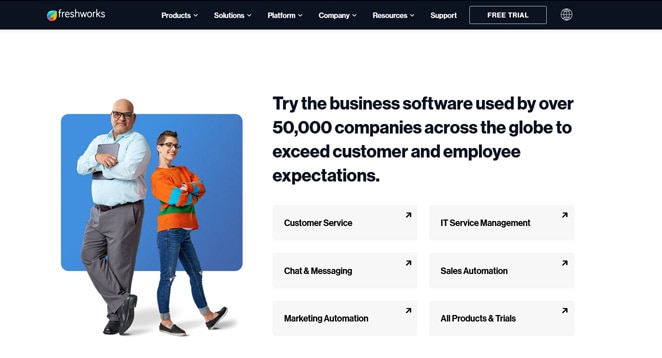 It is a cloud-based service desk and IT service management (ITSM) solution that serves over 10,000 SMB, mid-market, and corporate customers globally. Using ITIL best practices is intended to assist IT firms in focusing on what's most important: excellent service delivery and customer happiness. In addition to meeting their service desk and ITSM requirements, these clients select Freshservice because of its usability, setup speed, customer service, and pricing. It is the best IT management software you can consider for your business.

Website: https://www.freshworks.com
14. Spiceworks
Keep track of everything that occurs on your network, from when an unauthorized user installs software to when the toner in your printer runs low. Spiceworks enables you to monitor and receive notifications on any significant network events!
Website: https://www.spiceworks.com

15. SysAid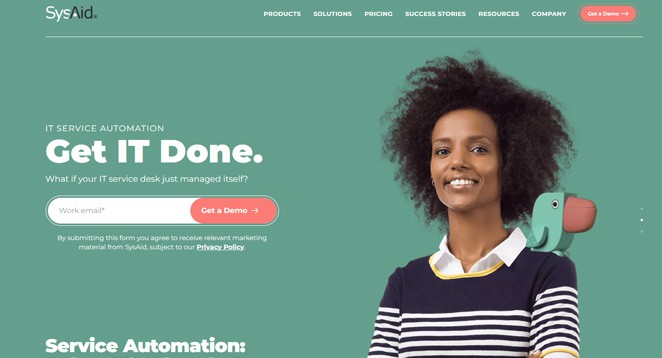 SysAid is a potent IT and enterprise service management solution that improves agent productivity, enhance the end-user experience, and delivers value throughout your business. Within SysAid, every ticket, asset, patch, and the related item is cross-referenced, allowing you to shut the loop more quickly. Integrated service orchestration and service desk automation to increase team productivity and reduce ticket response time. CMDB and native asset management ease tracking and auditing your organization's IT and non-IT equipment. It is one of the best IT management software on this list.

Website: https://www.sysaid.com
16. Remote Desktop Manager
Remote Desktop Manager is IT management software that enables enterprises to initiate, manage, and execute distant connections to virtual machines, websites, remote servers, and business applications. It allows IT professionals to store passwords, user names, and credentials in a consolidated database.
Website: https://devolutions.net
17. JIRA Service Management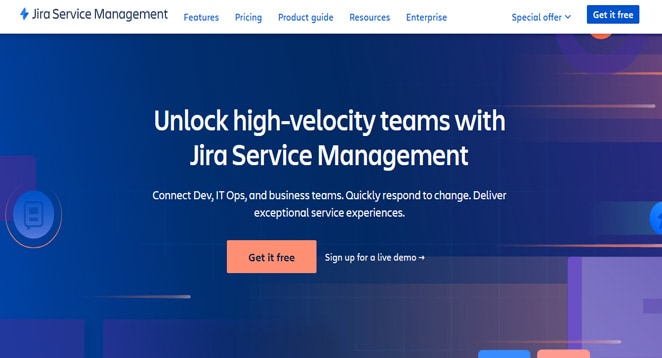 Jira Service Management is an IT management software built on the Jira platform, formerly known as Jira Service Desk. IT is undergoing a fast change to develop skills that enable the quick delivery of excellent services while managing cost and risk. But outdated methods of operation impede advancement. Rigid processes inhibit the agility and speed of a team. Disparate, unconnected technologies hindering the flow of information that speeds up the process of making sound decisions. Critical to allowing a high-performing digital business, development and operations teams continue to need help with siloed tools.
Website: https://www.atlassian.com

18. Atera
Atera IT management software has been created exclusively for MSPs and IT Support Companies of any size. The product is the only easy-to-use All-in-One platform that integrates Remote Monitoring and Management (RMM), Professional Services Automation (PSA), Cloud-based Remote Access, and integrated Cloud Services. It is a cloud-born, modern SaaS platform built for speedy onboarding and a simple, intuitive user experience.
Website: https://www.atera.com

19. Datadog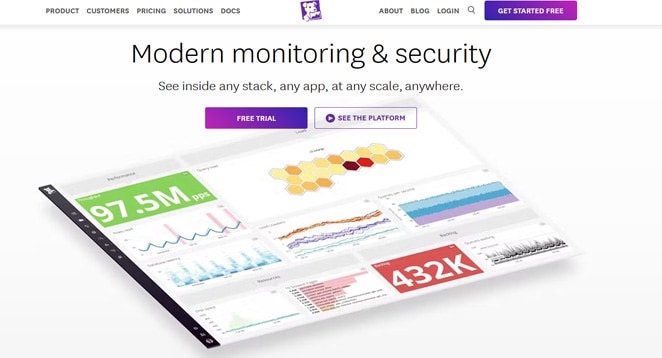 In the age of the cloud, Datadog is the monitoring, security, and analytics platform for developers, IT operations teams, security engineers, and business users. Datadog's SaaS platform combines and automates infrastructure monitoring, application performance monitoring, and log management to deliver a uniform, real-time view of our customers' complete technological stack. You can consider it among the most reliable IT management software.

Datadog is also used by businesses of all sizes and in all industries to facilitate digital transformation and cloud migration, foster collaboration among development, operations, security, and business teams, accelerate time to market for applications, reduce time to problem resolution, secure applications, and infrastructure, comprehend user behavior, and monitor key business metrics.
Website: https://www.datadoghq.com

20. PRTG Network Monitor
PRTG Network Monitor enables users to monitor infrastructure devices, network traffic, and applications. It assists administrators and technical personnel in monitoring network failures, analyzing network connections, monitoring network quality, and adhering to service-level agreements.
Using a single console, PRTG Network Monitor enables IT administrators to monitor the uptime and downtime of a single device or an entire network. A configurable dashboard provides real-time network performance and status information for all devices. In addition, administrators may remotely deploy updates or install new programs using a central console across several devices. You can consider it among the best IT management software in 2023.

Website: https://www.paessler.com/prtg

Benefits of IT Management Software
Using IT management software facilitates the streamlining and centralization of IT activities. Additional benefits of IT management software include:
Improved operational effectiveness
IT management technologies provide quicker ticket tracking and resolution, identify under performing IT assets, and monitor systems and networks for any strange behavior.
Enhances system dependability
IT management technologies enable you to anticipate possible IT problems, take preventative measures, and minimize unscheduled downtime.
Remote IT management
IT management software enables administrators to remotely access, monitor, and control the IT assets of a business. As a result, it expedites and reduces the expense of problem resolution.
Final Words
We highlight some of the most useful IT management software for company growth. IT management software includes a vast array of applications, and its related products are often accessible as suites or as standalone apps. IT management software Design, deliver, and manage all IT services, including incident management, change management, and configuration management. Additionally, it contains software and hardware components' technical, physical, and financial elements, including their acquisition, deployment, and disposal.
IT management software facilitates the configuration, monitoring, and troubleshooting of network devices, provides administrators with privilege rights and supports access restrictions to restrict network users. Resolve IT incidents or problems by automating the assignment of tickets to the appropriate support personnel and controlling their status. Moreover, it creates and enforces norms for the systematic storage, revision, and retrieval of organizational data.