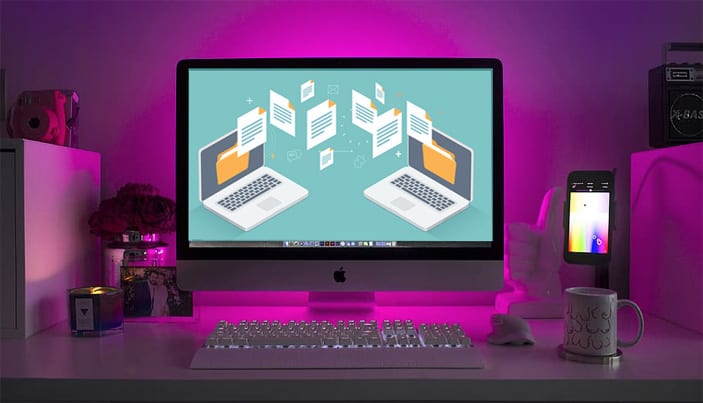 Best File Sharing Software For your Business: If your business depends on many teams and partners working on various files or documents in any given business day, then access to a responsive, quick, and secure data storage accessible anytime is essential to hitting revenue milestones to drive your organization to success.
For example, you may be working with company contracts, merger data sets, or accounting statistics and achieve more with your partners or team members if you could amend and update active papers with complete transparency to swiftly iron out difficulties and seal transactions with greater confidence and trust. Fortunately, various file sharing software exist to help you do more online, and most of them offer affordable costs that fit any budget. In addition, since many of them are also expandable, you are guaranteed room for adding new features as your demands develop. In this article we list some of the best file sharing software for your convenience.
This post will provide a list of the top 25 File sharing services selected by our researchers. While many will give you adequate storage and 24/7 access, be wary of the security they provide, the upgrade pathways, and upfront price transparency since you want to avoid any unpleasant surprises when you make your first payment.
25 Best File Sharing Software in 2023
Here we list some of the best File sharing software for your business and personal use in 2023.
1. Dropbox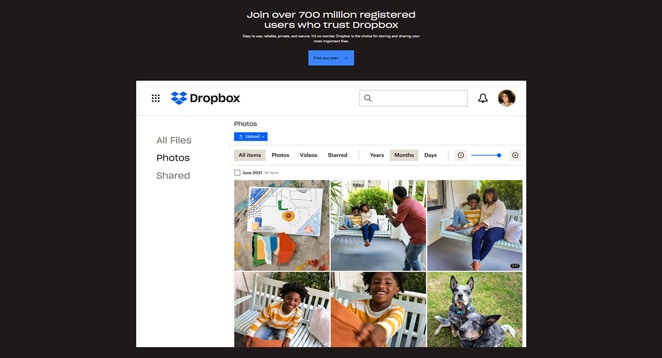 Dropbox is the primary alternative to Google Drive for file-sharing software, featuring distinct modules for individual and business users (Dropbox and Dropbox for Business). It worked hard to transform sophisticated sharing into a competitive advantage, and it was successful. However, dropbox file sharing software is more costly than Drive and has a steeper learning curve for users who are more familiar with accessing a Google account.
Business mode provides you with file hosting services and up to 1 TB of storage in a contemporary working environment. It syncs and updates quickly across devices, including Android and iOS, backs up and encrypts cloud-hosted data, and monitors access and running processes to identify illegal access. You may also configure it to control BitTorrent downloads and your website's HTTP headers.
Website: https://www.dropbox.com
2. Google Drive
Google Drive is the search engine giant's premier file storage and synchronization service and is the most used virtual storage drive in history. As a result, it comfortably tops our list of the twenty most excellent file-sharing applications. With a standard Gmail account, users will have their files preserved, classified, and completely shareable at all times and from any device; however, business use is subject to modest plans, depending on the amount of storage purchased.
The service is extensively linked with Google and Microsoft Suite applications, eliminating cumbersome downloads with direct sharing links and supporting more than thirty file types. Even more popular is the fact that Google Drive is not restricted to Android users but also supports Mac and iOS devices similarly. Finally, as an individual user, you can store and trade 5 GB of data for free, which is sufficient to prevent the need for an account upgrade. It is considered as top file sharing platform for business and personal use.
Website: https://www.google.com/drive
3. Box
The box is, without a doubt, one of the most popular storage and file sharing software of the last few years and a popular option for freelancers and small teams seeking to generate appealing content. It transforms the process of producing, editing, and reviewing files into a collaborative effort and monitors your data for unrivaled security.
The box will give you centralized security controls and reporting, rights management, customer-managed encryption, and mobile security, regardless of the information you're handling, and will interface with all major applications for daily usage to make data transfers effortless. Box's workflow automation and project management features might save a team the expense of acquiring extra software, while its integration with dozens of applications simplifies company administration.
Website: https://www.box.com
4. Filecamp
It is a cloud-based DAM platform that allows users to access, share, and collaborate on files from any location or device. This program is a great productivity tool enabling you to spend less time on chores such as changing file versions, managing security and access, and searching for files. Filecamp is an excellent investment for any company, particularly creative ones.
The platform's cutting-edge security features, so your team need not worry about security breaches or data leaks. Create folders, upload and download files in your preferred format, and assign access rights to specific files.
Customize the DAM platform to meet the demands of your company. Filecamp file sharing software provides a variety of white-labeling solutions that allow you to edit logos, graphics, and color schemes to maintain brand consistency throughout your platform and assets. Collaborate with colleagues and clients online.
Website: https://filecamp.com
5. OneDrive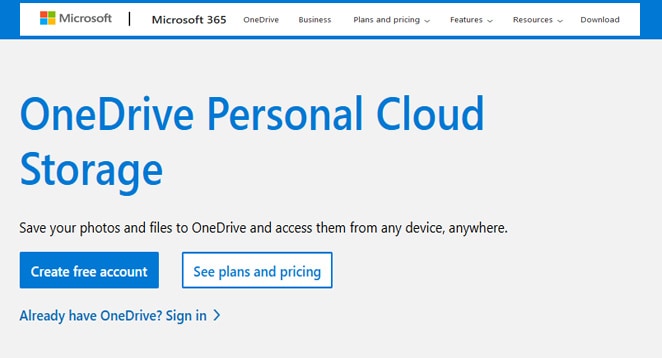 Microsoft's OneDrive for Business is a cloud-based or on-premises file storage solution that features automatic or manual synchronization. It provides businesses and educational institutions with access to a larger storage space than the consumer edition of OneDrive, enhanced security features, and facilities for broad collaboration and device sharing across desktop, iOS, and Android devices.
The application's strong interaction with Microsoft's other well-known corporate solutions, Office 365 and Sharepoint server, makes it accessible to any enterprise. The application administrators may manage user access rights, sharing permissions, and other premium collaboration features. OneDrive is free for personal use with 5GB of storage, while companies can access various options with the features they want. It is the most reliable file sharing platform for your business.
Website: https://onedrive.live.com
6. Synology Drive
Synology Drive is the premier file-sharing program that enables you to share and store files quickly and securely. Using a mobile phone or tablet, you may browse, add, and organize your files on this platform. This file sharing software is compatible with Android, iOS, and Windows phones, facilitating access to your files from any device. Moreover, Synology Drive provides online access to gigabytes of content saved in the team or personal folders.
It provides an intuitive cloud storage experience with sequential reading speeds of over 112 MBps. In addition, Synology Drive's dependable multi-version backup system further safeguarded all your files. Thus, your digital assets will be protected from dangerous assaults and ransomware. Aside from this, the system features synchronization capabilities, allowing you to see changes to your storage and access files across other workplaces.
Website: https://www.synology.com
7. ShareFile
Citrix's ShareFile, a platform that provides secure content collaboration and document exchange, is a robust file sharing software for small, medium, and big enterprises. Using the platform, your team members can share sensitive data of any size or format and safely access their files from any device or operating system.
Moreover, you will know that all files, emails, and attachments are encrypted to bank-grade standards both in transit and at rest. ShareFile is also the industry leader in co-authoring and co-editing since it enables team members to provide comments and work concurrently on a single job. Additionally, it uses over ten industry-specific modules that give users specialized features and unique branding.
Website: https://www.sharefile.com
8. Apple iCloud
Apple's iCloud is the default storage system for iOS and MAC users and a dependable file sharing software for corporate customers. It compiles the images, videos, documents, applications, and other files of the user into a compact, searchable database and allows sharing at any time.
It also provides one of the most attractive and well-organized picture libraries, where any images shot with an Apple device are promptly uploaded, can be shared, and are saved in folders with permissions that can be managed. ICloud Drive, on the other hand, keeps documents and related files and lets users check them out, download them, and modify them both online and offline. In addition, your files are updated in real-time, relieving you of the responsibility of keeping multiple versions and monitoring user activity. Last but not least, Apple iCloud has a Backup & Restore option that generates nightly backups to guarantee that no data falls between the cracks.
Website: https://www.icloud.com
9. Egnyte
Egnyte is a dependable file sharing software and content management platform that enables you to securely access, share, and collaborate with coworkers and business partners from the convenience of your chosen device. The platform combines sharing and content management features and includes additional features that users may implement in the cloud or on-premises.
Website: https://www.egnyte.com
10. Hightail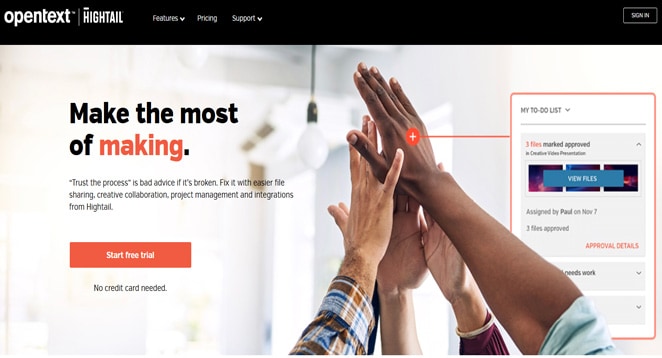 Hightail is a two-module platform for sharing and collaboration designed to empower creative teams. You can upload, modify, and share your work with only three clicks, making file sharing a simple and fun process. For example, you may pick files uploaded to the system, import them from a local device, or drag-and-drop them from an online library, give them for distribution and attach a tracker to each file, add recipients, and verify that the files have arrived safely at the specified location.
Website: https://www.hightail.com
11. SugarSync
SugarSync is a dependable and simple storage and file sharing software. It was designed to provide unrestricted access to your files and folders from any device, including PC, Mac, iOS, or Android. It allows you to edit documents in the cloud, and continually back up your data on numerous safe servers. In addition, the platform allows for complete version control and recovery and security administration using roles and access rights.
Regarding file sharing, SugarSync makes it feasible to distribute enormous files to several users in a matter of seconds by delivering a simple public link with the necessary permissions. In addition, the service is modestly priced and depends on the amount of storage you want, with 100 GB packages available for $7.49 per month.
Website: https://sugarsync.com
12. Droplr
Droplr is a complete document management package for personal and business use. It is comprised of several interconnected functionality modules, all of which are designed to facilitate information sharing. Without question, file sharing is the most popular module. It enables users to drag-and-drop their files and share them as permission-sensitive short links, activate the exclusive Hotkey sharing feature, and get live, in-browser High-DPI screen previews of their documents, photographs, notes, links, audios and videos, and other files.
The platform imposes no constraints on file size or quantity and organizes all shared files into meta-tagged categories. You can also create and send your team screenshots with comments and annotations. Droplr file sharing software also has a variety of third-party connections, such as Slack, Atlassian Jira and Confluence, Gmail, Trello, and many more.
Website: https://droplr.com
13. Firmex
Firmex is the ideal option for businesses that need to work, share, and collaborate on essential files in centralized online storage. It offers either an unlimited-use membership or pay-per-use transactions, as well as bank-grade security features.
Firmex file sharing software assures that individuals with full access rights and permissions to any document enjoy the program's simplicity of use and adaptability while being SOC 2, HIPAA, and GDPR compliant. For instance, the tool makes it simple to simultaneously upload enormous quantities of documents. Since it automatically indexes these files, anybody may get info rapidly. Through straightforward dashboards and robust reporting capabilities, it is simple to track document versions and information about who viewed and modified each document.
Website: https://www.firmex.com
14. Sync.com
Sync.com offers your company 1 TB of cloud storage, unrestricted data transfer, sync, and backup in real-time, sharing and collaboration capabilities, and 2048-bit RSA encryption for $5 per user per month. There are many price options available to meet your budget and requirements. As a feasible alternative to Dropbox, Sync.com provides you the option of reverting files to a prior version or recovering those you inadvertently removed.
In addition, it is a helpful file sharing software for individuals who are prone to removing files from their folders and regret doing so. The application is compatible with HIPAA and GDPR and adheres to top worldwide security standards. The program enables you to easily share files while extra levels of security guarantee that your privacy stays in your control on iOS, Android, and desktop devices.
Website: https://www.sync.com
15. Tresorit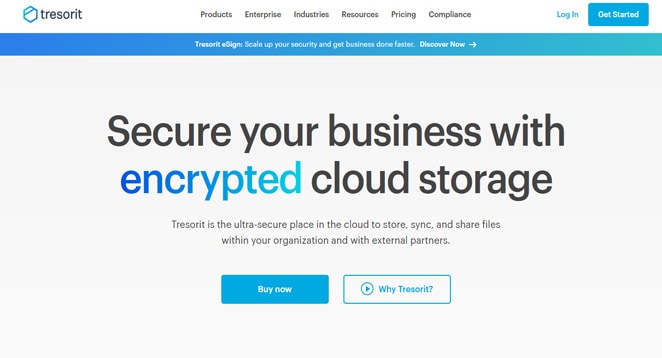 The cloud storage platform Tresorit stores backup and synchronizes your files with the same stringent security level as Swiss financial institutions. Every user has 1 TB of storage space. If you have more than 10 team members, the $24 (now $12) per user per month to move your files to Tresorit servers, which are certified for ISO 27001, in addition to the EU-mandated GDPR and HIPAA, is a fair price. Other price options are also available, allowing you to pick the optimal feature set.
Website: https://tresorit.com
16. Onehub
Onehub combines effective collaboration and ultra-secure cloud storage or virtual rooms via an intuitive file sharing software that offers customizable client portals, stealth collaboration, advanced watermarking, precise role and permission control, and complete audit trails of who accessed your documents. Designate each user as the administrator, downloader, collaborator, or viewer position to configure roles. The simple configuration allows for comprehensive cooperation without compromising your data.
Website: https://www.onehub.com
17. WeTransfer
WeTransfer is a cloud-based file sharing software that provides two business models: the first, an ad-supported service, allows users to share up to 2 GB of files without registering an account and for free. The second edition is Plus, a premium product that increases storage to 100 GB and lets users transfer up to 20 GB of files simultaneously. In addition, the Plus allows you to password-protect your files, create and modify your profile, and use the account's email. WeTransfer is designed with simplicity and use in mind, so if your company demands are not highly complex and you need to distribute files mainly, WeTransfer is an excellent choice.
Website: https://wetransfer.com
18. DeepTransfer
DeepTransfer is a free file sharing software that allows you to save and share files for 14 days before they are removed or you must re-upload them. The maximum file size you may share is 3GB, which is more than sufficient and generally exceeds the needs of infrequent users. If you enjoy the free service, the developer is currently working on a premium package that will allow you to send up to 30 GB in size with blockchain-based security and enterprise-grade encryption for advanced protection of your private files. An audit trail to increase accountability is also in the works.
19. ownCloud
The file-sharing platform ownCloud is supported by more than a thousand developers and over 15 million users, making it one of the most intriguing open-source projects available. The program offers an exclusive private cloud server for storing, sharing, and syncing files, as well as an online workspace for collaborating with team members anywhere in the globe, regardless of time zone, using a desktop, iOS, or Android device.
OwnCloud file sharing software allows you to interface with any third-party program, from Microsoft OneDrive to Dropbox, thanks to its extensive, executable source code. In addition, it delivers strict security using dependable permission management tools or master key or credential-based encryption codes, while its guest function enables sharing through email.
Website: https://owncloud.com
20. GainTools OST to PST Converter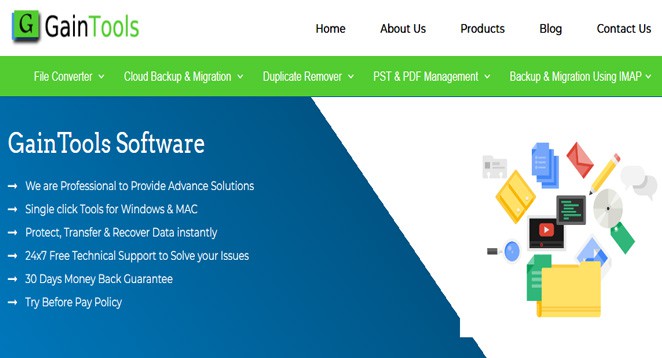 GainTools OST to PST Converter is the file sharing software you need if you are stuck with various Microsoft Outlook data that your latest Microsoft Outlook purchase does not allow. In addition to supporting all versions of Microsoft Outlook and Microsoft Exchange Server, the program also supports HTML, MBOX, EML VCF, and other file formats. GainTools OST to PST Converter can convert files of any size, and a single license permits the export of an infinite number of files. In addition, the program is compatible with all Microsoft Windows versions, including Windows XP.
Website: https://www.gaintools.com
21. Infinity
Whether you are arranging a course, project, social media campaign, or video production trying, one thing is sure: you cannot do without files. Infinity is the perfect file-sharing platform for people, freelancers, and organizations that want to securely store and share all their precious files—videos, documents, pictures, GIFs, and PowerPoint presentations—while ensuring that everything runs smoothly. It also interfaces with over 2,000 applications through Zapier, including Google Sheets, Office 365, Dropbox, Box, and Google Forms, to let you produce all files from various platforms in one central location.
22. Citrix
Citrix is a one-of-a-kind file sharing software created to reduce workflow complexity and give small and medium-sized enterprises a simple and secure virtual workspace. Its ShareFile function allows you to store files in virtual data rooms, swiftly share an infinite number of files up to 100GB, and get comments and e-signature on each file, regardless of the device used.
This software for file sharing allows you to access your files from anywhere, whether at the office or on the go. It also safeguards your files, emails, and attachments and stores them securely in the cloud. Citrix promotes teamwork and facilitates client contact. For example, you may add an infinite number of customers, share as many files as necessary with them through a secure login, and even allow them to modify files.
23. ProofHub
ProofHub is a unified platform with a centralized file management system as part of a complete software package. Teams can exchange files and collaborate immediately on them using ProofHub. In addition, ProofHub offers easy integration with major third-party file management applications like Google Drive, Box, and Dropbox. ProofHub is an all-encompassing solution that is much more than a simple file storage and file-sharing application.
24. FileCloud
FileCloud is one of the leading business file sharing software. This platform's functions range from uploading and searching for files, downloading files and folders, and examining recent file activity to more complex features such as renaming files and folders and configuring access permissions.
It allows the uploading and sharing of an infinite number of files of any size, the setting of expiry dates, and the public or private distribution of these files. In addition, FileCloud allows users to examine, upload, and share a variety of file formats, including PDFs, Word, Excel, and PowerPoint documents, as well as medical images.
25. MediaFire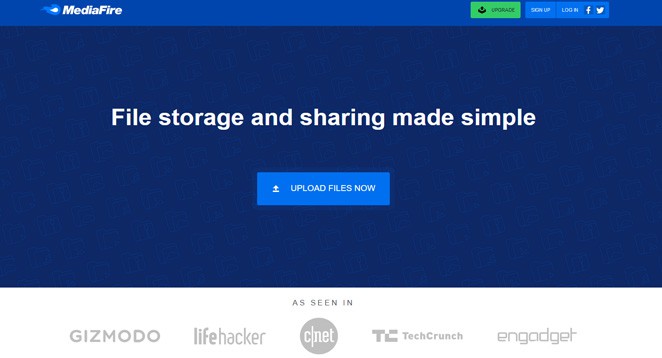 MediaFire is one of the most accessible platforms for sharing, storing, and uploading files (docs, photos, PDFs, videos, and audio). As one of the finest file sharing programs, it enables you to build file folders by the project to organize your workflows most effectively and share these files and folders (regardless of their size) in an instant through links, email, social network accounts, or on your website.
You can also download multiple files straight to your MediaFire account from websites, social networks, and emails with a single click and then arrange them into folders, ZIP files, and projects.
Features of a File Sharing Software
Before making a purchase, you should carefully consider the following features of any file sharing software.
1. Sharing Capacity
Some businesses, such as video production, design, and gaming, may have more stringent file sharing rules. Depending on the demands of your company, you will likely want a file-sharing system with no file-size uploading and sharing restrictions. Also, if you often exchange gigabyte-sized files, you should seek software with rapid file transfers; otherwise, you will need more time attempting to share them.
2. File Formats
Not all software supports exchanging different file types, including text, photos, PDFs, GIFs, and videos. Therefore, ensure that the device you wish to acquire supports the file types you use most often.
3. Storage Capacity
Large workforce organizations (research, graphic design, and IT corporations) generate large files daily. To save these files, they need file-sharing applications with larger storage capacities. For worry-free file sharing, you must use software with 500GB or more storage.
4. Number of Users
How many individuals comprise your team? Everyone generates, shares, and receives files. Then, avoid limiting the number of people who may access the product. Note that some providers base their pricing on the number of users.
5. File Availability
The majority of file-sharing apps have basic plans with limited file expiry dates. In business, you never know when you'll need to download or exchange old files again. Professional programs provide access to links and files that were previously shared. Some file-sharing software even allows you to define arbitrary expiration dates or never expire your files.
6. Custom Controls
In addition to personalized expiration dates, some systems include various branding-related and further customization options, allowing you to design a workspace tailored to your particular file-sharing and business requirements.
7. Collaboration Features
If you and your team often collaborate on shared documents, you will need software that allows task assignment, co-authoring, and commenting.
8. Mobile User-Friendliness
If the app enables mobile file sharing, you can exchange files from the comfort of your workplace and on the move. Managing, storing, and exchanging data through a laptop, a smartphone, and a tablet may facilitate a smooth experience.
Final Words
We provide a list of some of the best file sharing software available, all of which support a wide variety of file formats; from this list, you can choose the one that best meets your needs, and you can also recommend to us the best file sharing software for both professional and personal usage.